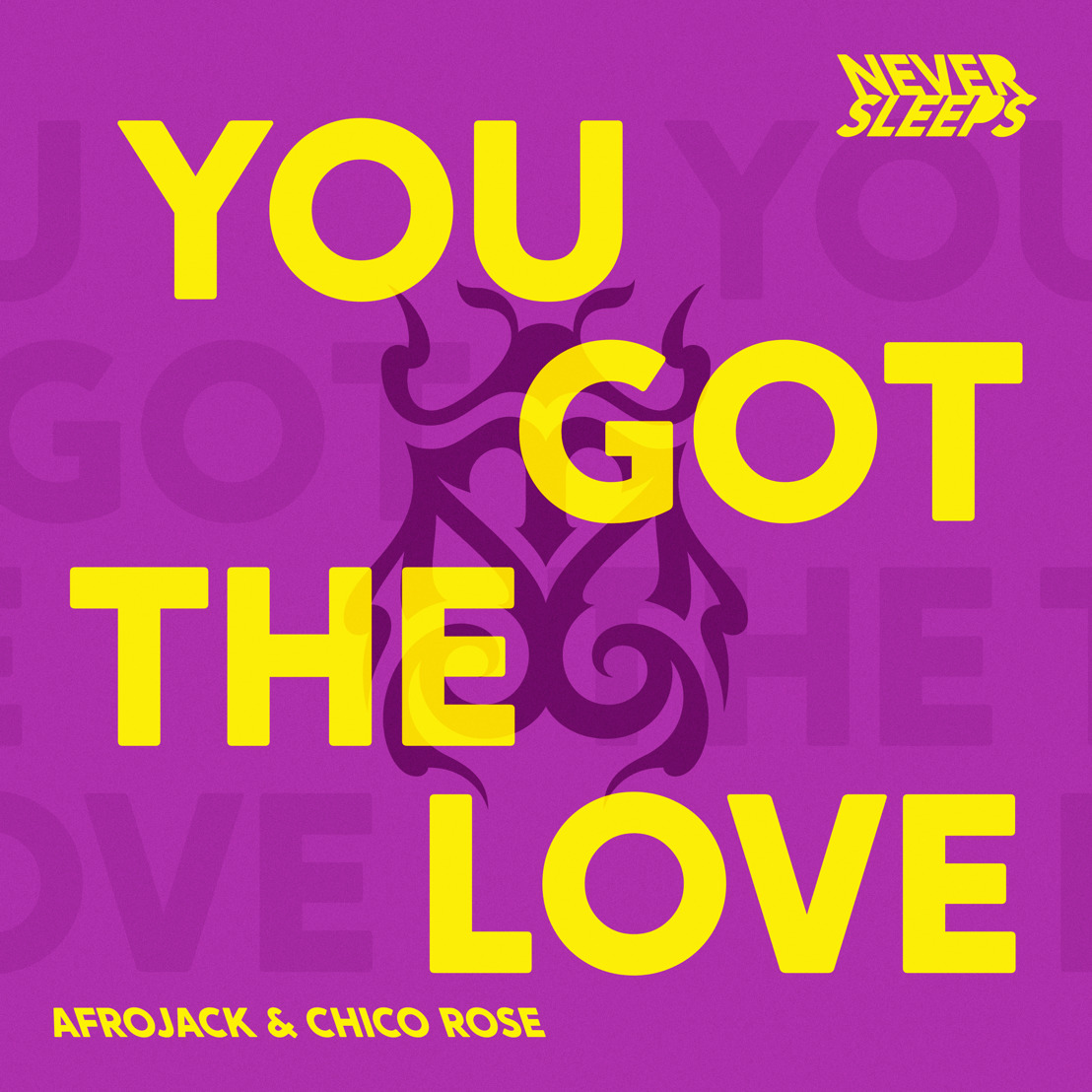 Afrojack and Chico Rose are the first artists to release on Tomorrowland's brand-new label Tomorrowland Music
The release of 'You Got The Love' also kicks off Afrojack's new project Never Sleeps
Friday, 27 August 2021 - The very first release on Tomorrowland's brand-new imprint Tomorrowland Music is a fact! The beloved Belgian music festival announced the news of its own label launch just yesterday and the honor of releasing the first track goes to world-renowned DJ & producer Afrojack. The Dutch powerhouse and Tomorrowland veteran has joined forces with rising star Chico Rose to release their uplifting banger 'You Got The Love'. The feel-good track also marks the kick-off of Afrojack's new brainchild Never Sleeps and with this new concept Afrojack aims to bring like-minded and passionate people together through hosting parties and releasing music with zest.
'You Got The Love' is the first of many Never Sleeps releases scheduled on Tomorrowland Music and is out now via all portals.
Afrojack: "Never Sleeps is a project which is basically just there to emphasize dance music built for the festivals and clubs. Within the music industry, there's a lot of pressure on artists to keep their brands relevant or to try new things and challenges. With Never Sleeps, it's just about the music and the people – making music for people on the dancefloor and celebrating life. It's not just me, it's me and other artists – whoever feels like they would love to do something together. No pressure, no genre. It's just all about the music. Our first release 'You Got The Love' feels like a full-on dance music festival anthem and that's why we started to collaborate with Tomorrowland and its brand-new label Tomorrowland Music. Very exciting!"
Chico Rose: "You call it madness; we call it love. We started this project during the summer 2 years ago. We've worked for 6 months straight together in the studio and we are really happy to finally release it."
About Never Sleeps
​Never Sleeps – a new initiative of Afrojack with which he wants to create a platform for artists that gives them the freedom to create music and parties out of love and passion for music. Never Sleeps will be a collective that will bring you new dance music that is made for the dancefloor. This mindset is also the starting point for the Never Sleeps label, which is part of the platform, starting with this first collab of Afrojack and Chico Rose 'You Got The Love'. And more and more surprising collabs are coming your way, guaranteed. Next to the label, Never Sleeps will be hosting parties and festival stages. Based on the city that never sleeps - NYC – Never Sleeps will create parties that last all night. Never Sleeps aims to create a rave within a club; people need to feel like they're at a party that never stops and where there is no limit in expressing themselves. With Never Sleeps, everything is possible, there are no rules, the only goal is to have fun and bring different music genres together.
​https://www.instagram.com/neversleepsmusic/
​https://www.facebook.com/neversleepsmusic
About Afrojack
​As one of the most innovative and sought-after artists, Grammy Award-winning producer and DJ Afrojack continues to shatter boundaries that pushes music in bold new directions. Since making his breakthrough with the multi-platinum-selling single 'Take Over Control', the Dutch-born musician has lent his production skills to tracks that bend genres and laid the foundation for major hits for artists such as Beyoncé, Pitbull, Will.i.am and more. In the last few years, Afrojack was named one of the 50 Most Important People in EDM by Rolling Stone and placed on the Forbes '30 Under 30' music list. In 2010, he was one of the first DJ's to secure a Las Vegas residency, and continues to entertain global audiences as a headlining resident artist for the Hakkasan group. Afrojack travels the world performing at the biggest clubs/festivals while producing new music with his label Wall Recordings. His most recent worldwide hits such as 'Hero' (with David Guetta), 'We Got That Cool' (with Yves V and Icona Pop), '1234' (with Fedde Le Grand featuring MC Ambush) add to an impressive repertoire spanning a decade as a global performer and multi-platinum selling artist. One milestone in 2020 was when 'All Night' (feat. Ally Brooke) reached number 1 on the US dance radio chart through amassing an impressive 40+ million streams, to date.
​https://www.instagram.com/afrojack/
​https://www.facebook.com/djafrojack
​https://www.youtube.com/channel/UCmKm7HJdOfkWLyml-fzKlVg
​https://afrojack.com/
About Chico Rose
​Chico Rose started his career at an early age, releasing on labels such as Vato Gonzalez' Dirty House Records, and Nicky Romero's Protocol Recordings. Chico became a notable figure in the dance scene and soon after got picked up by Afrojack, who included Chico into his team. The two started making a string of collaborations, such as 'The Great Escape', 'Where Did The Love Go' on Afrojack's Wall Recordings imprint. His big international breakthrough came with 'Sad' (feat Afrojack) on Spinnin' Records. The single amassed over 85 million streams on Spotify alone and had big success on European radio. Chico did not sit still and quickly followed up with 'Somebody's Watching Me', a collaboration with producer duo 71 Digits. The single became a radio hit in France and has amassed over 65 million Spotify streams and counting! With a schedule full of new music and exiting collaborations coming up, Chico is a rising star that's here to stay!
​https://www.instagram.com/chicorose/
​https://www.facebook.com/chicorosemusic
​https://www.youtube.com/channel/UCCRxE6ClxzXtBZv1hrvapcw
​https://www.chicorosemusic.com/
About Tomorrowland Music
Tomorrowland has expanded the family with its own music label: Tomorrowland Music. Tomorrowland Music is a dedicated music division within Tomorrowland, collaborating closely with both artists and labels, supporting them in all their recording and release activities.
Tomorrowland Music has partnered with Virgin Distribution and Virgin Records. As part of the Universal Music Group, Virgin has been one of the industry leaders in music distribution and independent records labels for many years. Tomorrowland Music is delighted to be working closely with Virgin and looking forward to taking the label to a higher level together.
Stay tuned for a stellar line-up of renowned artists from all different levels who can't wait to release their music on Tomorrowland Music, encompassing a multitude of genres.
More information: https://www.tomorrowland-music.com
​Instagram: https://tomorrow.land/Music-IG
​Facebook: https://tomorrow.land/Music-FB
​Twitter: https://tomorrow.land/Music-Twitter
Debby Wilmsen Press Coordinator & Spokeswoman, Tomorrowland
Jordy Van Overmeire PR Coordinator, Tomorrowland