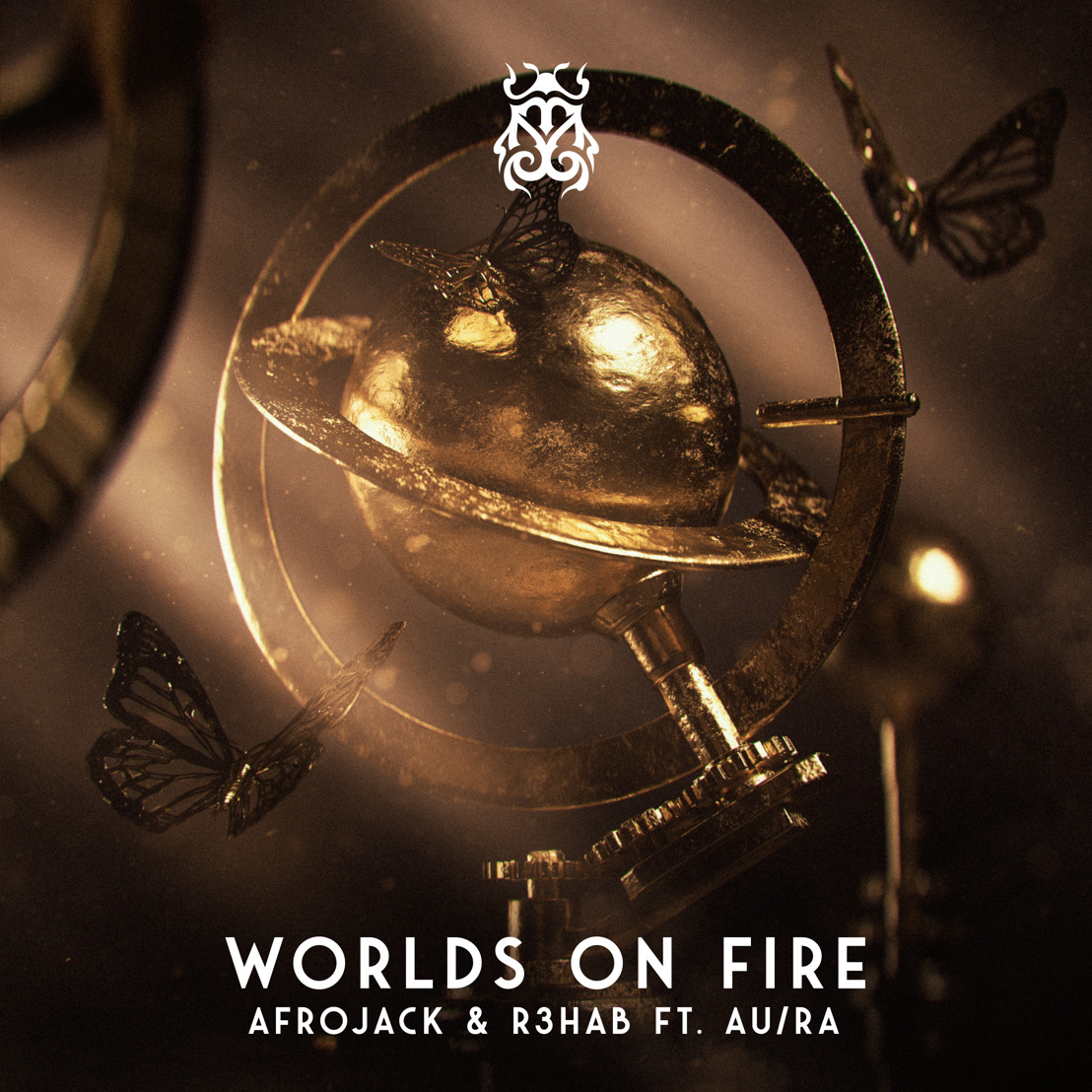 Afrojack and R3HAB unite on uplifting festival anthem 'Worlds On Fire'
Their first official record together in over a decade
Friday, 15 July 2022 – In a collaborative triumph, multi-platinum artists Afrojack and R3HAB – two of the Netherlands' foremost electronic music giants – have joined forces for their ultimate super-collab 'Worlds On Fire', released through Tomorrowland Music today! Their co-produced mainstage-tailored production 'Worlds On Fire' comes in the shape of an uplifting festival anthem, exuding energy and passion with an ecstatic drop and vocals by singer/songwriter Au/Ra. 'Worlds On Fire' is Afrojack's and R3HAB's first new official record together in over a decade.
'Worlds On Fire' is out now via all platforms.
With over hundreds of millions of plays between the two of them, the Dutch duo and two of the genre's biggest hitmakers have created yet another dance anthem, designed to ignite crowds around the world. 'Worlds On Fire' is part of a collection of exclusive festival releases by Tomorrowland Music under this year's festival theme 'The Reflection of Love', celebrating the return of Tomorrowland after three years by gathering some of the biggest artists in electronic music on Tomorrowland's record imprint.
Afrojack: "I'm very happy to release this exclusive festival release for Tomorrowland, celebrating the festival's return after three years! It's great to be working with R3HAB again, after starting together at WALL, playing many shows together, and now with an exclusive B2B performance at the iconic Mainstage of Tomorrowland. I'm excited to release the first collab in more than 10 years between R3HAB and myself!
R3HAB: "Afrojack and I have been working together since he invited me into his label over a decade ago when we released 'Prutataaa'. We've released a string of remixes for each other later but haven't created a record together since 2011. That changes today. Afrojack is massively talented, and I'm grateful for his guidance and friendship, from our early days in his first studio to the beautiful stages we've shared around the world today. It's also been a pleasure working with Au/Ra and her incredible voice, we're glad to have her on with us."
Au/Ra: "I wrote this song at a time when so many destructive things were happening in our world, it was overwhelming. But I had this deep sense that no matter what, there are people I love who make this crazy place better. I'll always be there for them, and they'll always be there for me, no matter how insane things get."
World-renowned multi-platinum DJs & producers Afrojack and R3HAB have been trailblazing their way through dance music for the past 15 years and will now play an exclusive B2B set at Tomorrowland's iconic Mainstage during the first festival weekend on Friday July 15.
About Afrojack
​As one of the most innovative and sought-after artists, GRAMMY Award-winning producer and electronic dance music icon Afrojack continues to shatter boundaries that push music in bold new directions. Since making his breakthrough with the multi-platinum-selling single 'Take Over Control', the Dutch-born musician has lent his production skills to tracks that bend genres and laid the foundation for major hits for artists such as Beyoncé, Pitbull, Will.i.am and more. In the last few years, Afrojack was named one of the 50 Most Important People in EDM by Rolling Stone and placed on the Forbes '30 Under 30' music list. In 2010, he was one of the first DJs to secure a Las Vegas residency, and continues to entertain global audiences as a headlining resident artist for the Hakkasan group. In 2010, he won his first GRAMMY award for Best Remixed Recording, Non-Classical for his remix of David Guetta & Madonna's song 'Revolver.' In 2011, he nabbed two more GRAMMY Nominations for Best Rap Song for his part in Chris Brown's 'Look At Me Now' and for Best Remixed Recording, Non-Classical for his remix of Leona Lewis & Avicii's 'Collide'. Afrojack travels the world performing at the biggest clubs/festivals while producing new music with his label Wall Recordings. In 2020, his song 'All Night' (feat. Ally Brooke) reached number 1 on the US dance radio chart through amassing an impressive 40+ million streams, to date. His most recent worldwide hits such as 'Anywhere With You' with Lucas & Steve and DubVision and 'Up All Night' with Hard Lights and VINAI, add to an impressive repertoire spanning over a decade as a global performer and multi-platinum selling artist. In 2021, Afrojack received his fourth GRAMMY nomination, this time for Best Dance/Electronic Recording for his inspiring pop-edm crossover Summer song "Hero," which came out during the pandemic with David Guetta.
https://www.instagram.com/afrojack/
​https://twitter.com/afrojack
​https://www.youtube.com/afrojack
​https://www.facebook.com/djafrojack
About R3HAB
​Multi-Platinum DJ and producer Fadil El Ghoul, better known as R3HAB, has been trailblazing his way through dance music for the past fifteen years. From his breakthrough remixes for Rihanna, Drake, Taylor Swift, Calvin Harris, to anthems such as Platinum-certified "All Around The World (La La La)" and "Lullaby," to his collaborations with the likes of Ava Max, ZAYN, Luis Fonsi, Sean Paul, and more, R3HAB has proven to be one of the most forward-thinking artists in the game. His work has collected over 8B streams to date, including 1.1B in 2021 alone. R3HAB founded his label CYB3RPVNK in 2016, which has passed 4B streams across platforms since its inception. R3HAB continues to evolve and diversify his sound by working with artists around the globe, pushing the boundaries of dance music as he collaborates across genres and languages. He is Spotify's Most Discovered Artist, one of Spotify's top 200 most streamed artists, ranked #12 on prestigious DJ Mag's Top 100 DJs chart, and has earned over 70 Gold and Platinum certificates. R3HAB has embarked on multiple sold-out worldwide tours and was the first dance music artist to sell out 15 consecutive shows in China. On top of that, he performed at the world's top festivals, such as EDC, Ultra Music Festival, Tomorrowland, Balaton Sound, Coachella, Summer Sonic Festival, DWP Jakarta. With his combination of innate artistry and innovative attitude, R3HAB has earned his place as a household name in dance music.
https://www.instagram.com/r3hab/
​www.youtube.com/r3hab
​https://www.facebook.com/r3hab
​https://www.r3hab.com
​https://twitter.com/r3hab
​https://soundcloud.com/r3hab
About Tomorrowland Music
​Tomorrowland has expanded the family with its own music label: Tomorrowland Music. Tomorrowland Music is a dedicated music division within Tomorrowland, collaborating closely with both artists and labels, supporting them in all their recording and release activities.
Tomorrowland Music has partnered with Virgin Distribution and Virgin Records. As part of the Universal Music Group, Virgin has been one of the industry leaders in music distribution and independent records labels for many years. Tomorrowland Music is delighted to be working closely with Virgin and looking forward to taking the label to a higher level together.
Stay tuned for a stellar line-up of renowned artists from all different levels who can't wait to release their music on Tomorrowland Music, encompassing a multitude of genres.
More information: https://www.tomorrowland-music.com
​Instagram: https://tomorrow.land/Music-IG
​Facebook: https://tomorrow.land/Music-FB
​Twitter: https://tomorrow.land/Music-Twitter
Jordy Van Overmeire PR Coordinator, Tomorrowland