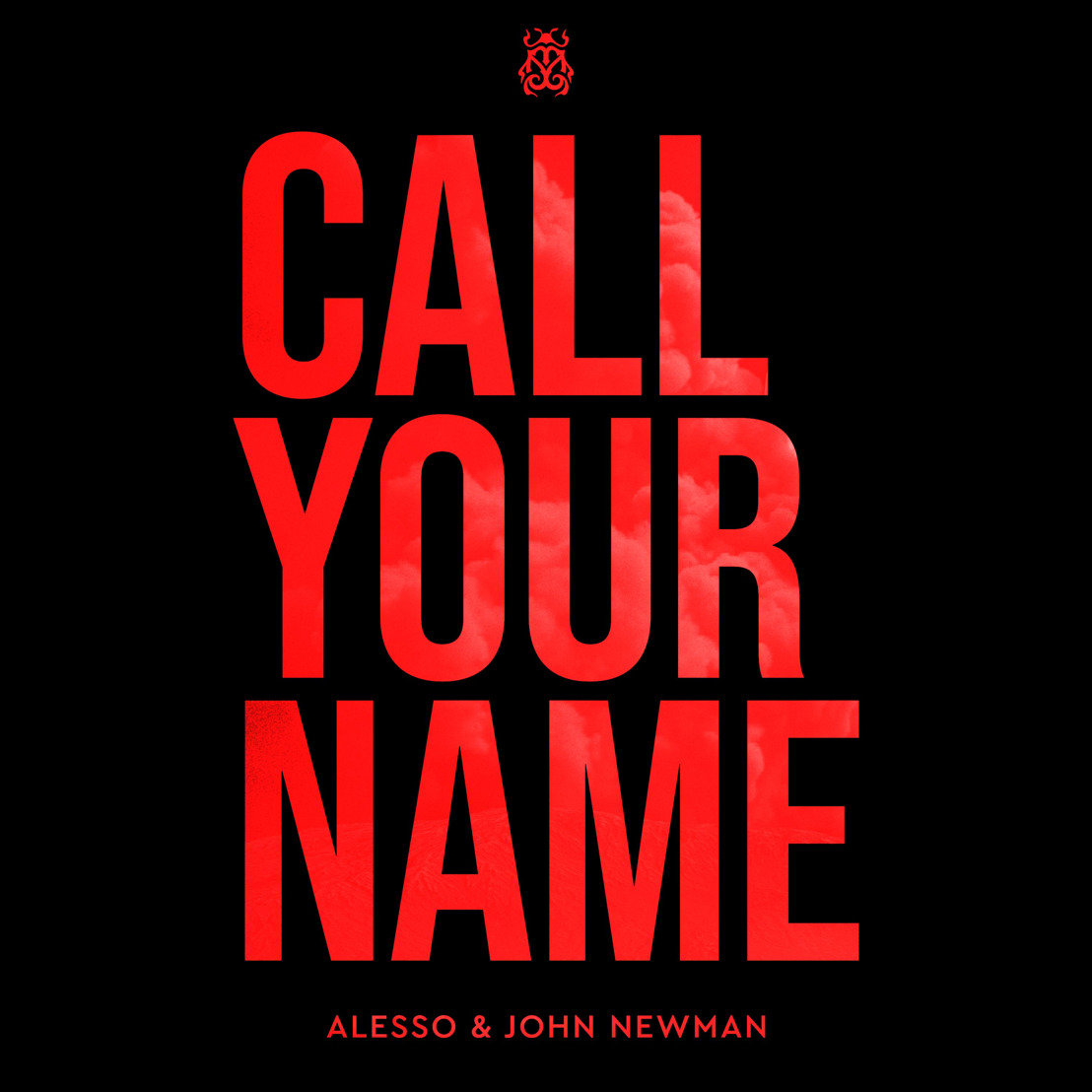 Alesso and John Newman collide on 'Call Your Name'
A rousing and euphoric dance-pop anthem with soul-stirring vocals
Friday, 21 July 2023 – In a collaborative triumph, global superstar Alesso and British multi-platinum icon John Newman have joined forces for their ultimate super-collab 'Call Your Name', released on Tomorrowland Music today! The new emotional collaboration features soaring progressive house melodies signature to Alesso's production, blending John Newman's soul-stirring and instantly recognizable vocals seamlessly together with uplifting beats to create a rousing and euphoric dance-pop anthem. 'Call Your Name' sees both artists pushing the boundaries of the genre, with their unique sounds coming together to create a powerful and memorable addition to the dance music scene, dripping with passion and vulnerability.
'Call Your Name' is out now via all platforms.
Alesso: "'Call Your Name is a throwback to the dance era that we all know and love. John's vocal really carries this nostalgic, powerful feeling and playing this one out recently has shown this track is made for the main stage!"
John Newman: "It was amazing to work on this record with Alesso! Been a couple years in the making and can't wait to see this baby now come to life and hopefully do some serious damage!"
Following 'Hold On To My Love', this is John Newman's second release on Tomorrowland Music, landing right on time for his highly-anticipated debut on Tomorrowland's iconic Mainstage on Saturday July 29. Swedish DJ & producer Alesso will be taking on Tomorrowland's Mainstage twice, performing on Saturday July 22 and Sunday July 30.
About Alesso
​Multi-platinum DJ / producer Alesso is a global sensation who's repeatedly proven that his influence transcends universal boundaries. A pivotal name in electronic music, Alesso has amassed two RIAA-certified Platinum hits, two certified Gold singles, over 5.5 billion global streams, and countless collaborations throughout the span of his iconic career. With a diehard fanbase that reaches across the world, Alesso continues to be a symbol of musical excellence in electronic music and beyond.
Born Alessandro Lindblad in Stockholm Sweden, Alesso quickly gained mainstream recognition for his remixes of Tiësto, Swedish House Mafia, and Avicii before becoming a household name for his own productions. Upon the release of just his second single, 2012's "Calling (Losing My Mind)" with Swedish House Mafia's Sebastian Ingrosso and OneRepublic frontman Ryan Tedder, he was certified 2X Platinum in Sweden while also reaching no. 1 on Billboard's US Hot Dance Club Songs. In 2014, he went Platinum in the U.S. with "Heroes (we could be)" featuring Tove Lo. His 2014 album Forever, hit #1 on Billboard's Top Dance/Electronic Albums and #30 on the Billboard 200. Since his debut, Alesso has proven that his music can seamlessly cross over into countless genres - to that end, he's collaborated with such eclectic artists as Katy Perry, OneRepublic's Ryan Tedder, Calvin Harris, Tove Lo, Liam Payne, James Bay, Marshmello, Swedish House Mafia's Sebastian Ingrosso, Hailee Steinfeld, Florida Georgia Line, Anitta, and more. On Billboard's Hot Dance/Electronic Songs chart, his massive breakup anthem "Let Me Go" — a collaboration with Hailee Steinfeld and Florida Georgia Line — reached No. 9, while "Is That For Me" peaked at No. 25.
In 2020, Alesso released a pair of hit singles: "Midnight" featuring Liam Payne and "THE END" with goth-pop singer/songwriter Charlotte Lawrence. Soon after, he dropped his cosmic love ballad "Chasing Stars (with Marshmello feat. James Bay),"the dynamic "Rescue Me (with Danna Paola)" from the Blade Runner Black Lotus soundtrack, and his winter floor-filler "Somebody To Use."
To cap off 2021, Alesso made his NFT debut with the Cosmic Genesis collection and dropped "When I'm Gone" — his colossal collaboration with Katy Perry. This primed fans for his 2022 releases including "Words," a smash crossover hit with Zara Larsson, which was hailed by BILLBOARD as the top dance song of 2022. It even spawned an EP of remixes featuring artists like Chapter & Verse, Sentinel, Arodes, and Majestic. Alesso followed that up with the Sentinel-assisted house anthem "Only You" and "Dark," an atmospheric track created for THE BATMAN movie. He finished out the year with "We Go Out," an ecstatic dance track created with Sick Individuals. To date, Alesso has performed at international festivals ranging from Tomorrowland to Ultra Music Festival to Electric Daisy Carnival, with his national TV experience including closing out GMA's Summer Concert Series, performing on "The Late Show with James Corden," taking the stage at the AMAs and making his "Saturday Night Live" debut in January 2022 with Katy Perry.
Over the last few years, Alesso has generated nearly 1B views on TikTok videos featuring his songs and over 2M followers on Instagram. He's landed 3 songs ("Let Me Go," "Heroes," and "When I'm Gone") on the Billboard Hot 100, and now also has over 16M followers across various social media platforms. Alesso continually pushes the boundaries with his ever-evolving sound, proving that his impact will remain as timeless as his music for generations to come.
About John Newman
​John Newman is a multi-faceted DJ, singer, songwriter, and producer creating music on his terms. 2012 smash hit 'Feel The Love' in collaboration with Rudimental first put the British upcoming artist on a trajectory to stardom, going straight in at #1 in the Official UK Charts. One year later, Newman affirmed himself as one of the fasted growing mainstream artists by releasing his debut solo single, 'Love Me Again,' taken from his debut album 'Tribute.' The single became an instant UK #1, charting in the Top 10 in over 30 countries and amassing over 1.6 billion worldwide streams.
Resounding success continued, and in 2014 the x3 BRIT Award nominee teamed up with superstar Calvin Harris on 'Blame', which broke the world record for the most-streamed song in one day and was the first track to ever hit 10 million Spotify streams in less than one week. In more recent times, John's contributions to modern pop culture include a colossal link-up with World #1 DJ and hit producer David Guetta on 'If You Really Love Me (How Will I Know)' and 2023 Tomorrowland Music debut 'Hold On To My Love.' For the first time, John Newman presents himself in a new era as a solo dance music artist.
Growing up on a council estate in Northern England, DJing on borrowed gear, Newman's story is about to come full circle. His reign as a pop/soul star saw incredible milestones, including over 2.5 billion streams and nine #1 records as a songwriter and artist. Collaborations with industry leaders such as Sigala, Nile Rogers, Galantis and Kygo. As well as a career-defining performance closing Coachella Festival on stage with Calvin Harris and spectacular live shows at world-class events, EXIT Festival, Glastonbury, and V Festival, to name a few. When the world stopped in 2020, John's lacklustre for creating and the external pressures of the music industry could only be reignited by returning to his dance music roots.
'Waiting A Lifetime' was the first solo single tease of John Newman reinvigorated. Released under Warner Music and later remixed by Capital Dance radio host Jess Bays, the track title was a fitting nod to the mighty career moves to come.
At the start of 2023, Newman announced his signing with One World Artists, the agency & management division of iconic dance imprint Tomorrowland, certifying his revised force in the industry and DJ flex.
Taking his new sound to the masses, Newman curates a cutting-edge hybrid set that encompasses his signature live vocals and DJing. Already, he has performed at some of biggest festivals in the world including Tomorrowland Winter and Daydream Festival, as well as renowned Ibiza superclub Ushuaïa. Announced for summer 2023, Newman is set to make a grand debut on the Tomorrowland 2023 mainstage, held in Belgium and attracting 600,000 attendees. More dates to follow soon, including Tomorrowland Brasil 2023.
'Hold On To My Love' is Newman's debut single for 2023. What started as an off-the-cuff voice note recording backstage at Ushuaïa Ibiza is now the first chapter of an immense partnership with Tomorrowland Music. Oozing sheer dance euphoria, steady club beats and his unmistakable vocals and emotively powered delivery, 'Hold On To My Love' places John Newman at the forefront of fresh electronic talent.
https://www.instagram.com/johnnewmanmusic/
​https://www.facebook.com/johnnewmanmusic/
​https://soundcloud.com/johnnewmanmusic
​https://twitter.com/johnnewmanmusic
​https://www.johnnewman.co.uk
About Tomorrowland Music
​Tomorrowland has expanded the family with its own music label: Tomorrowland Music. Tomorrowland Music is a dedicated music division within Tomorrowland, collaborating closely with both artists and labels, supporting them in all their recording and release activities.
Tomorrowland Music has partnered with Virgin Distribution and Virgin Records. As part of the Universal Music Group, Virgin has been one of the industry leaders in music distribution and independent records labels for many years. Tomorrowland Music is delighted to be working closely with Virgin and looking forward to taking the label to a higher level together.
Stay tuned for a stellar line-up of renowned artists from all different levels who can't wait to release their music on Tomorrowland Music, encompassing a multitude of genres.
More information: https://www.tomorrowland-music.com
​Instagram: https://tomorrow.land/Music-IG
​Facebook: https://tomorrow.land/Music-FB
​Twitter: https://tomorrow.land/Music-Twitter
Jordy Van Overmeire PR Coordinator, Tomorrowland