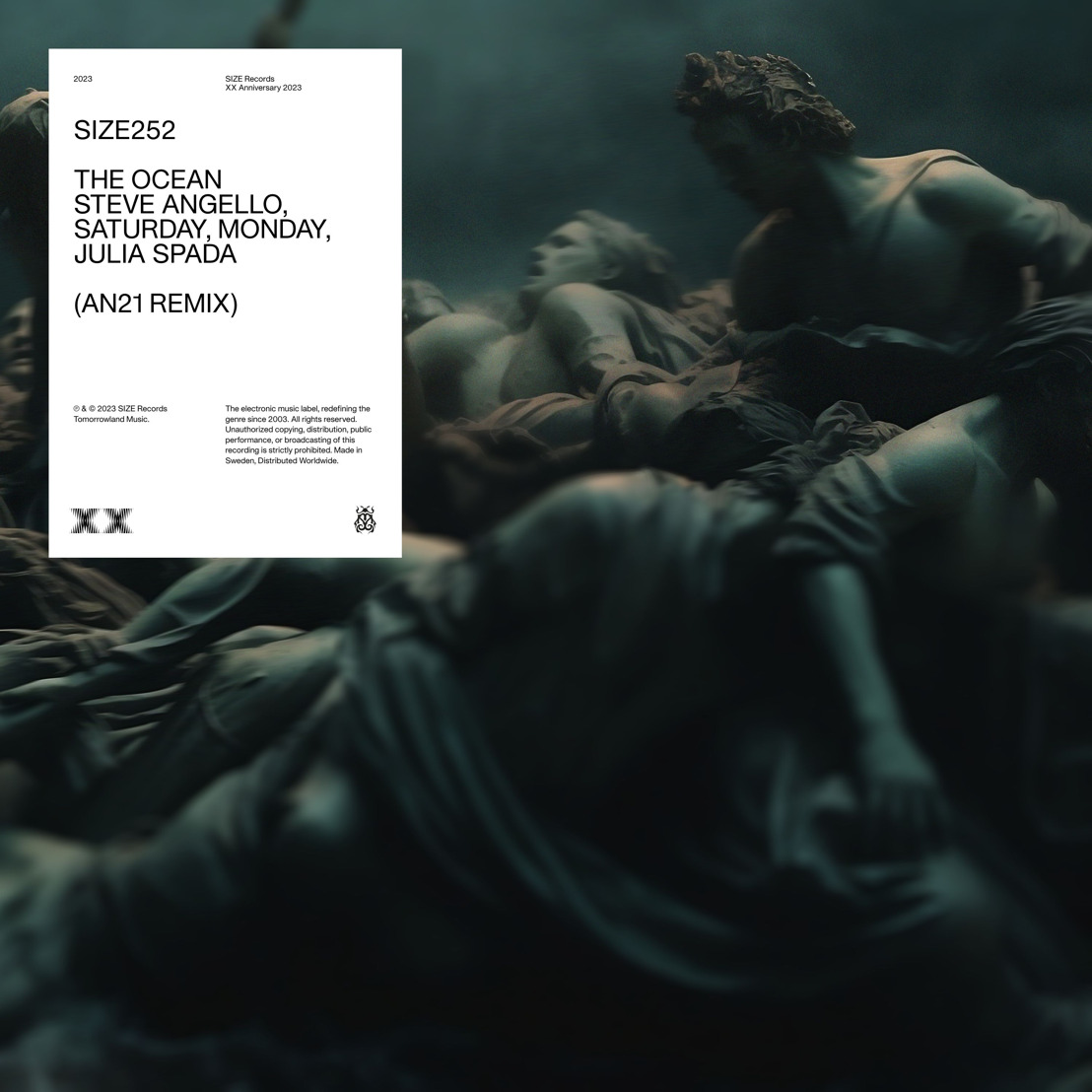 AN21 reworks Steve Angello's 'The Ocean'
The second release of an exciting collaborative EP by Tomorrowland Music and SIZE Records
Friday, 11 August 2023 – Greek-Swedish DJ & producer AN21 has created a 2023 rework of Steve Angello's iconic progressive house cut 'The Ocean', co-released on Tomorrowland Music and SIZE Records today! Celebrating 20 years of SIZE Records this year, label boss and one third of Swedish House Mafia Steve Angello tapped into his younger brother, one of the key figures in the SIZE Records clan, to give a modern update to his legendary track from 2015. AN21's rework puts a melodic techno spin to the original, creating a sense of tension and anticipation that unfolds slowly throughout the entire song and allowing Julia Spada's mesmerizing vocals to fully bloom.
'The Ocean' (AN21 Remix) is out now via all platforms.
The 2023 rework of 'The Ocean' marks the second release of an exciting collaborative EP by Tomorrowland's imprint and SIZE Records, celebrating 20 years of SIZE Records this year.
Steve Angello about the collaboration with Tomorrowland Music: "We've always had a thing with Tomorrowland, because we are like-minded and we work for something that we love. Working together with the family of Tomorrowland, I feel like it's meant to be. For us to work with their artists and musical platform, just put out great records, have fun together, perform and enjoy, make people smile - that's what it's all about!"
AN21: "It's an honor to share my remix of 'The Ocean' originally by my brother Steve Angello. Ever since this track first graced my ears, I've been captivated by its rhythm and soul. Now, as we celebrate SIZE XX, remixing this song feels like the perfect culmination, marking both an end and a fresh beginning. This remix for me is a journey—a consistent drive that builds up to something truly spectacular. It's a crescendo of emotion and excitement, an interpretation of what the original song means to me."
About Steve Angello
​Long before garnering GRAMMY® Award nominations, performing to millions of fans on multiple continents, crashing charts worldwide, and tallying streams in the billions, artist, DJ, producer, and Swedish House Mafia Co-Founder Steve Angello realized his purpose as a kid in Sweden. He collaborated with childhood friend Sebastian Ingrosso before launching his own label Size during 2003. He also teamed up with Axwell in Supermode, landing a hit with "Tell Me Why." In 2008, he co-founded Swedish House Mafia with Axwell and Ingrosso. They garnered consecutive GRAMMY® nods for "Best Dance Recording" with the platinum "Save the World" in 2012 and quintuple-platinum "Don't You Worry Child" in 2013. They sold out legendary venues—including Milton Keynes Bowl and Madison Square Garden—and delivered historic sets at Coachella, Ultra Music Festival, and beyond. Plus, Steve asserted himself as a solo force of nature. He occupied a spot on DJ Mag's coveted "Top 100 DJs" list for fourteen consecutive years and received two DJ Awards. He has delivered official remixes for everyone from Justin Timberlake, Coldplay, and Depeche Mode to Fergie and Moby. Following his full- length debut Wild Youth, he ascended to another creative peak on his 2018 sophomore offering, Human, collaborating with Bishop T.D. Jakes on "Rejoice," Pusha T on "Freedom," Barns Courtney on "Dopamine," and more. 2021 marked the momentous comeback of Swedish House Mafia with their long-awaited debut LP, Paradise Again, clinching #1 on the Billboard Top Dance/Electronic Albums Chart and UK Dance Albums Chart. They launched the blockbuster Paradise Again World Tour, canvasing 29 cities in 11 countries across two continents for five months. As always, Steve will be unleashing more music and shifting perspectives further in 2023.
https://www.instagram.com/steveangello/
​https://www.youtube.com/steveangello
​https://www.facebook.com/steveangello/
​https://soundcloud.com/STEVEANGELLO
​https://twitter.com/SteveAngello
About AN21
​The legacy of AN21 began in 2009, after Antoine joined Size, the label belonging to his brother, Steve Angelo with several original releases, including the acclaimed album "People of the Night". In addition to producing his own original music, he has also remixed some of the biggest names in music such as Gorillaz, Ellie Goulding and Pendulum. His creative and innovative approach to producing and mixing have been recognised in the industry, where has been awarded Breakthrough Artist of the Year by Beatport and listed multiple times in DJMAG's famous top 100 list.
After years of an intense touring schedule, Antoine made the decision to go back to his roots in Stockholm where he enjoyed a well-deserved hiatus from the scene, taking time out to focus on family life and connect with himself. This break enabled Antoine to find new sources of inspiration and hone his craft and now he is set to make his greatly anticipated comeback to the music world.
Armed with new ideas and a reinvigorated passion – AN21 is preparing to take new and old fans on a new, exciting journey as Size Records prepares to celebrate 20 years of music and history.
https://www.instagram.com/an21/
​https://soundcloud.com/an21
​https://twitter.com/an21
​https://www.facebook.com/an21live/
About Tomorrowland Music
​Tomorrowland has expanded the family with its own music label: Tomorrowland Music. Tomorrowland Music is a dedicated music division within Tomorrowland, collaborating closely with both artists and labels, supporting them in all their recording and release activities.
Tomorrowland Music has partnered with Virgin Distribution and Virgin Records. As part of the Universal Music Group, Virgin has been one of the industry leaders in music distribution and independent records labels for many years. Tomorrowland Music is delighted to be working closely with Virgin and looking forward to taking the label to a higher level together.
Stay tuned for a stellar line-up of renowned artists from all different levels who can't wait to release their music on Tomorrowland Music, encompassing a multitude of genres.
More information: https://www.tomorrowland-music.com
​Instagram: https://tomorrow.land/Music-IG
​Facebook: https://tomorrow.land/Music-FB
​Twitter: https://tomorrow.land/Music-Twitter
Jordy Van Overmeire PR Coordinator, Tomorrowland