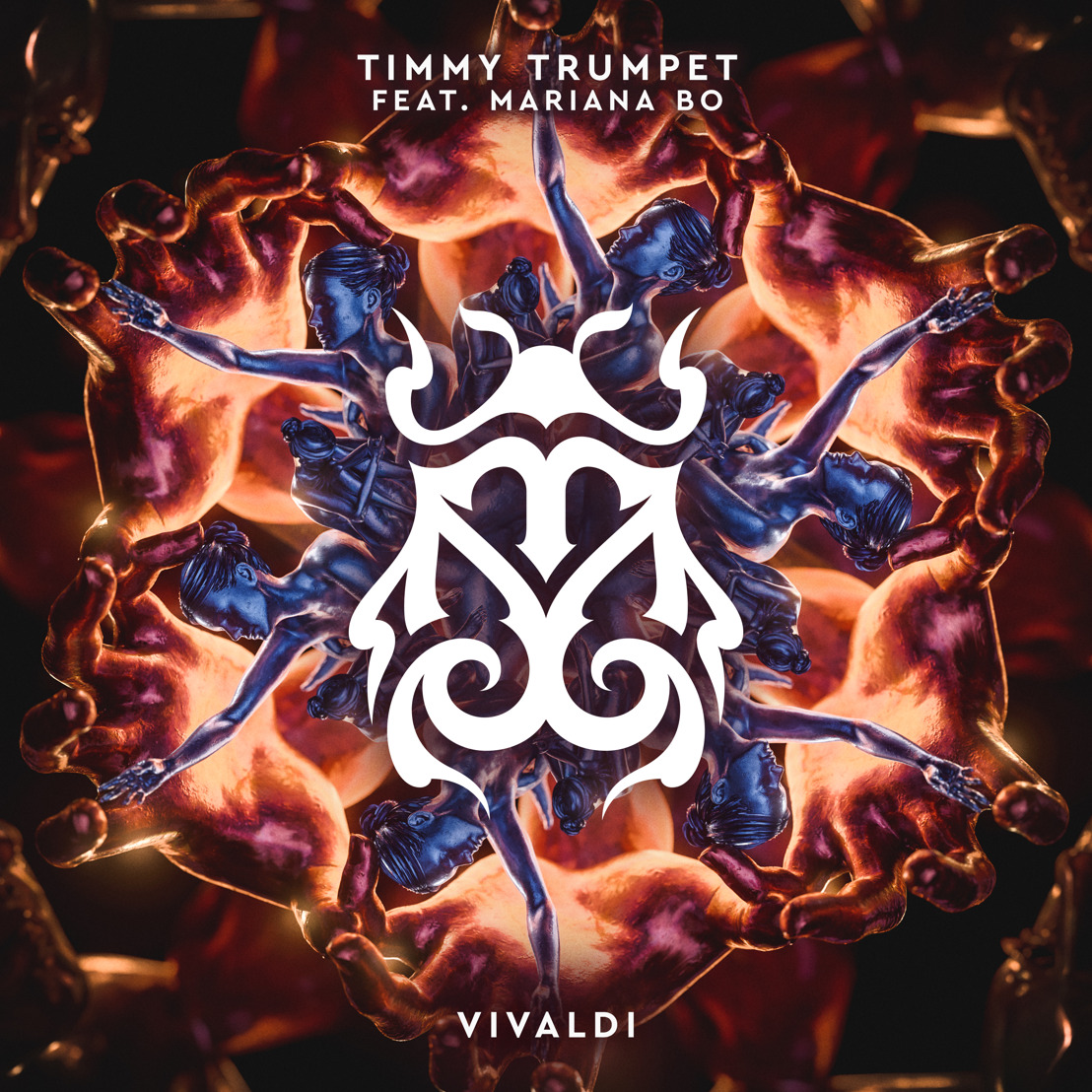 Australian crowd favorite Timmy Trumpet and Mexican-born violinist Mariana BO join forces for 'Vivaldi'
A hard-hitting and ecstatic rave tune
Friday, 28 January 2022 – Australian crowd favorite Timmy Trumpet and Mexican-born violinist & producer Mariana BO have joined forces for the hard-hitting and ecstatic rave tune 'Vivaldi', released through Tomorrowland Music today! Combining her unique skills on the violin with explosive electronic music, fast-paced beats and a lively melody, 'Vivaldi' is bound to be a staple in Timmy's sets going forward – exactly what any fan wanted from this match up!
'Vivaldi' is out now via all platforms.
In less than a decade, DJ, producer and live instrumentalist Timmy Trumpet has successfully transgressed from the international stage as an acclaimed jazz musician to the realm of global dance music. The Australian award-winning, multi-platinum selling recording artist has forged his way to the top of the industry, with his breakthrough release 'Freaks' reigning in over half a billion streams, reaching six times platinum status in Australia and dominating the charts in ten countries alongside leaving a marking impression whilst playing the world's main stages!
Mariana BO, coming in at #40 in 2021's DJ Mag Top 100 and considered the only DJane, musician and producer in Latin America, implements a project that combines electronic music and violin, using the instrument in her captivating live performances.
Timmy Trumpet: "This is the record I have been waiting for! Two live instrumentalist DJ producers from the other side of the world, joining forces with dance music's most unifying global force. I can't wait to play this on stage. I'm ready!!!"
Mariana BO: "Vivaldi is an energetic track with the color and history of Antonio Vivaldi, it is an intense piece made for violin that you will surely not be able to stop listening to."
About Timmy Trumpet
​DJ, producer and live instrumentalist, Timmy Trumpet is undoubtedly one of the most explosive performers in the music scene. An award-winning, multi-platinum recording artist, his breakthrough single Freaks has reigned in over half a Billion streams and dominated the charts in ten countries. In April 2020, Timmy livestreamed from his Sydney apartment for the very first time, clocking over 7 million views, becoming one of the most watched electronic performances of the year. In the same month, Timmy released Diamonds accompanied by the world's first music video to be entirely shot and directed in isolation, later going on to win awards at International Film Festivals. In December Timmy's debut artist album Mad World surpassed 200 million streams online in less than 12 months.
Timmy's music career boasts of an extensive resume spanning over twenty years from early beginnings as a classically trained jazz musician. At 13, he was named Young Musician of the Year before being granted a full scholarship to the Conservatorium of Music, where Sydney Symphony Orchestra's Anthony Heinrich tutored him. Within two years he secured a position as the leading solo trumpet player in the Australian All-Star Stage Band, taking part in an extensive European tour covering some of the world's biggest Jazz Festivals.
As a songwriter and producer, Timmy Trumpet refuses to be pigeon-holed releasing music of all flavours, in various genres. His discography exceeds 1.5 billion streams. Always up for collaborating, his extensive catalogue features artists like global stars Hardwell, Steve Aoki, Dimitri Vegas & Like Mike, Afrojack, R3HAB, W&W, ALOK, KSHMR, Vengaboys, Scooter and Carnage. His debut mainstage performance at Tomorrowland in 2017 is the highest streamed set of all time on the official YouTube channel. Timmy has amassed 2.5 million followers on Tik Tok with over 130 million video views. He is currently ranked the #9 DJ in the world in the DJ Mag Top 100.
Pre-pandemic, Timmy had an impressive international touring schedule of over two hundred shows per year featuring headlining festival performances at iconic events like Tomorrowland and EDC. Under his ownFREAKSHOW banner, Timmy hosts Arena experiences selling over 10,000 tickets per show across Europe. To add to his impressive list of achievements, in 2019 Timmy became the first instrumentalist to DJ in Zero Gravity, thanks to a partnership between BigCityBeats and the European Space Agency. When asked if he pinches himself looking back on a career that originated from the humble beginnings of Band Camp and after school jazz practice, you only get one response...
https://www.instagram.com/timmytrumpet/
​https://www.facebook.com/timmytrumpet/
​https://twitter.com/TimmyTrumpet
​https://soundcloud.com/timmytrumpet
​https://www.youtube.com/user/TimmyTrumpetTV
​https://www.timmytrumpet.com
About Mariana BO
​Mariana BO, considered the only djane, Musician and Producer in Latin America, implements a project that combines electronic music and violin, using the instrument in their live performances. Nowadays Mariana Bo ranks the number #40 in the top 100Djmag taking her in the eyes of all, she has positioned itself in the most demanding public of national and international electronic scenes, with her music, performance and energy that characterizes her to dance to the public.
https://www.instagram.com/djmarianabo/
​https://twitter.com/djmarianabo
​https://www.facebook.com/DJMarianaBO/
​https://soundcloud.com/borrego-s
​https://www.youtube.com/c/MarianaBO
About Tomorrowland Music
​Tomorrowland has expanded the family with its own music label: Tomorrowland Music. Tomorrowland Music is a dedicated music division within Tomorrowland, collaborating closely with both artists and labels, supporting them in all their recording and release activities.
Tomorrowland Music has partnered with Virgin Distribution and Virgin Records. As part of the Universal Music Group, Virgin has been one of the industry leaders in music distribution and independent records labels for many years. Tomorrowland Music is delighted to be working closely with Virgin and looking forward to taking the label to a higher level together.
Stay tuned for a stellar line-up of renowned artists from all different levels who can't wait to release their music on Tomorrowland Music, encompassing a multitude of genres.
More information: https://www.tomorrowland-music.com
​Instagram: https://tomorrow.land/Music-IG
​Facebook: https://tomorrow.land/Music-FB
​Twitter: https://tomorrow.land/Music-Twitter
Jordy Van Overmeire PR Coordinator, Tomorrowland