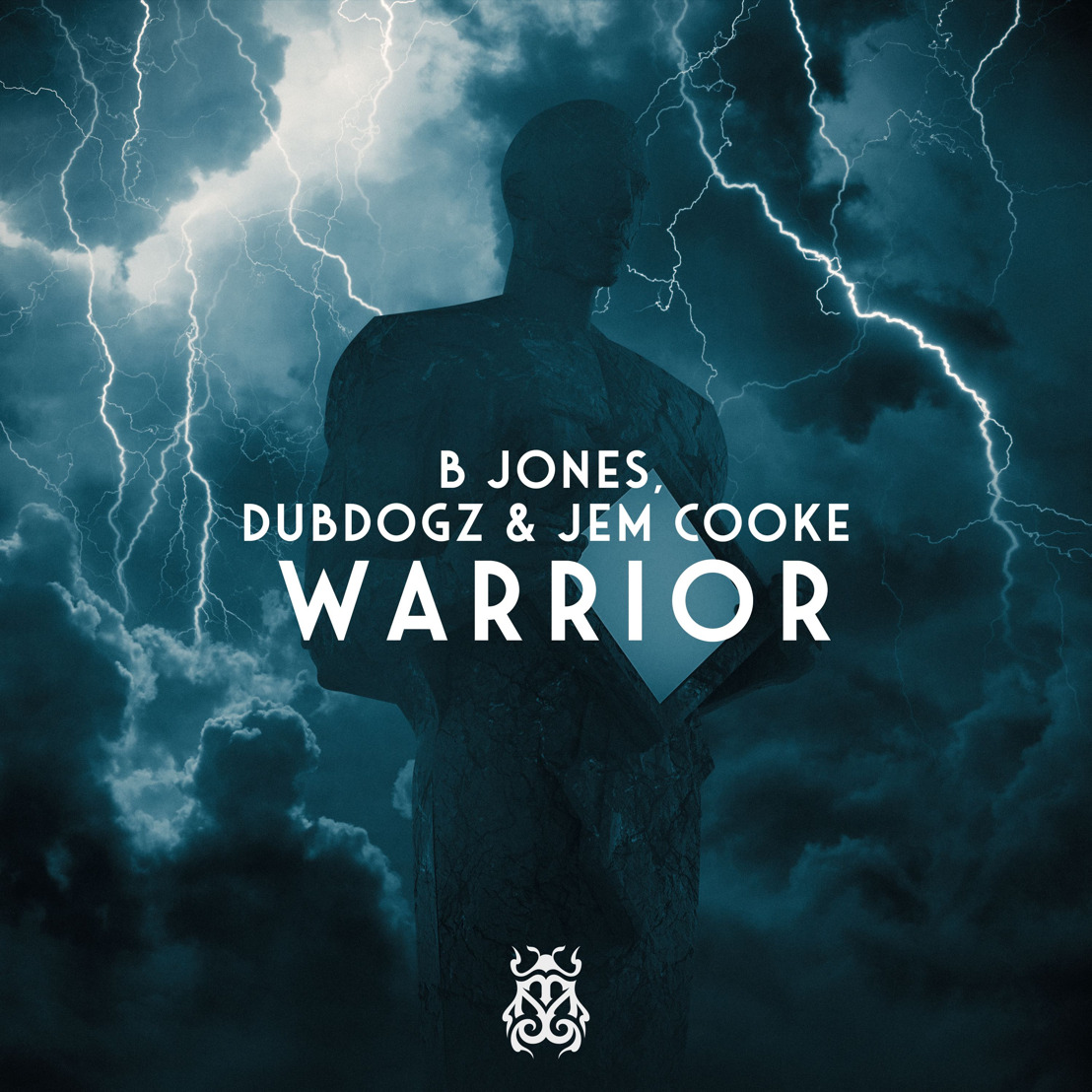 B Jones, Dubdogz and Jem Cooke come together for 'Warrior'
Combining their forces for the first time ever for the ultimate crowd pleaser
Friday, 6 October 2023 – In a collaborative triumph, Spanish female DJ & producer B Jones, Brazil's fastest rising twin stars Dubdogz and UK singer/songwriter Jem Cooke have come together for their thrilling single 'Warrior', released on Tomorrowland Music today! Combining their forces for the first time ever with their dynamic styles, B Jones and Dubdogz have curated the ultimate crowd pleaser, bound to captivate dancefloors in gripping fashion. The catchy and high-energy dance anthem immediately brings a fresh vibe with stunning vocals by Jem Cooke, most known for her work on CamelPhat's & Cristoph's 'Breathe'. The brand-new track is landing right on time before B Jones' and Dubdogz's performances at Tomorrowland Brasil.
'Warrior' is out now via all platforms.
'Warrior' by B Jones, Dubdogz and Jem Cooke is part of a collection of specially curated festival releases by Tomorrowland Music leading up to Tomorrowland Brasil, celebrating the return of Tomorrowland to Brazil on October 12-14, 2023 by gathering some of the most prominent artists in electronic music on Tomorrowland's record imprint.
Jem Cooke: "'Warrior was written about being in a place where you feel like you have nothing left to give but your brain scans across everything you've already done and how far you've come and that makes you believe that if you can just dig deep again, you can push through another tough challenge. It's an internal conversation between the voices in your head - one that tells you "you're rubbish, give up!" and the other that says "you're amazing keep going!" and making sure the good guy wins…like a war cry to yourself to keep going and push past the gremlins and the fear."
About B Jones
​Over the past 10 years B Jones has established herself as one of the world's most sought after electronic artists. A powerhouse of the Balearic scene, Jones has seen a run of acclaimed releases, collaborations, remixes and live performances. From setting the (main)stages of the world's biggest festivals on fire to pioneering the way for the next generation of female DJs, B Jones is a force that cannot be stopped.
A DJ at the peak of her career (#134 in DJ Mag's Top DJ list), 2022 saw B Jones make history as the first Spanish artist to perform on the mainstage of Tomorrowland. DJing all three weekends and initiating the livestream to over a million people worldwide, her sets were a highlight of this edition where Jones' uncompromising energy and selections provided the perfect buzz for the legendary festival.
Fully cemented as one of the finest DJs of the Ibiza generation, B Jones' success is not only attributed to her musicality, but also her unrelenting work ethic, humble attitude and strong values. As a Spanish figurehead of the global fight for equality in electronic music she has also given talks at the International Women's Day Congress and the Spanish Congress of Equality.
Now running a record label of her own 'COME CLOSER' (sharing the name of her poolside residency at the Hard Rock Hotel Ibiza), B Jones has also released her productions on many esteemed imprints including Sony, Universal, Spinnin and Armada. Channelling a sense of openness, her tracks are fluid in nature. Drawing inspiration from a wide range of genres, you can expect to hear everything from underground Tech-House percussion and festival-ready EDM drops to soulful Pop vocals. Expertly weaved into her sound, this exciting approach to dance music is something that sets B Jones apart from the rest.
In true B Jones fashion, 2023 is off to a sensational start. The artist is set to grace the mainstage of Tomorrowland not once, but twice: in March and July. Once again, she is set to make history as the first-ever Spanish artist to perform at the winter edition of the festival. Marking another significant milestone in her already illustrious career, with a string of top-tier singles primed and ready for release, B Jones is poised to take the electronic music world by storm.
https://www.instagram.com/bjonesdj/
​https://soundcloud.com/bjonesdj
​https://www.facebook.com/bjonesdj/
​https://bjonesdj.com
About Dubdogz
​Brazil's fastest rising stars, Dubdogz have taken the electronic music world by storm.
Despite still being in their 20s, the twins Lucas and Marcos Ruback have been playing since they were very young – at the age of 16 they were already touring the world with their first project. All this experience was essential for Dubdogz to achieve so much in a short time, scoring countless hit dance tracks in South America, Europe and North America, having one of the most passionate and engaged fanbases in the scene and being one of the only four Brazilian DJs to enter the coveted DJ Mag Top 100 list.
The duo has played at some of the biggest festivals in the world, such as Tomorrowland Belgium and Brazil (where they will return later this year), EDC Orlando and Mexico, Ushuaïa Ibiza, Rock in Rio, Lollapalooza, XXXperience, Electric Zoo, Ultra Brasil and Só Track Boa .
Known for their charisma, their creativity, their energetic performances and versatile sets – which were first established in Brazilian Bass, but today wander through the House strands –, Dubdogz is focused on taking Brazilian Electronic Music to the world.
They have collaborated and remixed some of the biggest names in Pop and Electronic Music worldwide, such as David Guetta, Tiësto, Steve Angello, Black Eyed Peas, Shakira, P!NK and Nile Rodgers, just to name a few.
"Infinity", in collaboration with Alok's brother Bhaskar, is a worldwide hit, certified Double Platinum and has surpassed 126 million streams on Spotify. His official remix for the French classic "Alors on Danse" also surpassed 100 million, while some releases made by their own record label, Chorou Records, surpass 50 million streams, such as "Everybody Wants to Party". They sport nearly 5.5 million monthly listeners, placing them #7 among Brazilian artists (of all genres) in the last year.
2023 promises to be even more incredible. After starting the year with tours in the US and Asia, Dubdogz have European tours on the way, confirmations in some of the clubs and festivals that are a dream for any DJ, giant collaborations and some projects coming off the ground that promise to move the Electronic Scene not only in Brazil, as in the world.
https://www.instagram.com/dubdogz/
​https://twitter.com/dubdogzmusic
​https://soundcloud.com/dubdogzmusic
About Jem Cooke
​UK dance artist Jem Cooke hails from London and is a singer/songwriter probably most known to date for her stunning vocals/cowritten single with Camelphat + Cristoph, "Breathe". Jem has a prolific track record of hit releases under her own artist name and is also a writer for other artists.
Having come from a musical family background, dance has become Jem's natural home, and her blend of inspirational lyrics and huge live vocal range have led to a prolific release schedule across deep house, techno, drum+bass, chill and melodic house, with recent cowritten singles including Camelphat "Silenced" and "Rabbit Hole", Ferreck Dawn ("Back Tomorrow"), Somma "Rush", Delta Heavy "Heaven", Phantoms "Lay It All On Me" & "Only You", Tobtok "My Carousel", Gorgon City ("Dreams"), Sevenn "HeartSpace" + Jax Jones ("Crystallise").
Jem loves performing live and is looking forward to getting back out on stage in the coming year with a solo performance at Glastonbury. She is currently writing for new projects set for upcoming release this year, including her own album project, and songs with Hayden James, Showtek, Majestic, DubVision + LP Giobbi.
https://www.instagram.com/jemcooke/
​https://soundcloud.com/jemcooke
About Tomorrowland Music
​Tomorrowland has expanded the family with its own music label: Tomorrowland Music. Tomorrowland Music is a dedicated music division within Tomorrowland, collaborating closely with both artists and labels, supporting them in all their recording and release activities.
Tomorrowland Music has partnered with Virgin Distribution and Virgin Records. As part of the Universal Music Group, Virgin has been one of the industry leaders in music distribution and independent records labels for many years. Tomorrowland Music is delighted to be working closely with Virgin and looking forward to taking the label to a higher level together.
Stay tuned for a stellar line-up of renowned artists from all different levels who can't wait to release their music on Tomorrowland Music, encompassing a multitude of genres.
More information: https://www.tomorrowland-music.com
​Instagram: https://tomorrow.land/Music-IG
​Facebook: https://tomorrow.land/Music-FB
​Twitter: https://tomorrow.land/Music-Twitter
Jordy Van Overmeire PR Coordinator, Tomorrowland