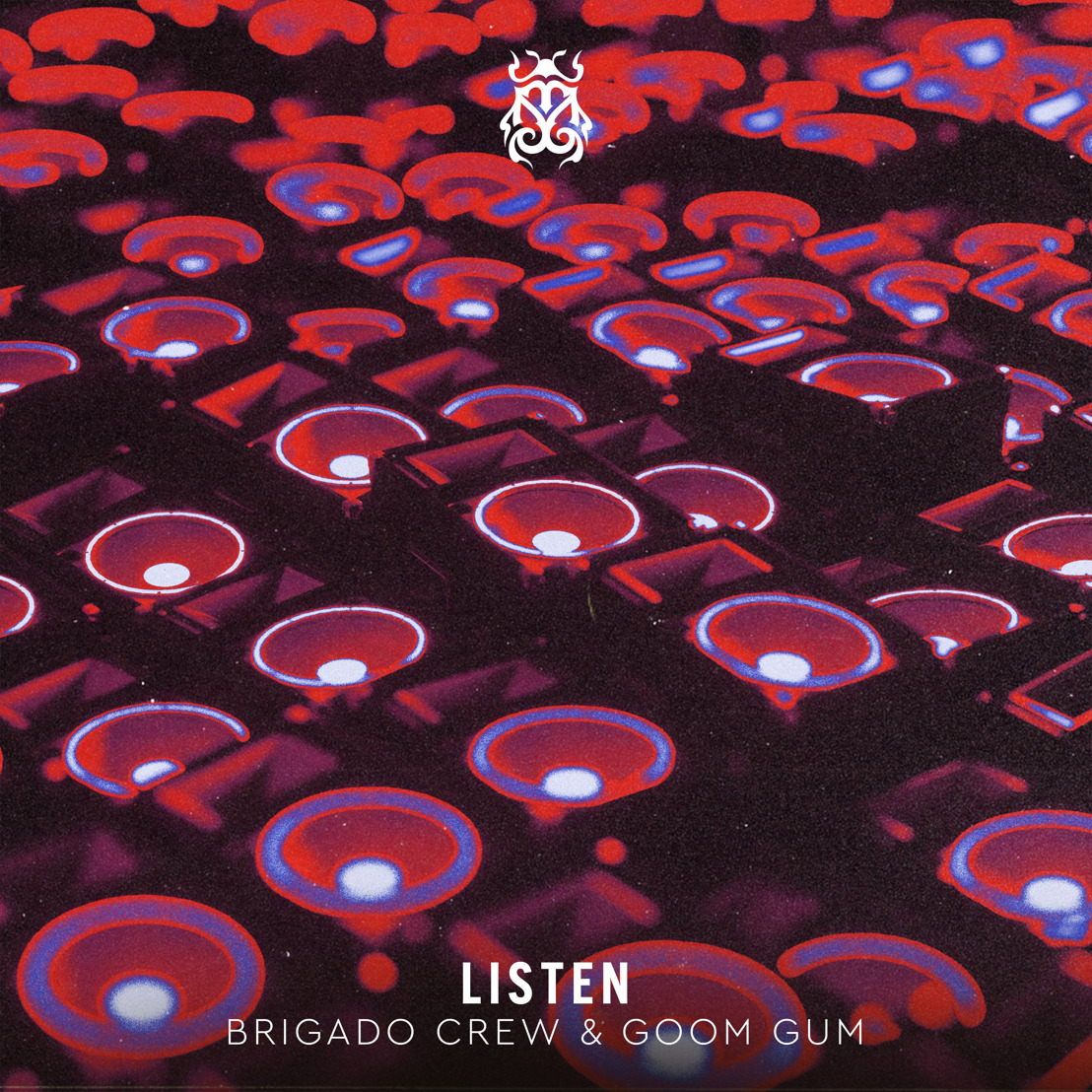 Brigado Crew and Goom Gum combine forces on 'Listen'
A spine-tingling breakdown to devastating effect
Friday, 10 November 2023 – Argentinian friends Brigado Crew and prolific duo Goom Gum have joined their talents for the new collaborative single 'Listen', released on Tomorrowland Music today! The two melodic house & techno duos work together for the first time on this cut and let their respective energies flow into a powerful composition. Receiving heavy support from many of the genre's leading acts like Tale Of Us, 'Listen' has been a well-kept weapon across the house and techno DJ community. 'Listen' uses a rousing vocal symphony with a rolling bassline, an urgent melody, and a spine-tingling breakdown to devastating effect. 'Listen' is Goom Gum's second release on Tomorrowland's imprint, following 'Music' in April earlier this year.
'Listen' is out now via all platforms.
Brigado Crew: "We always love Goom Gum music and we've been in contact with them for years. Then we made an idea to start working with them, sent it over and they liked it and started working on it immediately. With the days passing, we created like a little monster that all of us love."
About Brigado Crew
​Brian Harrison and Martin Kasall became acquainted with each other all the way back in 2012, while exchanging musical ideas which materialized in diverse subsequent projects. This interaction gave rise to the creation of the alias Brigado Crew. This peculiar stage name derives from the word obrigado, meaning thanks in Portuguese. As they fervently believe in gratitude, they judged it wise for their artistic name to bear a reference to thankfulness, whereas the word 'Crew' is intended just to convey that there is more than one talent working as part of a team.
Throughout their career, Brigado Crew have released their music on several dance music labels worldwide, such as 'Stil vor Talent', 'Katermukke', 'MoBLack', 'Jeudi', 'Sincopat', 'Solar Distance', 'Chapter 24', 'Suara', 'Stripped Down', 'Lost On You', 'Eleatics Records', 'Stereo Productions', 'Toolroom Records', 'Glasgow Underground', '303Lovers', 'Suruba' and 'Ultra'. In 2017, they released their first single, 'Zulu', on Solomun's renowned label, 'Diynamic'. 'Zulu' climbed the Beatport Deep House chart all the way up to number one and held its position for over twenty days. This single was played by the most outstanding exponents of said musical style, such as the likes of Solomun, Âme, Oliver Koletzki, Black Coffee, Acid Pauli, Seth Troxler, Matador, Magdalena, Andhim, Kollektiv Turmstrasse, among others.
Regarding their musical features, Brigado Crew have been consistent with their art form, which varies between House and Techno, often with strong melodic, progressive overtones influenced by sounds of the 80s and 90s, which stand out in their signature style. In the endeavour to create innovative sounds, they have garnered the support of artists such as Solomun, Black Coffee, Âme, Hernán Cattáneo, NickWarren, Joris Voorn, Seth Troxler, Matador, Aly & Fila, Magdalena, H.O.S.H., Kollektiv Turmstrasse, Oliver Koletzki, Audiofly, Acid Pauli, Andhim, Uner, Sébastien Léger, and Monika Kruse, inter alia. Among their most relevant releases, are Hernán Cattáneo's and Audio Junkies' remix of Bricado Crew's original track 'Nebular', out in 2019, as well as other co-productions with artists such as Los Suruba, Chicola, Crisstiano, Haptic, Ubbah, Damon Jee, 8kays, Far&High, and Thomas Gandey.
Not only has their music reached leading positions in Deep House charts, but it has also remained on several occasions in the top-10-best-selling charts for other dance music subgenres, such as Progressive House, Afro House, Melodic House & Techno, Indie Dance, Electrónica and DJ Tools.
Strongly inspired by the seventies' and nineties' music, from bands such as Pink Floyd, Queen, Depeche Mode, New Order, and The Cure -just to name a few- their primal love of music, deep-rooted dedication and constant hard work have led them to perform at several top-rated venues, nightclubs and dance music festivals in Argentina, and to travel a great part of the world while on tour. They had their first international experience in Peru, in Lima and Arequipa, and shortly thereafter, in San Pablo and Santa Maria, Brazil. They also performed in their neighbouring country, Uruguay, in Montevideo and Punta del Este. On their first international tour, they travelled even further abroad, their first gigs taking place in Spain, in the cities of Valencia and Ibiza. Their second tour in the Old Continent lasted longer than a month. They performed in Berlin, Germany; Vienna, Austria; Troyes, France; Sarajevo, Bosnia and Herzegovina; Belgrade and Novi Sad, Serbia; and Amsterdam, in the Netherlands. While back on tour for the third time, they decided to embark on the experience of living in Europe for three months, where they performed in the Gozo Island of Malta;Hvar and Zagreb, Croatia; Beersheba and Haifa, Israel; Kiev and Kharkiv, Ukraine; Hamburg and Düsseldorf, Germany; Belgrade, Serbia; Oradea, Romania; Moscow, Russia; Troyes, France; Madrid, Spain; Amsterdam, in the Netherlands. Their fourth tour –the shortest-lasting but not least important of all- led their way to new horizons in the Middle East, with a special performance in Dubai, in the United Arab Emirates. In addition, they returned to some places in Europe where they had already been to, such as Budapest, Hungary; Nitra, Slovakia; Oradea, Romania; and Sarajevo, Bosnia and Herzegovina.
Amongst their most remarkable performances, they have played at San Pablo's legendary D-Edge, Amazon Chapeco, Warung tour Londrina in Brazil; at Carpe Diem Hvar, Croatia; Block 22 in India; Forum Israel; Kafes Istanbul in Turkey; in Germany at 'Sisyphos' 'Kater Blau' and 'Ritterbutzke', in Berlin; and 'Uebel & Gefährlich', in Hamburg; 'AETHER Club', Budapest; 'Solace', Dubai; 'Karma', Madrid; 'Club 04', Haifa, Israel; 'Clubroom Santiago de Chile' 'Plaza Mateo', Montevideo, Uruguay; in the city of Medellín, Colombia; in Argentina, at 'Niceto', 'Mandarine Park' 'Crobar' 'The bow' 'Oasis Punta Carrasco' 'Bahrein', and 'RoseinRio',at the Hippodrome of Palermo with Omnia Producciones in Buenos Aires; at 'La Estación' and 'Club Berlin', Córdoba; and at 'Only' and 'La Caseta', in the coastal c i t y o f Mar del Plata.
Brigado Crew have shared DJ booths with prominent artists like Paul Kalkbrenner, Adriatique, Popof, Kollektiv Turmstrasse, Oliver Koletzki, H.O.S.H., Stimming, Einmusik, David Morales, Alex Niggemann, Loco & Jam, Agents of Time, Kevin de Vries, Brian Cid, Patrice Baumel, Dmitry Molosh, Stereocalypse, Mathame, Wade, Michael Bibi, Joris Voorn, Los Suruba, Hidden Empire, Township Rebellion, and Super Flu.
On their fifth tour, they performed for the first time at the legendary Katerblau in Berlin and in Turkey, and then completed their tour in Oradea, Romania; in Nitra,Slovakia; and Moscow, Russia. They also performed at an exclusive gig, the Safari Festival in Kragerø, Norway. At the beginning of 2020, they went on their sixth tour which, due to the global pandemic, was suspended in the middle of its course. But this did not prevent them from performing for the first time in the city of Brunschweig, Germany, for a new Still Vor Talent showcase. Between the years 2020 and 2021, Brigado Crew began its first album project. With the approval of Oliver Koletzki, it meant a major challenge for them to release their first album on the prestigious label "Stil vor Talent" from Berlin, Germany. The Symbiosis album included 16 tracks. Among them, '7' reached the third place in Indie Dance Beatport sales. Aside from '7', other tracks like I Can't Explain, Rocking It, Aerodynamic, S9, and Get It Now also attained significant results in Beatport charts, all ranking within the top 20. In their first album, Brigado Crew succeeded in consolidating their musical identity more than ever, with an emphasis on the music of the 80s and a futuristic style.
At each and every gig, Brigado Crew give their all, showing their love and passion for music, in addition to an unwavering commitment to upholding a quality of music that is always a step forward towards an increasing distinctiveness. They engage with an awestruck audience, through a special energy and radically different ambiences as their live sets unfold. One of their main goals while playing live is to provide a fresh modern twist and a masterful musical journey which, lasting long after the final beat, tells a story from beginning to end. Amongst prospective projects on Brigado Crew's horizon is their own record label, a milestone which will most likely prompt them to tour the world many times over in the years to come.
http://www.brigadocrew.com/
​https://www.tiktok.com/@brigadocrew
​https://soundcloud.com/brigadocrew
​https://www.facebook.com/brigadocrew/
​https://www.instagram.com/brigadocrew/
About Goom Gum
​Goom Gum is a duo of DJs and producers created in 2018. Their first tracks were supported in sets by the top figures of the world electronic music scene, such as Solomun, Tale Of Us, Dubfire, Diplo, HOSH, CamelPhat and many others. The first release of "Karma" was on the Subliminal Soul label, owned by Erick Morillo. One of the first who supported it was Armin Van Buuren in "A State Of Trance #894 Radioshow". Then there were successful releases on TAU, Fryhide, Disco Halal, Toolroom, Spinnin Deep, and other leading house labels. But the biggest breakthrough for the artists was the banger "It's A Lot". The single reached #1 Dance Chart BBC Radio 1, #1 Cool Cuts Charts UK, #1 Beatport Nu Disco Chart and became the "Track Of The Week" on Ministry Of Sound Radioshow. Pete Tong listed it as one of the Top 5 Essential Tunes of 2019. The track uses an original sample from Depeche Mode's hit "Master & Servant", which was officially licensed by the legendary band for the Goom Gum release. Official Tomorrowland Festival radio station "One World Radio" listed Goom Gum as "One of the 2020", a list of the 20 most exciting and up-and-coming artists recommended for listening. Pete Tong has repeatedly presented Goom Gum tracks on his "Essential Selection" radio show on BBC Radio 1 and he also invited Goom Gum for guest "Weekend Hot Mix". In 2021, Pete Tong & Goom Gum's joint single "Signal" was released on the Renaissance Records. In the same year track "Freedom" released on the Selador label, owned by Dave Seaman becomes #1 Beatport Indie Dance Chart. Last year the artists have been on tours to Mexico, India, and Turkey and have a show to the main stage of the Arcadia Festival in Doha (Qatar), which was the part of the "FIFA World Cup 2022". 2023 began with a release on the Afterlife Records. The single "Pantheon", recorded with Argy, reached #1 on the Main Top Chart and #1 on the Melodic House & Techno Chart on Beatport. This summer, Goom Gum will be the part of the Tomorrowland festival.
https://www.instagram.com/goom_gum/
​https://soundcloud.com/goomgum
​https://www.facebook.com/goomgummusic/
​https://www.youtube.com/@GoomGum
About Tomorrowland Music
​Tomorrowland has expanded the family with its own music label: Tomorrowland Music. Tomorrowland Music is a dedicated music division within Tomorrowland, collaborating closely with both artists and labels, supporting them in all their recording and release activities.
Tomorrowland Music has partnered with Virgin Distribution and Virgin Records. As part of the Universal Music Group, Virgin has been one of the industry leaders in music distribution and independent records labels for many years. Tomorrowland Music is delighted to be working closely with Virgin and looking forward to taking the label to a higher level together.
Stay tuned for a stellar line-up of renowned artists from all different levels who can't wait to release their music on Tomorrowland Music, encompassing a multitude of genres.
More information: https://www.tomorrowland-music.com
​Instagram: https://tomorrow.land/Music-IG
​Facebook: https://tomorrow.land/Music-FB
​Twitter: https://tomorrow.land/Music-Twitter
Jordy Van Overmeire PR Coordinator, Tomorrowland