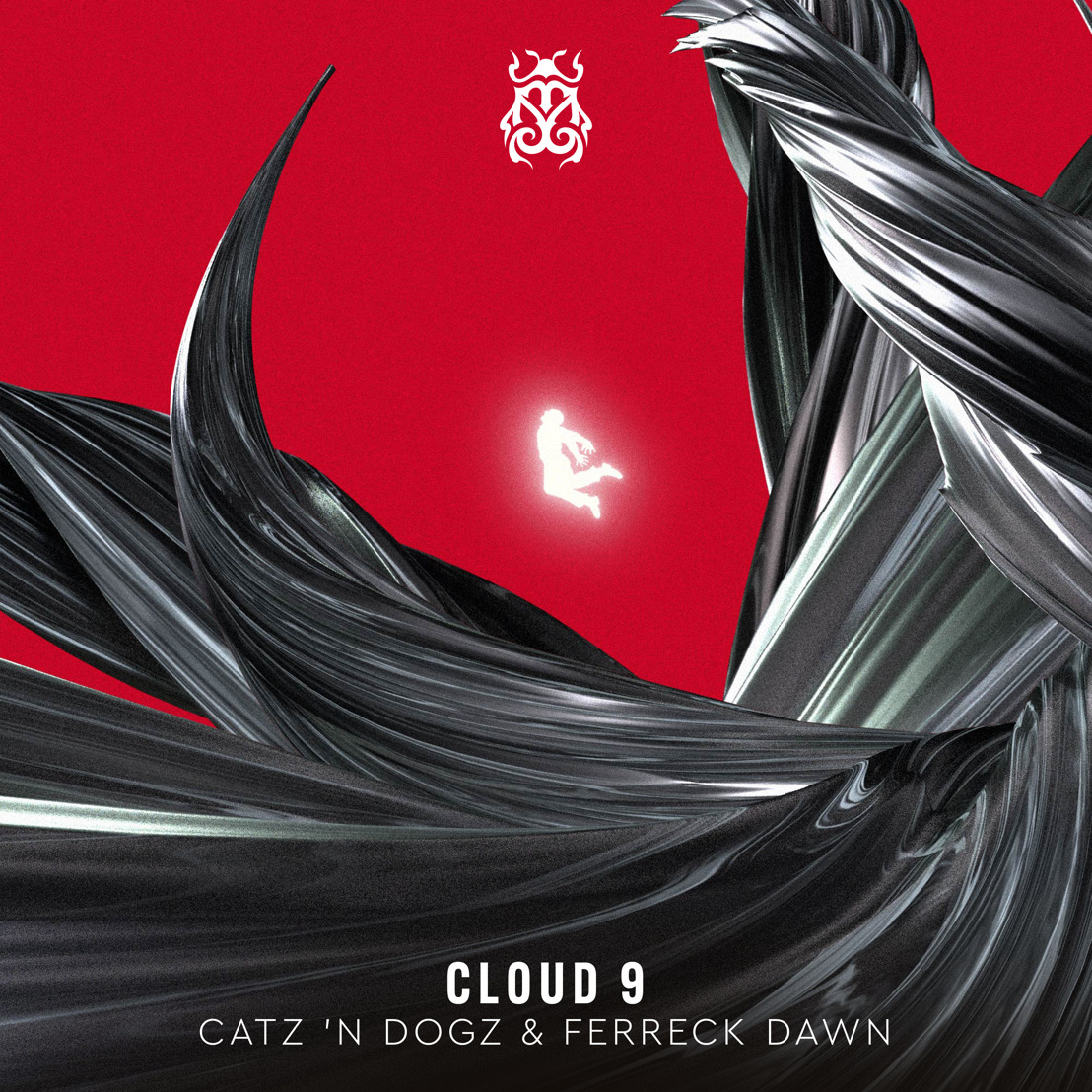 Catz 'n Dogz and Ferreck Dawn combine forces on dancefloor filler 'Cloud 9'
The perfect tune to take over dancefloors worldwide
Friday, 27 January 2023 – Poland's prolific house music duo Catz 'n Dogz and Dutch chart-topping producer Ferreck Dawn have joined their talents for the new collaborative single 'Cloud 9', released through Tomorrowland Music today! 'Cloud 9' wastes no time in getting down to business with an insistent driving beat and booming bass hammering away and swirling into a powerful drop – another hefty new slice of full-throttle dance music, perfect to take over dancefloors worldwide.
'Cloud 9' is out now via all platforms.
Ferreck Dawn: "I've been a fan of Catz 'n Dogz for years. I really love their heavy beats and quirky vocals. We ran into each other at events a number of times over the past few years and when I saw them in New York past March I asked if they'd be up for working on a track together. They sent me a few ideas and we landed on 'Cloud 9'. I'm really happy how it turned out. I love the heavy, quirky vibe and most of all, the catchy vocal. It's been an absolute pleasure working with the guys and I'm super excited about the release."
About Catz 'n Dogz
​It's a plain fact - close friends and production / DJ partners Grzegorz and Wojciech are enjoying a stellar and prolific career as the house outfit Catz 'n Dogz. Working their way up from humble beginnings, they now deliver constant DJ shows at the hottest venues across the globe and killer EPs and remixes with the biggest labels on the scene including Defected, Dirtybird and Diynamic. After a huge success with the single 'Force' last year, they returned with a 2 track EP 'Inner Revolution' to the UK powerhouse Defected Records in May and debuted on Solomun's Diynamic in March. As well as the underground scene the duo have also broken onto the bigger global stage through remixes and collaborations with names like The Chemical Brothers, Roisin Murphy and Disclosure. While their fourth full length studio album 'Friendship' was released just last year on their own Pets Recordings; this year they faced the adversities of the COVID-19 pandemic, bouncing back with the creation of 'Moments', the latest album showcasing yet again their mastery in music production, presenting another side of their trademark sound while accompanying the community through a journey of self-awareness, emotionally charged, tapping into the mellow, downtempo vibrations to overcome a time of global crisis.
Now active on the scene for over fifteen years Catz 'n Dogz are making a long-lasting impression in the dance music community, their achievements are reflected with press and award nominations including cover features with Mixmag and DJ Mag Spain, spots in the RA Top 100 DJ poll, DJ Mag's 'Top 10 Albums' and 'Best Track' at WMC Awards. Alongside all this, back in their home country Poland they have received numerous prizes from Muno PL, held residencies at the top clubs in the country, such as Smolna Warsaw, and are widely regarded as the nation's number one dance music export. Regardless of the current world situation, Catz 'n Dogz duo continue to passionaly create music and won't stop with productions. Even though the world is at a stall, the polish duo persistently thrive and certainly they are not giving up hope!
https://www.instagram.com/catz_n_dogz/
​https://www.youtube.com/catzndogz-official
​https://www.facebook.com/catzndogz.official/
​https://www.twitch.tv/catz_n_dogz/
About Ferreck Dawn
​Ferreck Dawn is all about the drums. They have to be heavy and physical to get his dance floors full, while the vocal details bring the all-important heart and soul. After 20 years in the game, this signature sound is what the Dutchman is recognised for around the world. It has taken him to every major club and festival, to labels like Defected, Repopulate Mars and Club Sweat and to the Beatport number 1 spot a number of times.
"I like to please everybody on the dance floor," he says of this mix of the visceral and more emotional. Whether using original vocalists or digging deep for a sample, it is the melody, soul and texture of the human voice rather than the words that Ferreck is drawn to. And it has been this way since his international breakout tune in 2014: 'Love Too Deep,' with his friend Redondo, got signed to Spinnin Records, made the daytime playlist on BBC Radio One and led Ferreck to quit his job and pursue music full time.
His early tunes soon got support from the likes of Carl Cox, Luciano and Green Velvet, and another milestone came with 'In Arms' on Defected in 2018. It became one of the most played tracks of the Ibiza season, reached the overall number 1 on Beatport and gathered over 70 million streams. In 2021, he repeated the trick of serving up a sizzling summer anthem and Beatport chart-topper with 'Back Tomorrow' together with UK powerhouse singer Jem Cooke, again on Defected. As with many of his tunes, global radio support and high-profile DJ plays helped make it a modern classic.
Part of the reason Ferreck remains a chart-topping producer after nearly 20 years is his ability to do it all. He searches out interesting collaborators from different sub-genres to mix it up and find new inspirations. Whether it's David Guetta's house alias Jack Back, 'The Void' with Lee Foss, 'My Own Way' with A-Trak and Lord, he never stops evolving. Of course, the best in the scene also come calling for the famous Ferreck sound: he has remixed an a-list of artists including Diplo, Tiesto, Martin Garrix, Vintage Culture, Claptone, Oliver Heldens and many more.
Ferreck traces his love of chunky bottom ends back to his earliest experiences of dance music. Growing up in the Netherlands, he was surrounded by gabba and hardcore. It swept him up and defined his early years as DJ Dusk. But the often high tempos and impenetrable grooves proved to be a creative dead end for him once he began producing. He had more to say and was keen to explore a wider array of moods and grooves so added a stylized version of his own first name, Freek, and flipped Dusk to Dawn. He gravitated towards a unique mix of powerful techno drums and emotional house vocals and Ferreck Dawn was born.
As a DJ now, he understands people want to hear the signature Ferreck sound. So in the booth, he balances his own productions with tracks that speak most to him, as well as some carefully chosen classics and future gems. This means he is able to smash out a high-impact 90-minute festival set at Extrema Outdoor, but also go deeper and play all night long at cult clubs like London's Fabric, and everywhere in between.
Fresh off the back of his first solo tour of the US, Ferreck has a wealth of new music coming with Meduza, Vintage Culture, Dom Dolla and Izzy Bizu. "If I won't play it, I won't release it," he says, "and I stand by that 200%." It is that quality control that has kept him at the top of his game for almost 20 years.
https://soundcloud.com/ferreckdawn
​https://www.instagram.com/ferreckdawn/
​https://www.facebook.com/FerreckDawnOfficial
​https://twitter.com/ferreckdawn
About Tomorrowland Music
​Tomorrowland has expanded the family with its own music label: Tomorrowland Music. Tomorrowland Music is a dedicated music division within Tomorrowland, collaborating closely with both artists and labels, supporting them in all their recording and release activities.
Tomorrowland Music has partnered with Virgin Distribution and Virgin Records. As part of the Universal Music Group, Virgin has been one of the industry leaders in music distribution and independent records labels for many years. Tomorrowland Music is delighted to be working closely with Virgin and looking forward to taking the label to a higher level together.
Stay tuned for a stellar line-up of renowned artists from all different levels who can't wait to release their music on Tomorrowland Music, encompassing a multitude of genres.
More information: https://www.tomorrowland-music.com
​Instagram: https://tomorrow.land/Music-IG
​Facebook: https://tomorrow.land/Music-FB
​Twitter: https://tomorrow.land/Music-Twitter
Jordy Van Overmeire PR Coordinator, Tomorrowland