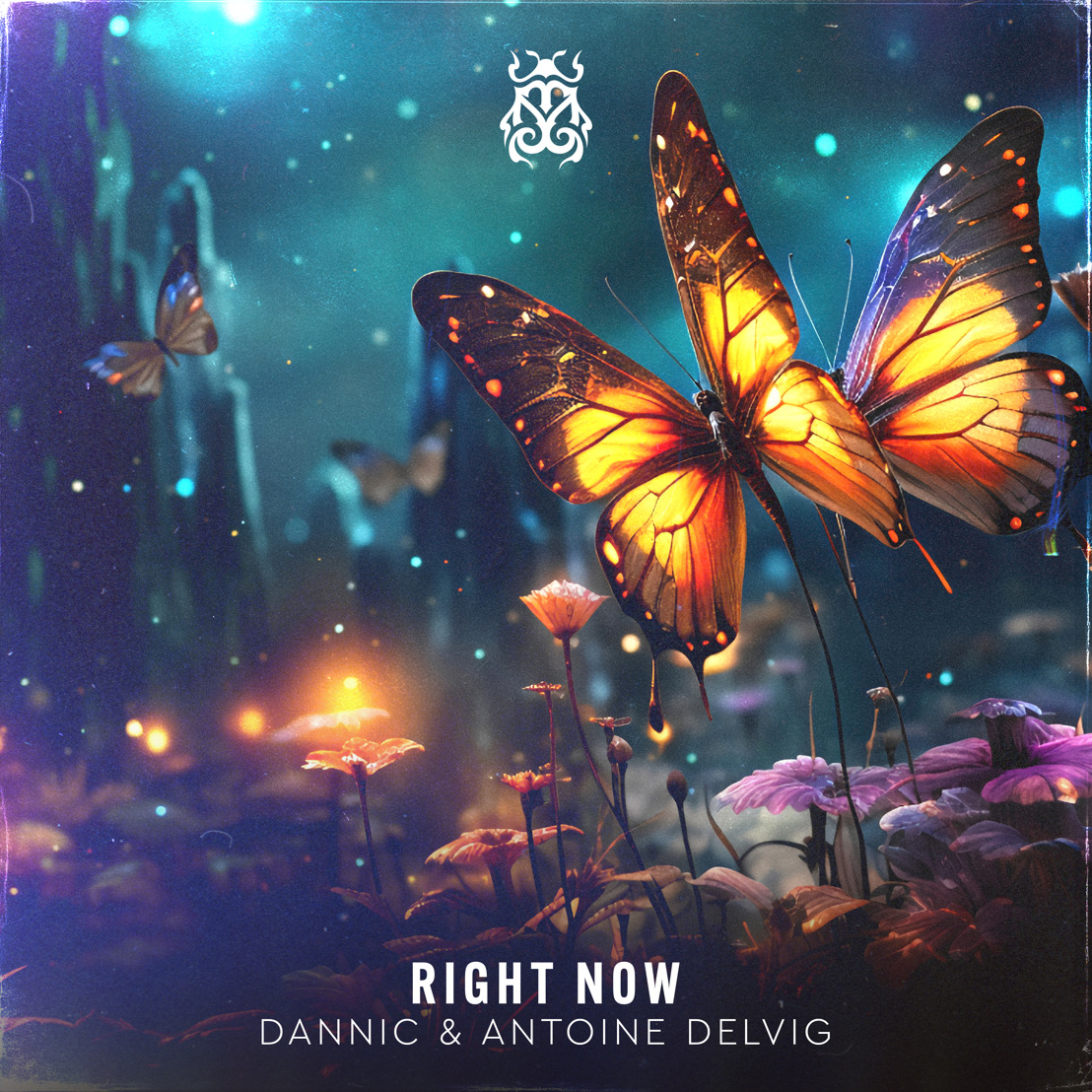 Dannic and Antoine Delvig join forces for high-energy festival anthem 'Right Now'
Fully capturing the euphoria and adrenaline rush of a festival
Friday, 4 August 2023 – Renowned Dutch producer Dannic and chart-topping French artist Antoine Delvig have joined forces for their new high-energy festival anthem 'Right Now', released on Tomorrowland Music today! With festival season in full effect around the world, Dannic and Antoine Delvig have unleashed a new single that makes it impossible not to dance, full of their massive collaborative energy and capturing the euphoria and adrenaline rush of a festival. 'Right Now' fully embodies the excitement of live performances and the essence of a festival's peak moment, get ready to lose yourself in the music and embrace the electrifying energy of 'Right Now'. The brand-new track is landing right after Dannic's explosive performance on Tomorrowland's mesmerizing The Rose Garden stage.
'Right Now' is out now via all platforms.
Dannic: "Teaming up with Antoine Delvig on 'Right Now' has been an incredible experience. We wanted to create a festival anthem that would make the crowd go wild and leave a lasting impression. Get ready to embrace the energy and excitement of this collaboration!"
Antoine Delvig: "Working with Dannic on 'Right Now' has been a dream come true. We wanted to bring the heat to the mainstage and create a track that would make people dance like there's no tomorrow. I'm thrilled to share this festival banger with the world!"
About Dannic
​Get ready to experience the ultimate in Dutch dance music! Breda's own Dannic is a true heavyweight in the scene, with his signature groovy big-room club sound leaving audiences worldwide begging for more. This is an artist that lives and breathes music, and it shows in everything he does.
Dannic is a highly acclaimed Dutch DJ and producer hailing from Breda. Over the years, Dannic has made a name for himself as a go-to artist within the music industry, consistently delivering high-quality productions and outstanding DJ sets that confirm his status as a driving force in the scene.
From his early releases on Toolroom and his close relationship with Hardwell's Revealed Recordings to the launch of his highly praised Fonk Recordings, Dannic's constant output of dance floor-ready bangers and groove-laden productions continue to excite audiences worldwide. His music has received widespread support from industry stars such as Swedish House Mafia. Afrojack, Hardwell and Martin Garrix.
Dannic's live performances are nothing short of legendary. Dannic's DJ skills are also highly regarded in the industry. He is a master at beatmatching and mixing, and he often incorporates creative transitions and effects into his sets. He is also known for his flawless track selection while gracing the stages of some of the world's biggest festivals, including Creamfields, Tomorrowland, and EDC. His impressive DJ skills and stage presence have earned him a reputation as one of the most exciting live acts in the business. He knows how to read a crowd, and he always delivers exactly what they want. According to the legendary Fedde Le Grand, "Dannic is a DJ's DJ. His sets are second to none, and his productions always deliver the goods."
One of the standout features of Dannic's career is his own label, Fonk Recordings. This imprint is all about the groovy big room club sound that Dannic has become known for. With solo releases and VA EPs, he has brought together some of the most exciting artists in the scene to create a sound that is truly his own. Fonk Recordings has seen huge success, with tracks like "Bump N Roll" and "Blaze" topping the charts and earning Dannic global acclaim.
Despite his success, Dannic remains humble and grounded, always striving to connect with his audience and provide them with an unforgettable experience. As he notes, "I always try to keep a balance between the music I love and what the crowd wants. It's not always easy, but that's what makes it so rewarding."
Dannic's experience playing in different countries and cultures has given him a unique perspective on music and its ability to bring people together. He explains, "Music is a universal language, and it has the power to transcend borders and cultures. When I'm playing in a foreign country, I always try to incorporate local music and culture into my sets. It's a great way to connect with the audience and show them that we're all united by our love of music."
In the words of Hardwell, "Dannic's music is the perfect balance between high energy and smooth grooves. He knows how to create a vibe that gets people moving and keeps them there. I'm excited to see what he'll do next."
https://www.instagram.com/dannic/
​https://soundcloud.com/dannic
​https://www.facebook.com/djdannic/
​https://twitter.com/dannic
​https://www.djdannic.com
About Antoine Delvig
​Antoine Delvig is one of the most influential French DJ/Producer of the current electronic scene, spotted by Oliver Heldens & Spinnin' Records in 2015 by winning the remix contest organized by them for the hit ''Shades Of Grey'', Antoine debuted in 2017 on the Axtone label with "Disciples''. This title will be supported by almost the entire international EDM scene, like the label boss Axwell from Swedish House Mafia, or even Don Diablo at Tomorrowland!
Since then, each new Antoine Delvig production has been signed on the biggest EDM labels. like Spinnin' but also Axtone, Musical Freedom, Revealed or even HEXAGON. Antoine recently confirmed again his talent by remixing many artists including the big track 'Heartbreak Anthem' by Galantis & David Guetta played by Galantis themselves at all their 2021 summer shows!
In 2023, Antoine established himself as a trendsetter with his unique detuned synth sounds, recognized by top AAA artists. He started the year with a big remix for Tujamo's hit track "DROP THAT LOW" and a collaboration with him called "VIDA LOCA".
Since the beginning of his career, Antoine has constantly been renewing his production style, riding on trends, though still keeping his musical signature and identity. No doubts that Antoine Delvig is one of the most successful French artists of his generation!
https://soundcloud.com/antoinedelvig
​https://www.instagram.com/antoinedelvig/
​https://twitter.com/antoinedelvig
​https://www.facebook.com/antoinedelvig/
About Tomorrowland Music
​Tomorrowland has expanded the family with its own music label: Tomorrowland Music. Tomorrowland Music is a dedicated music division within Tomorrowland, collaborating closely with both artists and labels, supporting them in all their recording and release activities.
Tomorrowland Music has partnered with Virgin Distribution and Virgin Records. As part of the Universal Music Group, Virgin has been one of the industry leaders in music distribution and independent records labels for many years. Tomorrowland Music is delighted to be working closely with Virgin and looking forward to taking the label to a higher level together.
Stay tuned for a stellar line-up of renowned artists from all different levels who can't wait to release their music on Tomorrowland Music, encompassing a multitude of genres.
More information: https://www.tomorrowland-music.com
​Instagram: https://tomorrow.land/Music-IG
​Facebook: https://tomorrow.land/Music-FB
​Twitter: https://tomorrow.land/Music-Twitter
Jordy Van Overmeire PR Coordinator, Tomorrowland