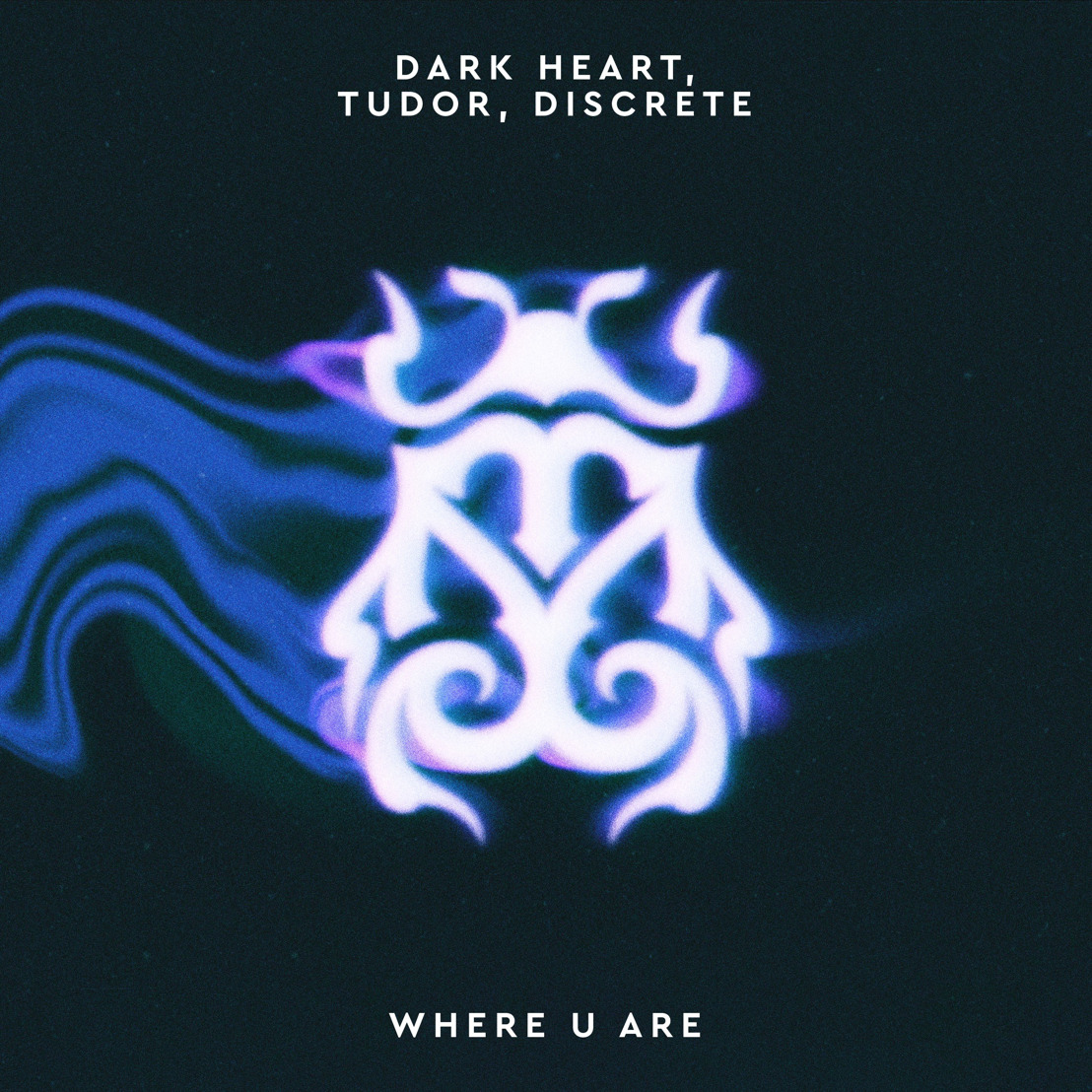 Dark Heart, Tudor and Discrete release house weapon 'Where U Are'
Combining the talents of three vibrant artists into one blissful output
Friday, 11 February 2022 – In a collaborative triumph, Hollywood talent agent turned gifted producer and DJ Dark Heart has joined forces with Tudor and Discrete for their brand-new single 'Where U Are'. Combining an insistent driving beat and mesmerizing melodies with an emotional vocal, 'Where U Are' gives listeners that delirious and intoxicating feeling throughout the entire run, demonstrating Dark Heart's ear for a solid house production. 'Where U Are' effortlessly combines the talents of three vibrant, diverse artists into one blissful output.
'Where U Are' is out now via all platforms.
Dark Heart: "I honestly don't know how we did this one as quickly as we did, we were flowing in the session and it just came together. I think that's the best kind of song, and I hope it makes you feel something."
Tudor: "The song came about after our first Zoom session together. August (aka 'Discrete') and I took the session in the evening from Stockholm and Dark Heart worked from LA, so the time difference was a little tricky, but we made it work!"
Discrete: "It all started out with the three of us meeting over Zoom – me and Tudor based in Stockholm, Sweden and David (Dark Heart) based in LA. The time zones meant we stayed in the studio till close to midnight and David had to wake up pretty early for it to work. While he was drinking his coffee to start his day, we were close to ending ours. We started by sending ideas back and forth until we came across an instrumental David had made which was the 'skeleton' of the record it is today. During our 4 to 5-hour long Zoom session the foundation of the record was made. The 'folky' chorus with a dark instrumental and mysterious lyric was written, which led to me and David sending the instrumental back and forth to each other up until it was something the three of us was proud of. For me 'Where U Are' is a record about losing a loved one, it could be a friend, a lover, a partner. Reminiscing about the past and realizing the choices you've made in your life has put you in a situation you don't want to be in."
About Dark Heart
​Dark Heart is the alias of a former Hollywood talent agent who left the movie business to make music and have fun. Having been supported in live sets and radio shows all over the world by The Chainsmokers, Marshmello, Tiësto, Steve Aoki, Dimitri Vegas & Like Mike and many others, Dark Heart's impressive catalogue (including official remixes for Bazzi, Seeb, GASHI & DJ Snake) has amassed tens of millions of streams already. Aside from original music and remixes, he's produced for artists including GASHI & Ocean Wisdom.
He's also received the attention of Jonas Blue, the two collaborated together on several tracks on Jonas' debut album 'Blue'. Original releases with Spinnin' Records, Electronic Nature, Smash The House, Dharma, NCS, Circus Records & Proximity have followed, building Dark Heart's credibility as a gifted multi-genre producer standing out in an ever crowded market.
​2021 has been a huge start for Dark Heart with the launch of his biggest single to date 'Don't Speak' - which was released in January and amassed millions of streams online, receiving support from respected tastemakers and DJs like Selected, MrRevillz, Martin Jensen & TCTS. Radio stations across Europe have also supported the track, such as Kiss FM (UK) and Radio NRJ (Germany), the song has since entered the German club chart and picked up TV syncs in the sports world.
https://www.instagram.com/dddarkheart
​https://www.facebook.com/dddarkheart
​https://soundcloud.com/dddarkheart
​https://twitter.com/dddarkheart
About Tudor
​Tudor is a singer, songwriter & multi-instrumentalist producer with over 150 million Spotify streams across his writing catalogue. After winning the prestigious PRS Hitmaker Fund 2020, he moved from the UK to Stockholm to further push the boundaries of collaboration. He has since had releases across every major genre on the likes of Capitol, Warner, EMI, Neon16, Perfect Havoc, Ultra, Future Classic, Armada, Disco:wax, Virgin Records and many more to come.
His evolution in the music industry has been unique to say the least, having started out as the producer of XY&O (40+ million Spotify streams, European tour including Glastonbury performance, syncs on Sims 4 & Netflix hit show 'You') in 2017 he seamlessly transitioned over into the songwriting world, following up shortly thereafter by also learning how to sing. His first singing release 'Pitfalls' with Chilean DJ Sistek went viral on YouTube and the track has since amassed over 50 million streams across platforms. Now an esteemed songwriter and singer in his own right, Tudor has upcoming releases with Cedric Gervais, Hayden James, SNBRN, Kiesza and many more.
https://www.instagram.com/tudormusic/
About Discrete
​With a catalogue of over 100 million streams the multitalented genre-bending producer and songwriter Discrete is creating increased noise in the industry. With releases across prestigious labels such as Astralwerks, NEON16, Ultra Music, Disco:wax, RCA and more he is consistently growing his fanbase and developing his sound. Discrete is one of the most exciting writer/producers of the next generation coming out of the music mecca that is Stockholm.
To understand Discrete's unique and perfectionistic approach to music production, first his foundations must be outlined. He developed his production versatility on solo projects before writing and producing for artists spanning just about every genre. He explains, "I would work on pretty much every kind of project in order to get the experience I needed as an artist, but I had no idea how K-pop and reggaeton would later impact my own sound until I started writing for myself."
Since signing his publishing deal with Sony Music Publishing, Discrete has written songs with the likes of Dylan Fuentes, Kiesza, Dan Caplen, Alexandra Hosking, Astrid S, Hayden James and has some extremely exciting collaborations coming 2022.
https://www.instagram.com/whoisdiscrete/
​https://www.facebook.com/whoisdiscrete/
​https://soundcloud.com/whoisdiscrete
​https://twitter.com/whoisdiscrete
​https://www.youtube.com/c/whoisdiscrete
About Tomorrowland Music
​Tomorrowland has expanded the family with its own music label: Tomorrowland Music. Tomorrowland Music is a dedicated music division within Tomorrowland, collaborating closely with both artists and labels, supporting them in all their recording and release activities.
Tomorrowland Music has partnered with Virgin Distribution and Virgin Records. As part of the Universal Music Group, Virgin has been one of the industry leaders in music distribution and independent records labels for many years. Tomorrowland Music is delighted to be working closely with Virgin and looking forward to taking the label to a higher level together.
Stay tuned for a stellar line-up of renowned artists from all different levels who can't wait to release their music on Tomorrowland Music, encompassing a multitude of genres.
More information: https://www.tomorrowland-music.com
​Instagram: https://tomorrow.land/Music-IG
​Facebook: https://tomorrow.land/Music-FB
​Twitter: https://tomorrow.land/Music-Twitter
Jordy Van Overmeire PR Coordinator, Tomorrowland