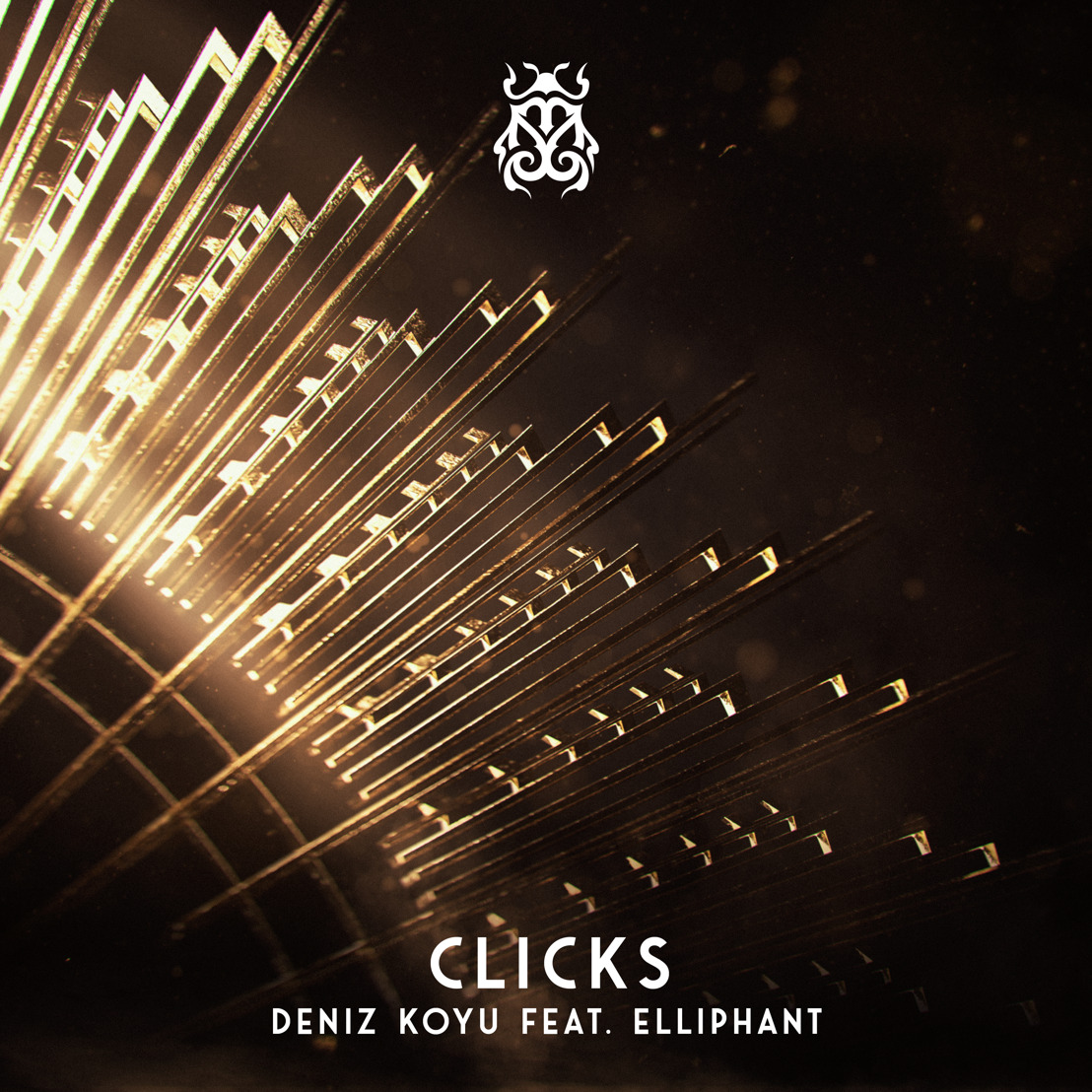 Deniz Koyu arrives on Tomorrowland Music with 'Clicks'
A groovy record with luscious vocals and tension rising throughout
Friday, 26 August 2022 – Turkish-German DJ & producer Deniz Koyu is revealing his brand-new dance weapon 'Clicks', released through Tomorrowland Music today! 'Clicks' kicks off with luscious vocals and comes in the shape of a groovy record with tension rising throughout the entire tune, while the drop features an eye-opening synth that tingles the brain just right… Dance music veteran Deniz Koyu is joining forces with Swedish singer Elliphant, showcasing a beautiful diversity of compelling sounds.
'Clicks' is out now via all platforms.
'Clicks' is part of a collection of festival releases by Tomorrowland Music under this year's festival theme 'The Reflection of Love', celebrating the return of Tomorrowland after three years by gathering some of the biggest artists in electronic music on Tomorrowland's record imprint.
Deniz Koyu: "I've been a fan of Elliphant for a long time, so I got really excited when she sent me this vocal hook idea. Since the theme is about creating clicks, I wanted the song to be a percussive club banger with a lot of groove and a beat that feels precisely put together, kind of like clockwork."
Deniz Koyu performed at the Rose Garden at Tomorrowland during the third festival weekend on Sunday July 31, while Swedish superstar Alesso played 'Clicks' as his intro in his special 'Alesso presents Eclipse' show at the Freedom stage during the second weekend of Tomorrowland.
About Deniz Koyu
​DJ and producer Deniz Koyu's masterful take on dance music has enraptured club culture for over a decade. With genre-defining remixes that deftly navigate between his progressive house roots and pop aesthetics, he has masterminded a string of successful hits making him a quintessential figure in a constantly changing landscape. He has crafted high-octane bangers with the likes of Alesso, Nicky Romero, Galantis, as well as Dimitri Vegas & Like Mike, all whilst racking up stage credentials at Tomorrowland, Ultra Music Festival, EDC, Creamfields, and ADE Festival.
Koyu burst onto the scene in 2011 scoring his first hit, Tung, which was released on Fedde Le Grand's label, Flamingo Recordings. He was quick to hit his stride: Tung, as well as the following singles, Hydra and Bong soon became progressive house anthems that renowned DJs added to their sets. Remixes for Zedd, David Guetta, Miike Snow, Fedde Le Grand, and more followed suit; names like Axwell and Sebastian Ingrosso sang his praises. His bookings as a live DJ exploded, establishing him as one of the most in-demand artists to play EDM stages the world over. He simultaneously churned out tracks on labels including Axtone, Refune, Spinnin' Records, and Big Beat.
Koyu's catalog encapsulates far more than notable collaborations: A true sonic shifter and an ever-evolving artist, his formula of synth buzz skillfully unites a community steeped in inclusivity. Musically inclined from a very young age, he spent his formative years immersed in the intricacies of music production. This self-taught, holistic approach to creating emotive melodies with a longing value is shaped by a perpetual balancing act—one in which soaring emotions and simplicity surpass sonic clarity and complexity. Today, this vision informs his every endeavor as a wholehearted producer. He is also a long-standing name in the list of DJ Mag's Top 100 and currently resides at 72.
Koyu is not one to sit still: A globetrotter at heart, his energy-stoking shows have taken him from Europe to the USA and Southeast Asia. Touring extensively, and conquering the main stages of Ultra Miami, Tomorrowland, and a great number of EDC festivals, he has repeatedly supported peers like Alesso and KSHMR. From 2012—the year he opened for Tiësto at Berlin's O2 Arena and got together with Axwell at New York City's Cosmic Opera—Koyu joined the resident roster of Las Vegas' Wynn Nightlife for three consecutive years. The success of I Wanna Know, his 2016 remix collaboration with Alesso, further cemented Koyu's status; the artists crossed paths again in 2019 for their signature remix of Alesso's Time. While releasing music on Spinnin' Records, his most recent successes include Paradise in collaboration with Nicky Romeo, which is about to hit 40 million Spotify streams.
https://www.denizkoyu.com
​https://www.instagram.com/denizkoyu/
​https://www.facebook.com/denizkoyu
​https://soundcloud.com/denizkoyumusic
About Elliphant
​Elliphant is an internationally renowned, multi-platinum selling artist that has been described as the eternal rebel. Swedish-born Ellinor Olovsdotter made her debut in 2012 with the lo-fi track "Tekkno Scene", that was featured in FIFA 13, even before she'd given the solo project a name. ("I grew into the name Elliphant. It didn't mean anything for me in the beginning, but now it means everything to me. There's the saying about the elephant in the room and I always felt that I'm the uncomfortable person in the room. The one that is too loud and talk too much"). Soon she signed to Dr. Luke's label, Kemosabe Records, followed by the release of her self-titled EP and the debut LP "A Good Idea", that landed late in 2013.
Elliphant's energetic sound is characterized by combining different genres and seamlessly making them into her own. Constantly shifting from dancehall to reggae to synth-pop to EDM and alternative pop. Since her debut, time's mostly spent doing numerous high-profile collaborations with artists such as Doja Cat, Tove Lo, Icona Pop, Azelia Banks, DJ Snake and many more. ("Before I fell in love with music, into the artistry of Elliphant, I fell in love with the collaboration of art. Obviously I'm not a producer, I put in my lyrics, make melodies and put a vibe to it. I give what I have and take what's given").
In 2014, Elliphant released her second EP, with productions from Dr. Luke, Diplo, Skrillex and Dave Sitek. Included the hypnotic track "One More" featuring MØ, that was equipped with a music video that collected over 500,000 YouTube views the first month. In the years following, she toured roughly 140-dates per year alongside acts like Charli XCX, Major Lazer and Diplo, which established herself internationally.
In 2016, she released the highly acclaimed album "Living Life Golden", that again defined her diversity and eclecticism. The year also contained another highlight when Elliphant was featured on the upbeat track "Stranger", by Australian electronic dance stars Peking Duk. The song was awarded as "Song of the Year"(2017) at the ARIA Music Awards and the following year as "Dance Work of the Year" and "Most Played Australian Work" at the APRA Music Awards. So far, the song has been streamed over 50 million times.
In July 2020 Elliphant unleashed "Uterus", the first solo release in four years. A raw, melancholy infused pop song that illustrate how the comfort, safety and innocence of the womb is lost once we're born. And how life's purity becomes increasingly fragile as we grow and engage with the world. A track that embodies the sensitive undeniably affecting and powerful sound, which reflects that Elliphant has kicked off a new era.
Following the singles "Had Enough" and "Time Machine", Elliphant gives a look into her upcoming album "Rocking Horse", due for release in 2021. Strengthened by Grammy-award winning record engineer Mark Rankin (Adele, Florence and the Machine) that brings a more slickly produced pop structure to Elliphant's rare expression. ("Elliphant has and always will represent change and growth, where the music evolves like everything else. I could never stagnate. The mission with this album was to create something classic, a sound that could work 20 years from now").
https://www.instagram.com/elliphantmusic/
​https://elliphant.com
​https://www.facebook.com/elliphantmusic
​https://twitter.com/elliphantmusic
About Tomorrowland Music
​Tomorrowland has expanded the family with its own music label: Tomorrowland Music. Tomorrowland Music is a dedicated music division within Tomorrowland, collaborating closely with both artists and labels, supporting them in all their recording and release activities.
Tomorrowland Music has partnered with Virgin Distribution and Virgin Records. As part of the Universal Music Group, Virgin has been one of the industry leaders in music distribution and independent records labels for many years. Tomorrowland Music is delighted to be working closely with Virgin and looking forward to taking the label to a higher level together.
Stay tuned for a stellar line-up of renowned artists from all different levels who can't wait to release their music on Tomorrowland Music, encompassing a multitude of genres.
More information: https://www.tomorrowland-music.com
​Instagram: https://tomorrow.land/Music-IG
​Facebook: https://tomorrow.land/Music-FB
​Twitter: https://tomorrow.land/Music-Twitter
Jordy Van Overmeire PR Coordinator, Tomorrowland