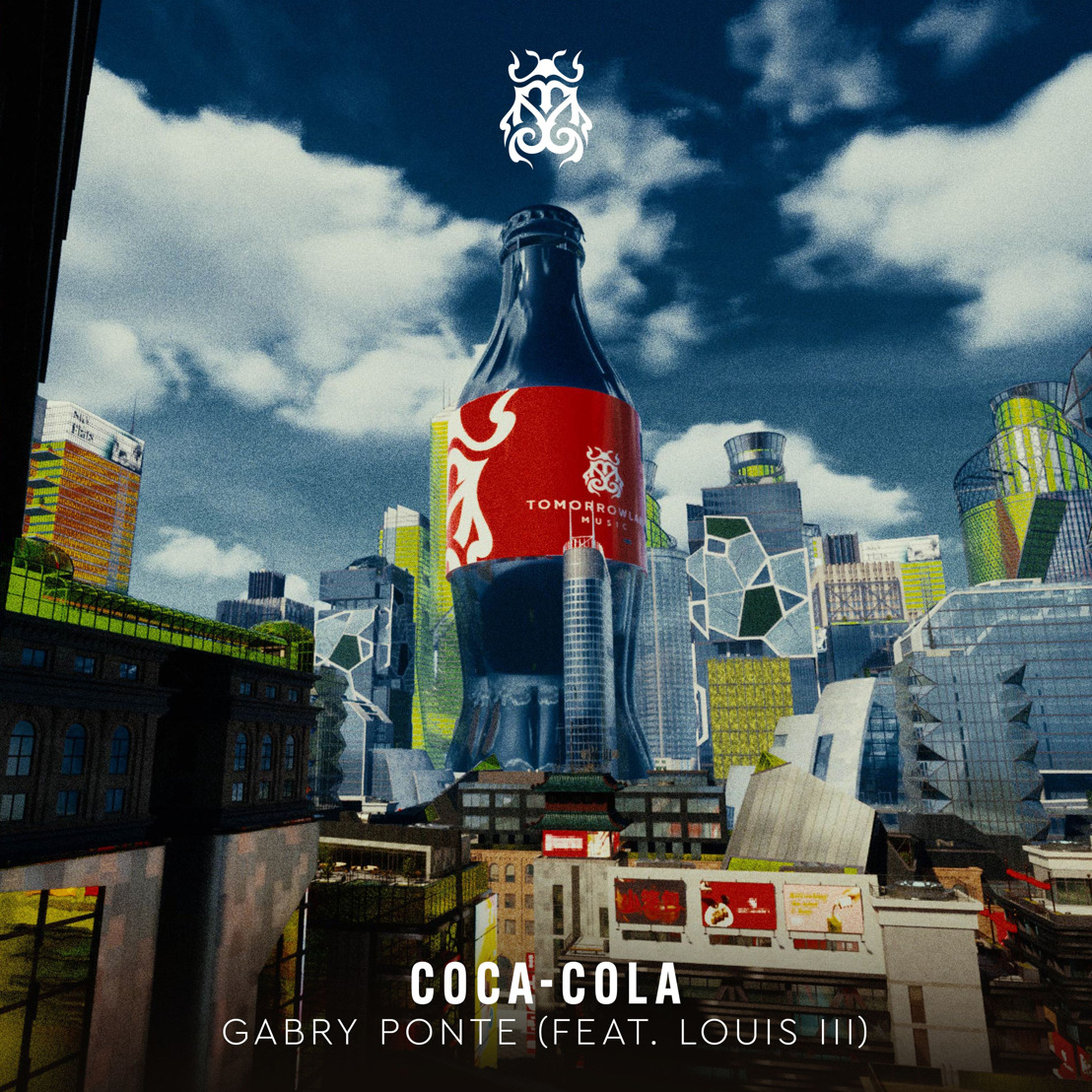 Gabry Ponte drops his electro pop dance smash 'Coca-Cola'
Uniting with Louis III for a refreshing floor filler
Friday, 24 February 2023 – Following a massive start to 2023, Italian DJ & producer Gabry Ponte is dropping his newest electro pop dance smash 'Coca-Cola', released through Tomorrowland Music today! Joining forces with British rising star and vocalist Louis III, the pair have united for a refreshing and energetic pop dance floor filler. The track's catchy vocal hook is the core of the production, inspiring the minimal and direct vibe of the groove throughout the entire run. With their dynamic styles, the duo wraps it up in the perfect package to transport listeners to their best moments on dancefloors across the globe.
'Coca-Cola' is out now via all platforms.
Known for adrenaline-boosting classics and motivating modern hits, Grammy-nominated producer Gabry Ponte has collaborated with the likes of R3HAB, Mike Williams, Sam Feldt, Timmy Trumpet, Blasterjaxx and more. He's also one of the top 3 most streamed Italian artists in the world.
About Gabry Ponte
​Gabry Ponte (over 14 Million Monthly Listeners on Spotify, #403 in the world) is a DJ, Grammy-nominated, and Multi-Platinum producer. The artist has reached more than 2 BILLION streams on all platforms. Together with Måneskin and Meduza, Gabry Ponte is one of the TOP3 most streamed Italian artists* in the world.
In 1998 he produced Blue (da ba dee), the debut single with his band Eiffel 65, which topped the worldwide charts and sold over 8 million copies; their first album Europop sold another 4 million copies. In the year 2000, they won the European Music Award as the "Best Italian Artist in the world".
Meanwhile, Gabry starts his solo projects and his first singles and remixes storm the European charts. In 2014 enters the Top 100 DJs chart as #61, being one of the highest entries and the highest-ranked Italian and keeping himself at the top of the dance scene. His most successful collaborations include "Thunder" with LUM!X and Prezioso, "Can't Get Over You" with Aloe Blacc, "Call Me" with Timmy Trumpet and R3HAB, "The Finger" with Georgia Ku, and the summer 2022 hit "We Could Be Together" together with LUM!X and Daddy DJ. Among the last club releases we find collaborations with artists such as: Blasterjaxx, Justus, DJs From Mars,Vini Vici and official remixes for Sigala, Sam Feldt and David Guetta with his last global hit "I'm Good".
Gabry boasts hundreds of live sets made around Europe In 2021 and 2022 he played in more than 150 live gigs all over Italy and Europe, confirming the live one of his favorite areas, engaging thousands of people, and filling the dance halls.
The latest international collaborations of 2022 saw it together with big names like R3hab, Timmy Trumpet, Dimitri Vegas and Like Mike, Kiddo, Georgia Ku, Conor Maynard and JP Cooper. Last but not least his most recent release up to date, "Rely On Me" together with Sigala and his countryman Alex Gaudino.
A path in constant evolution, always looking for innovative sounds and ready to set on fire the dance floors around the world.
https://www.instagram.com/gabryponte/
​https://www.facebook.com/gabryponte/
​https://twitter.com/gabryponte
​https://soundcloud.com/gabryponte
About Louis III
​Hailing from Croydon, South London, singer-songwriter Louis III has already begun to garner support from heavy hitters like BBC's Radio1, 1Xtra, i-D, Wonderland, and High Snobiety, carving out a reputation for his candid, beat driven sound.
Drawing influence from the culture clash of sounds he grew up around - think classic songwriters Bob Marley & The Wailers, Leonard Cohen, Tracy Chapman via current artists like Major Lazer, Jai Paul, Kanye West - Louis' tracks have featured as 'Best New Pop' on BBC Radio 1, as well as Spotify playlist adds to 'Soultronic, 'Chillmatic', and 'R&B UK' amongst others. Louis featured on UK dance-duo Sigma's hit track 'Anywhere', racking up over 73 million streams on Spotify to date and gaining a silver certification in the UK, whilst his collaboration with Austrian wunderkind producer filous has amassed over 5 million streams.
Louis was hand-picked by Virgil Abloh - Louis Vuitton's creative director, and Kanye West's right hand man - to feature in the Louis Vuitton SS20 Men's show at Paris Fashion week alongside artists including Dev Hynes/Blood Orange.
Louis has made a massive impact on TikTok (644.8k followers and 10M likes), pretty much exploded onto the platform with his re-interpretation of great songs "songs written from the other perspective" with his song of Bruno Mars' hit song Talking to the Moon attracting 16.5M views. in 2021, it saw him featured as TikTok's nationwide billboard campaign "top 20 unsigned artists" on top of releasing 3 exciting dance collaborations with Kush Kush (Killer) and SLVR & Offrami (Do Anything) and Nick Peters (All the Songs).
in 2022, Louis had his headline show that sold out 6 weeks in advance, a feature on YOUNOTUS 'Samba' that has gained over 27 million plays on Spotify since its release in May whilst reaching number 1 on the German airplay chart, had a media campaign running with Adidas, and was personally invited to Coachella by Meta. This year, Louis has a headline show at Camden Assembly on 21st March, and has been confirmed for Mighty Hoopla, along with many more collaboration and solo releases to come.
https://www.instagram.com/louisiii/
​https://www.tiktok.com/@louisiiiofficial
​https://www.facebook.com/LouisIIIOfficial/
​https://soundcloud.com/louisiiiofficial
About Tomorrowland Music
​Tomorrowland has expanded the family with its own music label: Tomorrowland Music. Tomorrowland Music is a dedicated music division within Tomorrowland, collaborating closely with both artists and labels, supporting them in all their recording and release activities.
Tomorrowland Music has partnered with Virgin Distribution and Virgin Records. As part of the Universal Music Group, Virgin has been one of the industry leaders in music distribution and independent records labels for many years. Tomorrowland Music is delighted to be working closely with Virgin and looking forward to taking the label to a higher level together.
Stay tuned for a stellar line-up of renowned artists from all different levels who can't wait to release their music on Tomorrowland Music, encompassing a multitude of genres.
More information: https://www.tomorrowland-music.com
​Instagram: https://tomorrow.land/Music-IG
​Facebook: https://tomorrow.land/Music-FB
​Twitter: https://tomorrow.land/Music-Twitter
Jordy Van Overmeire PR Coordinator, Tomorrowland