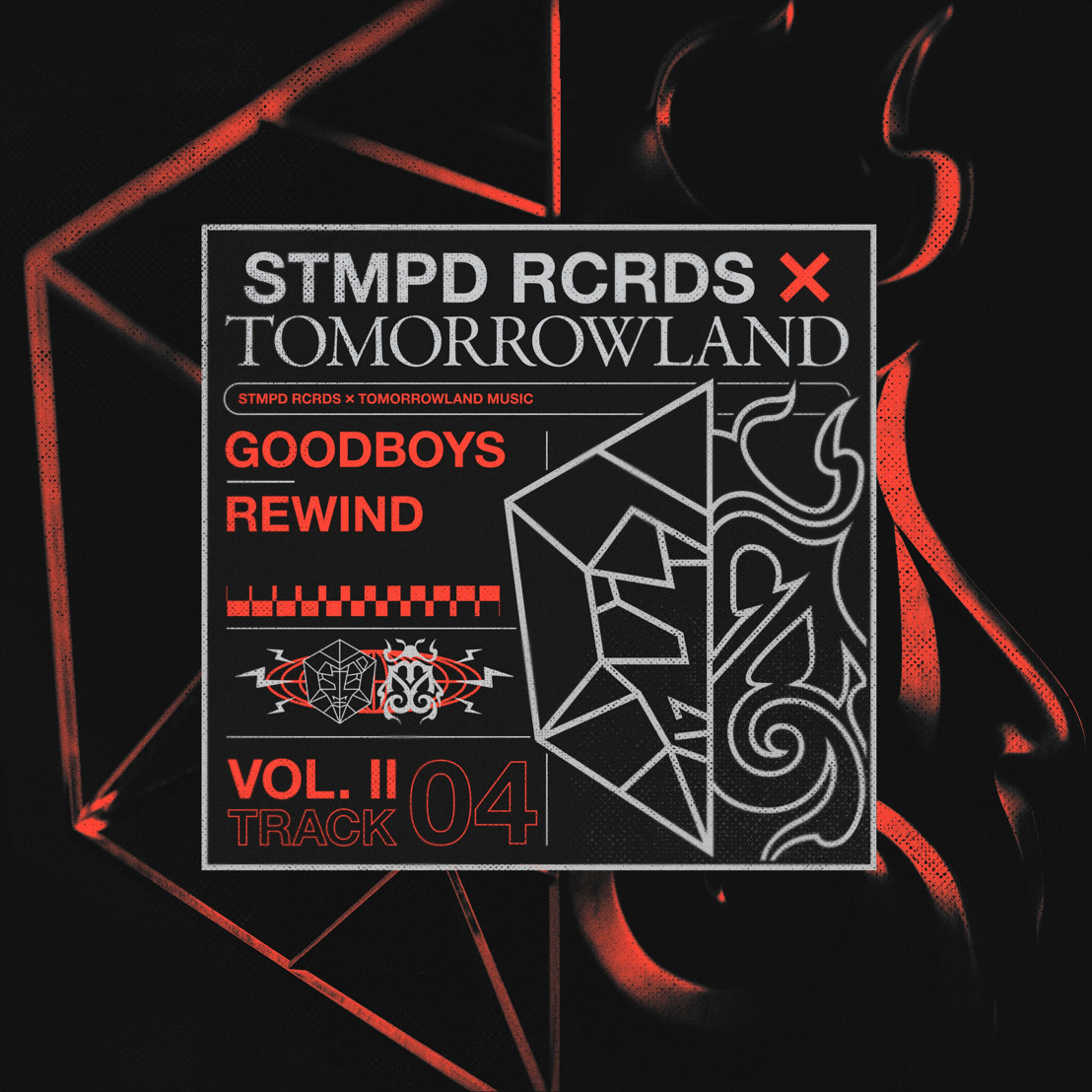 Goodboys come through with an upbeat & catchy house record 'Rewind'
The fourth release of the STMPD RCRDS x Tomorrowland Music EP
Friday, 23 June 2023 – STMPD RCRDS and Tomorrowland Music continue the roll-out of their spectacular collaborative EP. British Grammy nominated producer duo Goodboys have come through with an upbeat and catchy house record titled 'Rewind', co-released through both imprints today! 'Rewind' stays loyal to the house-oriented drops, vocals, and rhythms that Goodboys are known for, combining electric pop beats with the right amount of dark undertones.
'Rewind' is out now via all platforms.
Goodboys: "Our new song 'Rewind' on Tomorrowland Music x STMPD Records is a true global collaboration made with friends from across the world. Sometimes when you're on tour it can be hard to get in the studio and make music - however on this last tour we set aside time to work with amazing artists and creators in the cities we visited. We started the instrumental for this song with our good friend and amazing producer Killscript in San Francisco, later our tour would take us to Sao Paolo in Brazil for the first time, we wrote the topline there with two amazing writers Brian Cohen and Cesar Funck. It all came together super easily with us and Killscript bouncing a few different versions back and forth on WhatsApp until we landed where we are at now. We are super happy with how the song turned out and can't wait to show it to the world!"
With the first four releases under the belt already, including 'P.R.O.G.2' by DubVision, 'Aspirin' by Julian Jordan, 'Hurricane' by label boss Martin Garrix, Sentinel and Bonn and 'Rewind' by Goodboys, and more brand-new music by Fancy Inc, Fredrik Ferrier and Matisse & Sadko coming up, two of dance music's most esteemed record labels will be closing off bigger than ever by co-hosting the STMPD RCRDS x Tomorrowland Music stage at Tomorrowland Belgium on Saturday July 22.
About STMPD RCRDS
​In the ever-evolving world of electronic dance music, STMPD RCRDS stands out as one of the most innovative and boundary-pushing labels in the industry. Founded in 2016 by Martin Garrix and his management, the label has quickly established itself as a true household name in the dance music industry, releasing music from some of the most talented artists in the genre. With a clear vision of putting artists first, focusing on quality over quantity, and being open-minded and innovating, a small and nimble team quickly built the foundations of STMPD RCRDS as it stands today.
With its commitment to supporting new artists, pushing boundaries of sound and production, and shaping the sound of modern dance music, STMPD RCRDS is set to continue its reign as one of the most innovative and influential labels in the industry.
About Tomorrowland Music
​Tomorrowland has expanded the family with its own music label: Tomorrowland Music. Tomorrowland Music is a dedicated music division within Tomorrowland, collaborating closely with both artists and labels, supporting them in all their recording and release activities.
Tomorrowland Music has partnered with Virgin Distribution and Virgin Records. As part of the Universal Music Group, Virgin has been one of the industry leaders in music distribution and independent records labels for many years. Tomorrowland Music is delighted to be working closely with Virgin and looking forward to taking the label to a higher level together.
Stay tuned for a stellar line-up of renowned artists from all different levels who can't wait to release their music on Tomorrowland Music, encompassing a multitude of genres.
More information: https://www.tomorrowland-music.com
​Instagram: https://tomorrow.land/Music-IG
​Facebook: https://tomorrow.land/Music-FB
​Twitter: https://tomorrow.land/Music-Twitter
Jordy Van Overmeire PR Coordinator, Tomorrowland