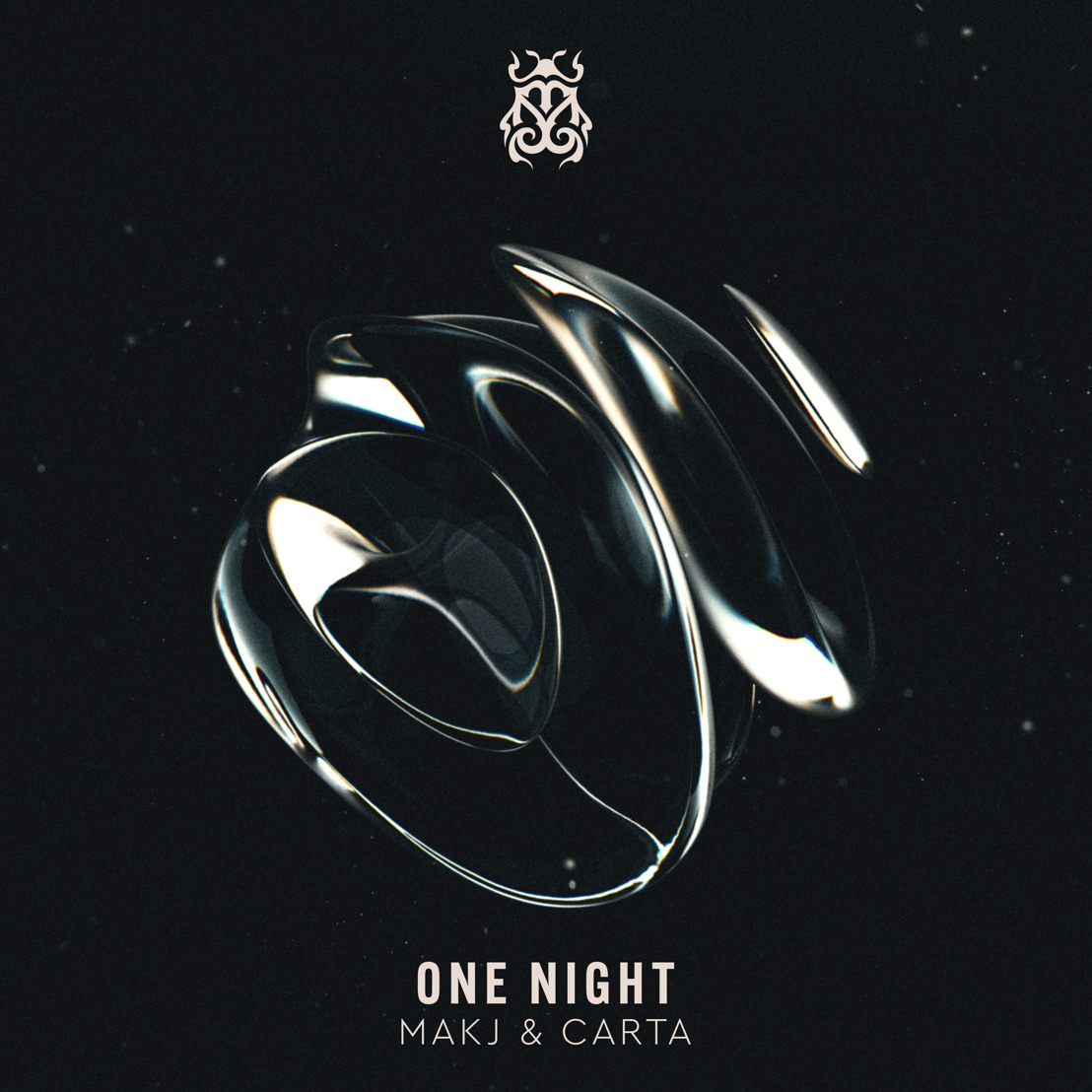 MAKJ and Carta deliver sizzling floor filler 'One Night'
Another hefty new slice of full-throttle dance music
Friday, 14 October 2022 – American DJ & producer MAKJ and China's most famous DJ Carta have joined forces to deliver a sizzling and infectious floor filler 'One Night', released through Tomorrowland Music today! 'One Night' wastes no time in getting down to business action-packed with an insistent driving beat and booming bass hammering away and swirling into a powerful drop – another hefty new slice of full-throttle dance music, which will have listeners heading straight to the dancefloor!
'One Night' is out now via all platforms.
About MAKJ
​Although MAKJ has spent his career collaborating with some of today's most talented DJs, few of his peers can claim to have entered that world only after a successful stint abroad as a race car driver. MAKJ—real name Mackenzie Johnson—grew up on California's Central Coast before moving to China as a teenager, parlaying his childhood fondness for go-karts into an 18-month stint racing professionally. His first meaningful exposure to Wing came at the Macao nightclubs he and his teammates would frequent after races, and when he returned to the United States, he saved money working at a sandwich shop until he could buy a set of used turntables and the cheapest speakers he could find. From there, Johnson took to YouTube, where he used video tutorials to teach himself to scratch records. He spent as many as 16 hours a day at home tinkering with music, sometimes agreeing to take a break only when his parents would politely ask for some nighttime peace and quiet.
At age 17, he landed his first gig Wing the wedding of a friend's older sister, and he spent the next few years working his way through the region's house party, fraternity, and wedding reception circuits. Johnson enrolled in Cal Poly but dropped out after a year and a half, moving to Los Angeles to join the Icon Collective production school. There, he learned to mix records from the late, legendary DJ AM, whom he credits as a major influence on the trajectory of his career.
By the time he arrived in Los Angeles, Johnson had already built a modest following in the Southern California Di community thanks to the bootlegs and mashups he made and distributed from his home back in San Luis Obispo. As he learned music production, though, his practice of including his own tracks alongside his trademark mashups eventually caught the eye of Hardwell, with whom Johnson recorded "Countdown" in late 2013. Since then, Johnson has released a dozen critically acclaimed tracks, partnering each time with different labels and artists in an effort to introduce new fan bases to his music. Notable collaborators include Lil Jon ("Let's Get Fucked Up," 2014); the Bassiackers ("Derp," 2014); Andrew W.K. and Timmy Trumpet ("Party Till We Die," 2016); Steve Aoki, Deorro and Max Styler ("Shakalaka," 2018); and Deorro and Quintino ("Knockout," 2018).
Johnson has played at some of the largest and most prestigious music festivals in the world, including Coachella, Voodoo, Electric Zoo, and Ultra. Although he remains passionate about performing live sets as an open-format Di, Johnson has expanded into producing original tracks for other artists, developing a sound that goes beyond the EDM world in which he first gained recognition. His style focuses heavily on incorporating elements of hip-hop, Latin, and other musical genres, while his next major track, "Comeback," caters to his core EDM fans.
https://www.instagram.com/makj/
​https://soundcloud.com/makj
​https://twitter.com/makj
​https://www.facebook.com/MAKJOfficial/
About Carta
​CARTA was only 14 years old when he laid hands on his first controller, a moment which would unknowingly lay the foundations for his future in music. Chinese / Italian breed raised in Shanghai, CARTA enriched himself by adopting a groovier, garage infused musical signature during his years spent in the UK studying.
When he returned to Shanghai in 2014, CARTA established himself as a solid force in the electronic music and nightlife scene in just a year's time. He garnered both the support of all the local DJs and captivated fans young and seasoned with his high-energy live performances.
CARTA has increased his musical influences through residencies in China's top nightclubs and features in almost all large venues in Shanghai, to kicking off one of the largest EDM festivals in China at Budweiser's Storm Festival in 2015, with industry-leading international acts. In 2016, the road to success became even more solid when it was announced that CARTA not only would be performing on the mainstage of Electric Jungle Music Festival in Southern China but also produce the Chinese-influenced festival anthem "Aranya".
Building off of his momentum in China, CARTA went global in 2017 and continued working and performing with major international artists at festivals like Tomorrowland in Belgium, Ultra Music Festival stages in China, Singapore, Bali, and Hong Kong, and Amsterdam Dance Event in Amsterdam. Through his weekly radio show with Hit FM Radio, China's largest foreign language radio station, CARTA extends his influences to an audience of over 8 million listeners by educating them on electronic music and providing a platform for other electronic artists to break into the Chinese market. Recognizing his potential and talent, Tag Heuer invited CARTA to be Friend of the Brand and requested his music to be used for their Greater China promotional videos.
CARTA is known for his highly energetic presence as well as his passion to grow in his ever- evolving sound. Always open for every positive influence, he strives to key up his skills and musical knowledge where possible. Being named China's first DJ to enter DJ Mag's Top 100 and Asia's 2017 No. 1 DJ is just the beginning.
2018 was the best year so far for this Shanghai based artist. He played at major festivals around the world including Ultra Music Festival Miami's 20th Anniversary, Creamfields UK Mainstage, EDC Japan, Tomorrowland, Creamfields Shanghai, We Are Electric and many more, raised to #73 in the Dj Mag top 100 and released many tracks supported by artists like Tiësto, Martin Garrix, Timmy Trumpet, Afrojack, Dimitri, Chocolate Puma and many more.
2019 kicked of pretty well with a remix for Tiësto's 'Grapevine' released on Musical Freedom and his collab with Chinese artist Nickthereal called 'Savage', released on Spinnin' Records.
​In February Carta had his first release on Heldeep together with "Love For Justice" called "If Only" which received a lot of support!
In April, Carta was invited by BMW to participate on the Road to Coachella program. This year's main artist was Khalid with the Free Spirit tour.
​Influencers from all over the world participated like Khalid himself, Paris Hilton, Brooklyn Beckham and many more.
During the summer 2019 Carta released a lot of music on Musical Freedom, Spinnin' Records and Axtone and played at Festivals like Mysteryland, Creamfields UK, Tomorrowland and many more!
During Amsterdam Dance Event CARTA hosted his very first Carta & Co event which was a great success, followed by a Tiësto support tour in November in China closing off at EDC Guangdong.
2020 was mainly focused on music with releases on Rave Culture, Musical Freedom, Chocolate Puma's imprint Tonco Tone and of course Spinnin' Records and not to forget an major jump in the dj Mag top 100 to spot 61.
Moving on with releasing new music, Carta's first release in 2021 was 'Chengdu' on Dimitri Vegas and Like Mike's imprint Smash The House followed by ALarma on Revealed, #60 on Dj Mag top 100 and a collab with Laidback Luke on Revealed.
2022 kicked off with his first release on Maxximize followed up by his successful pop song Lonely Addictions, together with Ika Zhao and Eileen Yo!
His latest release was a collab with Fedde Le Grand called Marco Polo on Liquid State, which gained a lot of support from Spotify, Amazon and Deezer! ​
www.instagram.com/cartaofficial
​www.facebook.com/cartaofficia
​https://soundcloud.com/cartaofficial
​https://twitter.com/cartaofficial
​https://www.youtube.com/cartaofficial
About Tomorrowland Music
​Tomorrowland has expanded the family with its own music label: Tomorrowland Music. Tomorrowland Music is a dedicated music division within Tomorrowland, collaborating closely with both artists and labels, supporting them in all their recording and release activities.
Tomorrowland Music has partnered with Virgin Distribution and Virgin Records. As part of the Universal Music Group, Virgin has been one of the industry leaders in music distribution and independent records labels for many years. Tomorrowland Music is delighted to be working closely with Virgin and looking forward to taking the label to a higher level together.
Stay tuned for a stellar line-up of renowned artists from all different levels who can't wait to release their music on Tomorrowland Music, encompassing a multitude of genres.
More information: https://www.tomorrowland-music.com
​Instagram: https://tomorrow.land/Music-IG
​Facebook: https://tomorrow.land/Music-FB
​Twitter: https://tomorrow.land/Music-Twitter
Jordy Van Overmeire PR Coordinator, Tomorrowland