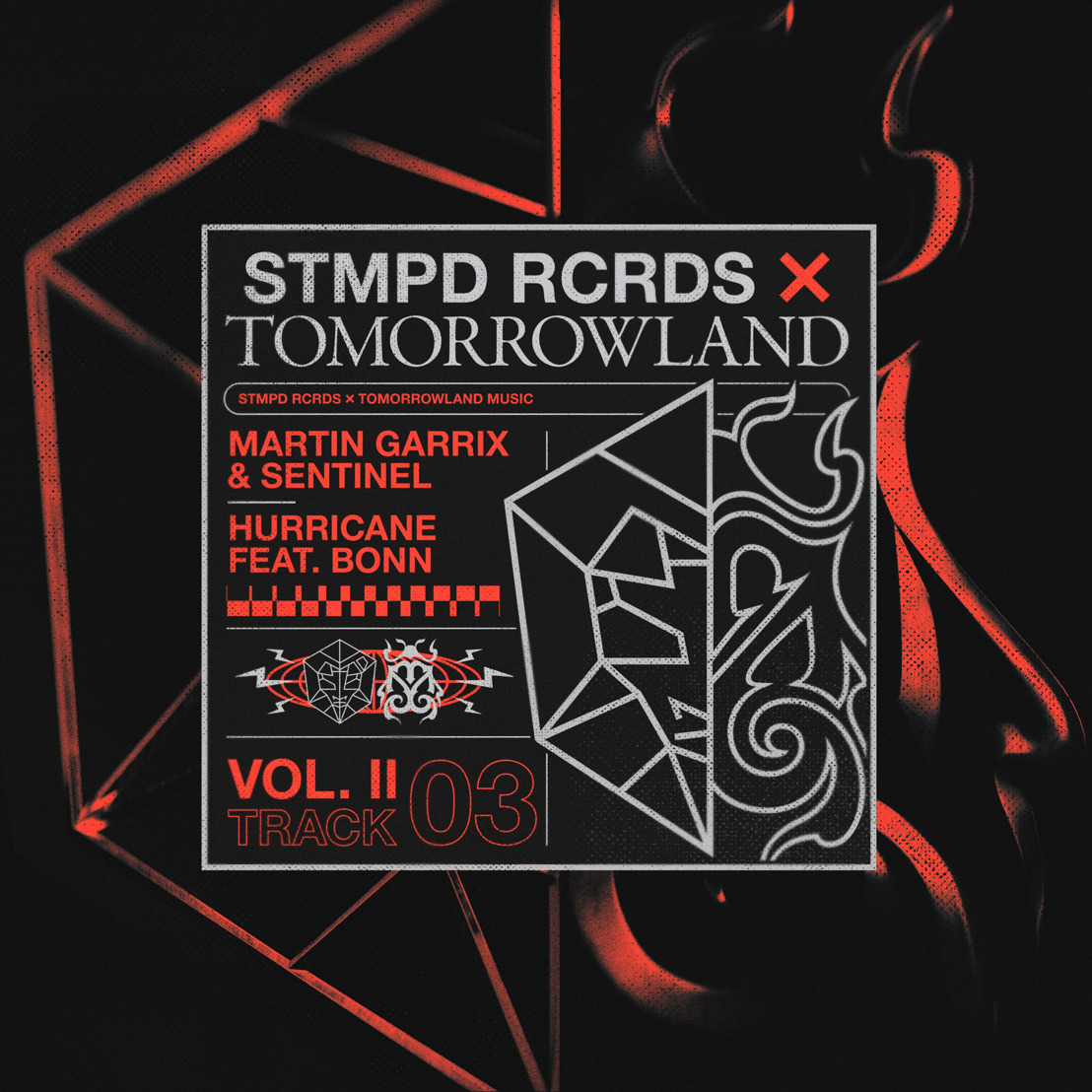 Martin Garrix teams up with Sentinel and Bonn for their euphoric summer anthem 'Hurricane'
The third release of the STMPD RCRDS x Tomorrowland Music EP
Friday, 2 June 2023 – STMPD RCRDS and Tomorrowland Music continue the roll-out of their spectacular collaborative EP with the highly anticipated release of 'Hurricane'. Dutch dance music luminary and STMPD label boss Martin Garrix has teamed up with Australian fast-rising trio Sentinel and Swedish songwriter & vocalist Bonn for their euphoric summer anthem 'Hurricane', co-released through both imprints today.
'Hurricane' is out now via all platforms.
With mesmerizing vocals, enchanting melodies, and a surge of energy, 'Hurricane' transports listeners to a whole new dimension of music. With its undeniable passion and infectious vibes, the track emerges as a strong contender for the soundtrack of the summer.
Speaking about the collaboration, Garrix shared his enthusiasm, stating, "There was an amazing energy while creating this song. Bonn and I have worked together many times before, and his amazing voice perfectly fits 'Hurricane'. I'm also super excited that we're teaming up with Tomorrowland again this year for both the EP and the stage hosting this summer. We are working on some amazing surprises for that one."
Sentinel added: ''From the very first draft of this song, we knew we had an anthem on our hands. We had Martin and Bonn in mind from the very start and so finishing the song together with them has been incredibly special. We are all very proud, and excited to share 'Hurricane' with the world."
Martin Garrix and Bonn are no strangers to successful collaborations, with Dancing Astronaut even hailing their partnership as "one of the most authentic producer/vocalist combinations in modern dance music". Their creative synergy shines through in 'Hurricane', where they once again demonstrate their remarkable chemistry enforced by the unmistakable talent of Sentinel. Bonn: "In a dark, uninspired time, I lost my love for music. Then, Martin sent me a track. It sparked something within me, filling me with joy and creativity. 'Hurricane' celebrates music and life!"
The lyrics of 'Hurricane' encapsulate the essence of finding solace in someone, with lines like "Feel Like Summer On A Winter's Day / You're My Shelter In A Hurricane". The lyrics, coupled with the song's infectious beats, create an irresistible blend that resonates with listeners on a profound level. Don't miss out on this sensational collaboration that sets the stage for an incredible summer of music.
Having kicked off with the first three releases 'P.R.O.G.2' by DubVision, 'Aspirin' by Julian Jordan and 'Hurricane' by label boss Martin Garrix, Sentinel and Bonn, more brand-new music by Matisse & Sadko, Sentinel, Fancy Inc and Goodboys will be unveiled in the coming months leading up to Tomorrowland. Closing off bigger than ever, both labels will be co-hosting the STMPD RCRDS x Tomorrowland Music stage at Tomorrowland Belgium on Saturday July 22.
About STMPD RCRDS
​In the ever-evolving world of electronic dance music, STMPD RCRDS stands out as one of the most innovative and boundary-pushing labels in the industry. Founded in 2016 by Martin Garrix and his management, the label has quickly established itself as a true household name in the dance music industry, releasing music from some of the most talented artists in the genre. With a clear vision of putting artists first, focusing on quality over quantity, and being open-minded and innovating, a small and nimble team quickly built the foundations of STMPD RCRDS as it stands today.
With its commitment to supporting new artists, pushing boundaries of sound and production, and shaping the sound of modern dance music, STMPD RCRDS is set to continue its reign as one of the most innovative and influential labels in the industry.
About Tomorrowland Music
​Tomorrowland has expanded the family with its own music label: Tomorrowland Music. Tomorrowland Music is a dedicated music division within Tomorrowland, collaborating closely with both artists and labels, supporting them in all their recording and release activities.
Tomorrowland Music has partnered with Virgin Distribution and Virgin Records. As part of the Universal Music Group, Virgin has been one of the industry leaders in music distribution and independent records labels for many years. Tomorrowland Music is delighted to be working closely with Virgin and looking forward to taking the label to a higher level together.
Stay tuned for a stellar line-up of renowned artists from all different levels who can't wait to release their music on Tomorrowland Music, encompassing a multitude of genres.
More information: https://www.tomorrowland-music.com
​Instagram: https://tomorrow.land/Music-IG
​Facebook: https://tomorrow.land/Music-FB
​Twitter: https://tomorrow.land/Music-Twitter
Jordy Van Overmeire PR Coordinator, Tomorrowland