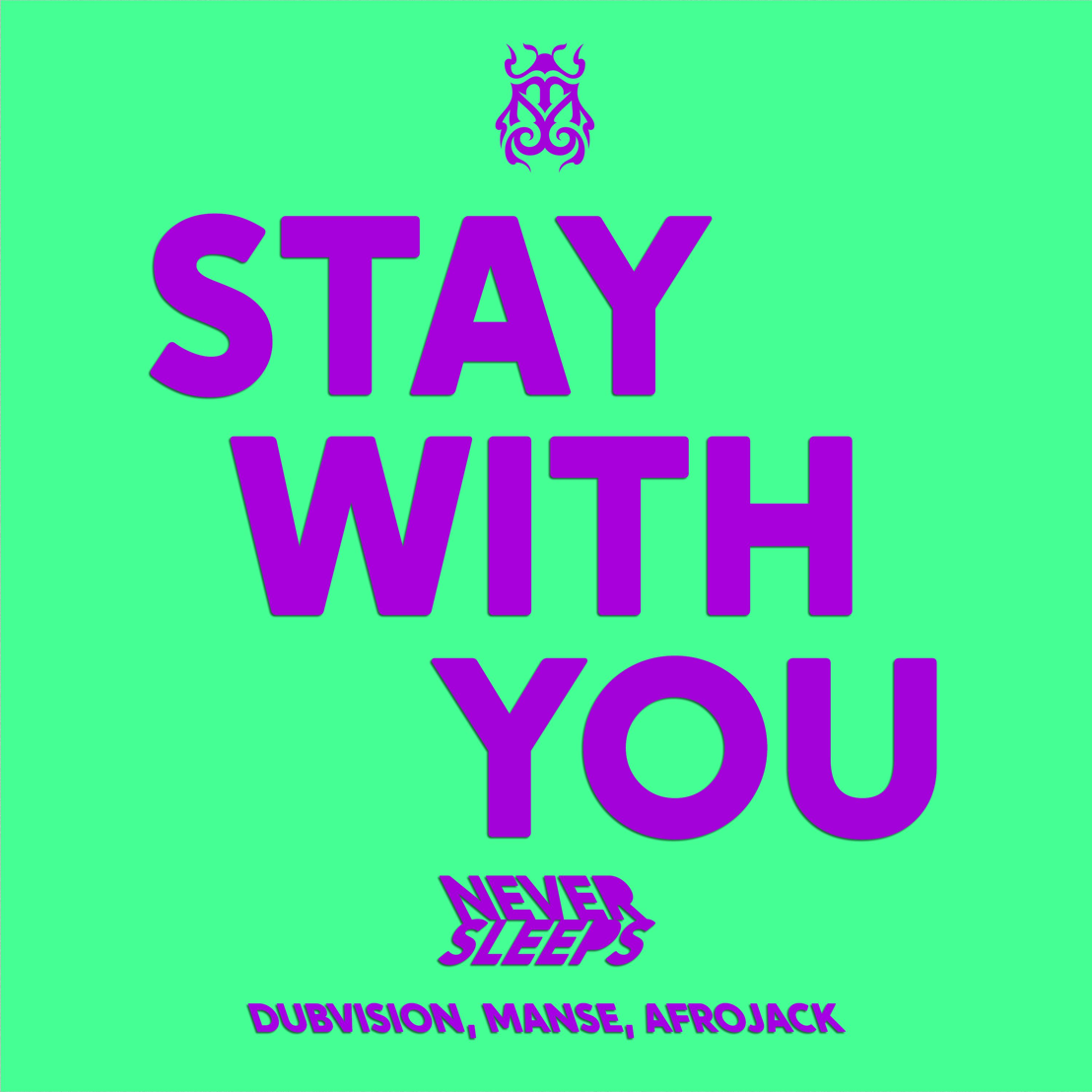 Never Sleeps is back!
Afrojack, DubVision and Manse join forces for festival weapon 'Stay With You'
Friday, 18 March 2022 – Never Sleeps is back! Back in August 2021, the honor of releasing the first ever track on Tomorrowland Music went to Dutch powerhouse Afrojack's new brainchild Never Sleeps. The world-renowned DJ & producer has now joined forces with Dutch duo DubVision and Swedish producer Manse to create 'Stay With You', released through Tomorrowland Music today.
'Stay With You' is out now via all platforms.
Being released the day before the start of Tomorrowland Winter, 'Stay With You' is a catchy and uplifting dance anthem featuring a euphoric melody, explosive drop and emotional vocals, exuding energy and passion. Treating fans to some serious festival-ready grooves, Afrojack, DubVision and Manse have crafted a true festival weapon and crowd-energizer, destined to be belted out by a crowd. Afrojack's new concept Never Sleeps aims to bring like-minded and passionate people together through hosting parties and releasing music with zest.
About Never Sleeps
​Never Sleeps – a new initiative of Afrojack with which he wants to create a platform for artists that gives them the freedom to create music and parties out of love and passion for music. Never Sleeps will be a collective that will bring you new dance music that is made for the dancefloor. This mindset is also the starting point for the Never Sleeps label, which is part of the platform, starting with this first collab of Afrojack and Chico Rose 'You Got The Love'. And more and more surprising collabs are coming your way, guaranteed. Next to the label Never Sleeps will be hosting parties and festival stages. Based on the city that never sleeps - NYC – Never Sleeps will create parties that last all night. Never Sleeps aims to create a rave within a club; people need to feel like they're at a party that never stops and where there is no limit in expressing themself. With Never Sleeps, everything is possible, there are no rules, the only goal is to have fun and bring different music genres together.
https://www.instagram.com/neversleepsmusic/
​https://www.facebook.com/neversleepsmusic/
About Tomorrowland Music
​Tomorrowland has expanded the family with its own music label: Tomorrowland Music. Tomorrowland Music is a dedicated music division within Tomorrowland, collaborating closely with both artists and labels, supporting them in all their recording and release activities.
Tomorrowland Music has partnered with Virgin Distribution and Virgin Records. As part of the Universal Music Group, Virgin has been one of the industry leaders in music distribution and independent records labels for many years. Tomorrowland Music is delighted to be working closely with Virgin and looking forward to taking the label to a higher level together.
Stay tuned for a stellar line-up of renowned artists from all different levels who can't wait to release their music on Tomorrowland Music, encompassing a multitude of genres.
More information: https://www.tomorrowland-music.com
​Instagram: https://tomorrow.land/Music-IG
​Facebook: https://tomorrow.land/Music-FB
​Twitter: https://tomorrow.land/Music-Twitter
Jordy Van Overmeire PR Coordinator, Tomorrowland