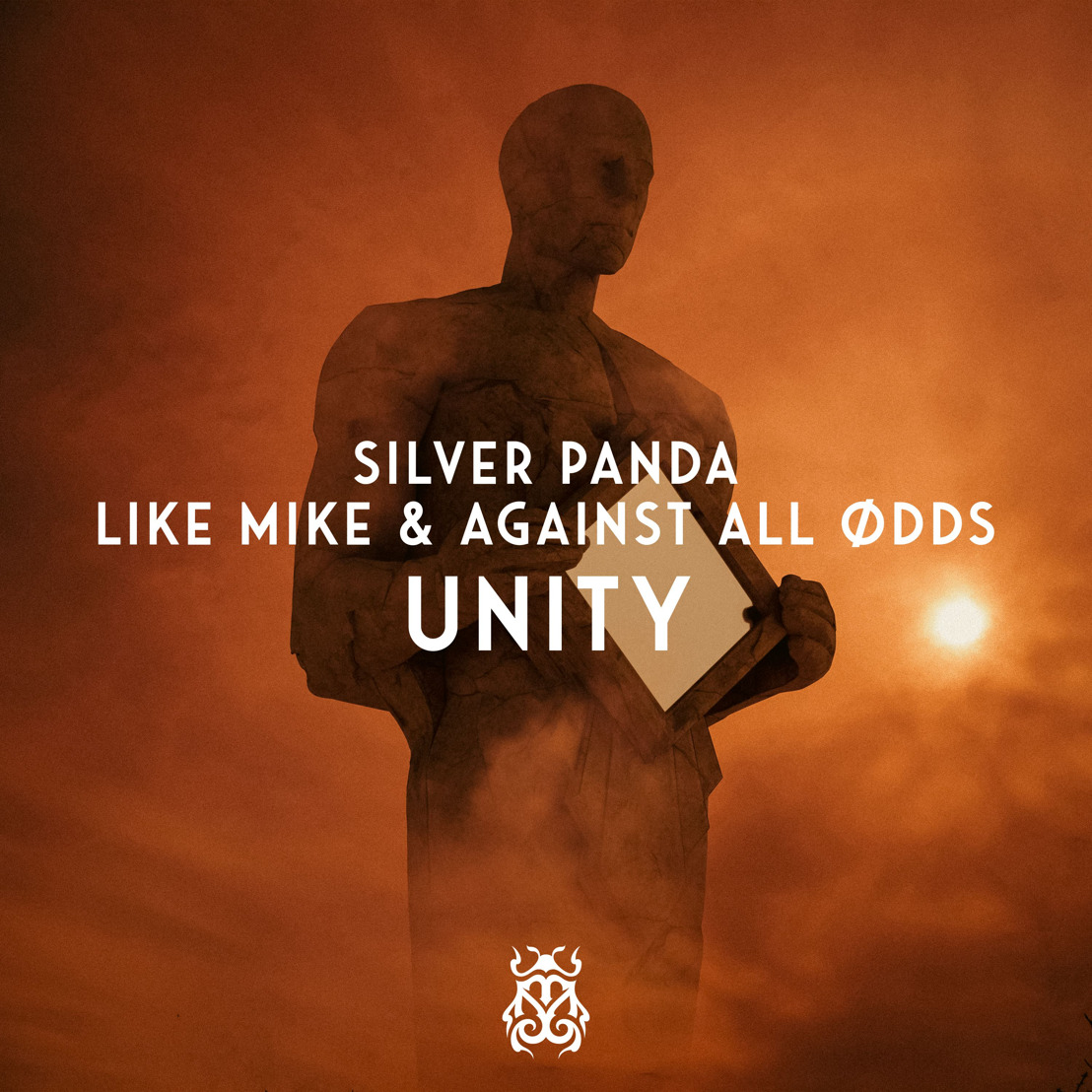 Silver Panda, Like Mike and Against All Ødds come together for 'Unity'
A deep and hypnotic melodic techno piece
Friday, 15 September 2023 – In a collaborative triumph, Israeli DJ duo Silver, Belgian artist Like Mike and fellow Israeli DJ/producer Against All Ødds have come together for their thrilling single 'Unity', released on Tomorrowland Music today! 'Unity' comes in the shape of a deep and hypnotic melodic techno piece, composed of undulating synth waves, punchy beats and euphoric swells, gradually building up to a breathtaking breakdown. With tension rising throughout the entire track, the drop features an eye-opening synth, showcasing a beautiful diversity of compelling sounds.
'Unity' is out now via all platforms.
Putting his creative abilities and versatility on full display, Like Mike continues to expand his solo catalogue by dropping into Tomorrowland Music's label schedule with his second single, following 'Feel You Close' in 2022. While still maintaining his presence in the well-known duo Dimitri Vegas & Like Mike, his solo releases are definitely something worth watching, demonstrating the dance music veteran's ear for a solid house/techno production.
'Unity' by Silver Panda, Like Mike and Against All Ødds is part of a collection of specially curated festival releases by Tomorrowland Music leading up to Tomorrowland Brasil, celebrating the return of Tomorrowland to Brazil on October 12-14, 2023 by gathering some of the most prominent artists in electronic music on Tomorrowland's record imprint.
About Silver Panda
​Silver Panda is an innovative music duo consisting of two friends, Leo Barcellos and Shlomi Berg, who joined forces at the end of 2021. Currently based in Los Angeles and Tel Aviv, Silver Panda's music style is characterized by unique melodies, acid vibes, and groovy sounds, making them stand out in the music scene. Their originality and creativity have gained them rapid popularity and support from influential artists such as Tiesto, Vintage Culture, Tale of Us, CamelPhat, Meduza, Dom Dolla, John Summit and many others.
From their first tracks, Silver Panda has received support from Siona's Records, with whom they have released two EPs. They have also collaborated with Space Motion on two tracks that were released on Space Motion's records. In August 2022, the duo founded their own label, Panda Lab Records, and their recent tracks 'Soul Connection' and 'We Call This Acid' reached #1 on Hype Overall. They have also done a remix for Famba, which was released on Sony Records.
In addition to their musical accomplishments, Silver Panda has been recognized by DJ Mag Brazil as one of the most promising new artists to watch out for. With their growing success, Silver Panda is sure to continue making waves in the music industry.
https://www.instagram.com/silverpandamusic/
​https://www.facebook.com/SilverPandaMusic/
​https://soundcloud.com/silverpandamusic
About Like Mike
​Michael Thivaios, better known to a global fan base as Like Mike, is one-half of the world's #1 ranked DJ duo Dimitri Vegas & Like Mike. During a journey that spans over 15 years, Mike has achieved a staggering number of career highs.
Throughout his career, Like Mike has accrued #1 singles in a multitude of countries. His 2016 single The Hum with his brother, Dimitri Vegas, went platinum, and 'Higher Place' with Ne-Yo secured the #1 Billboard Dance Chart position. The single was the first record from the Dimitri Vegas & Like Mike catalogue featuring Mike as a vocalist and songwriter. From producing the iconic sounds behind 'Mammoth' to writing and singing on 'Higher Place,' Like Mike has shown his diverse creative abilities to his fans time and time again.
The brothers then collaborated with Wiz Khalifa for the hit record 'When I Grow Up,' and their 2017 summer smash 'Complicated'with David Guetta and Kiiara has amassed over 169 million streams on Spotify so far, along with more than 89 million YouTube views. The all-star line-up of David Guetta, Afro Bros, Daddy Yankee and Natti Natasha on one of the biggest songs of the summer of 2019, 'Instagram', has amassed over 78 million YouTube views with more than 289 million streams on Spotify. Most recently releasing, the star-studded single 'Leader' collaborated with Sunnery James & Ryan Marciano, Tinie Tempah and Azteck.
After launching his independent record label Green Room, Like Mike released his first solo album, 'Pain, Love, & What Comes After,' containing songs wholly written, produced and sung by him as well as tracks with major features like world superstar Lil Baby, Smokepurpp, Blueface and Wifisfuneral. The 15-song album perfectly flows between songs, creating a pensive story of love, pain, and everything in between.
Mike's project grew from his need to dig deeper into the sounds of his early years and young adulthood, a blend of genres that were the soundtrack to his life. His younger years were a period during which he explored his musical creativity. Singing and songwriting were the first steps into his musical career, even before producing the numerous hits with his brother that led to today. Before the age of 15, Mike had already written countless songs.
Teaming up with masked maestro Claptone on 'Right Into You' featuring Grammy-nominated indie artist Mansionair, Like Mike, yet again flexed his capabilities beyond dancefloor-rupturing EDM anthems. 'Right Into You' was a well-received ambient floor-filler that blurred the boundaries of indie-pop and house with its powerful synths, romanticising lyrics, and effervescent chorus.
Continuing his creative path, Mike began releasing singles he had road-tested in his solo performances after garnering international praise from his fans. The first is 'Desire,' a song written, produced, and sung by Mike, putting his artistic abilities on full display and then releasing a tapestry of singles throughout 2022, including 'Speed Of Light' and the psychedelic-influenced progressive house 'Awaking' with Asher Swissa, continuing to showcase his diverse production expertise. His single 'Dance For Me' with Kasangoand the vocals of Julia Church, a melodic house track that continues to prove Mike's genre-transcending production prowess.
Boasting an almighty catalogue of solo releases alongside growing his independent record label Green Room and forming one-half of the world's top EDM duo, Like Mike has also been performing solo headline slots everywhere from Tomorrowland to Area 51 Las Vegas and Mykonos No.1 superclub VOID to Arcadia in Qatar, in which he premiers his diverse range of unreleased productions and continues to wow crowds with his musical depth.
Following Like Mike's exploration and experimentation with the underground, the future looks filled with powerful performances and a slew of exciting releases showcasing his diverse musical skill set.
https://www.instagram.com/likemike/
​https://www.facebook.com/LikeMikeMusic
​https://twitter.com/likemike
​www.tiktok.com/@likemike
​www.soundcloud.com/likemikemusic
About Against All Ødds
​Against All Ødds is known for his amazing and endless range as an accomplished DJ/Producer, having global chart-topping success work can be found on such respected labels like Tomorrowland Music, Impressum, Zerothree, Filth on Acid, many more.... look for Against All Ødds to continue to push musical boundaries.
Following several worldwide club shows including plays at the likes of Cielo (New York), and Pacha (New York), their upcoming schedule promises to share his sound further than ever.
Consistently striving for a sound that's timeless yet original, Against All Ødds with exciting plans on the ever-nearing horizon.
https://www.instagram.com/againstallodds.ofc/
About Tomorrowland Music
​Tomorrowland has expanded the family with its own music label: Tomorrowland Music. Tomorrowland Music is a dedicated music division within Tomorrowland, collaborating closely with both artists and labels, supporting them in all their recording and release activities.
Tomorrowland Music has partnered with Virgin Distribution and Virgin Records. As part of the Universal Music Group, Virgin has been one of the industry leaders in music distribution and independent records labels for many years. Tomorrowland Music is delighted to be working closely with Virgin and looking forward to taking the label to a higher level together.
Stay tuned for a stellar line-up of renowned artists from all different levels who can't wait to release their music on Tomorrowland Music, encompassing a multitude of genres.
More information: https://www.tomorrowland-music.com
​Instagram: https://tomorrow.land/Music-IG
​Facebook: https://tomorrow.land/Music-FB
​Twitter: https://tomorrow.land/Music-Twitter
Jordy Van Overmeire PR Coordinator, Tomorrowland