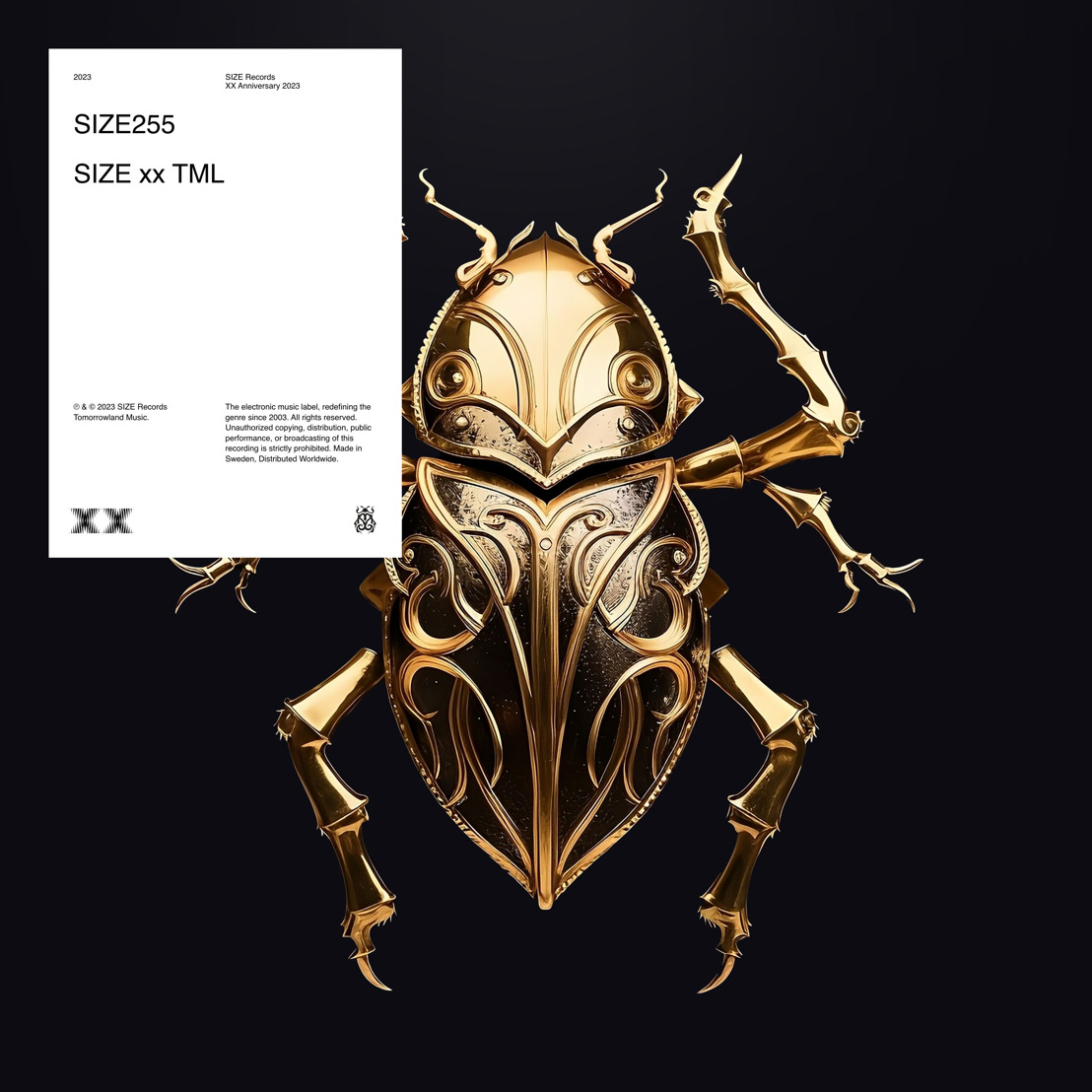 SIZE xx TML
A symphony of innovation and collaboration: SIZE Records and Tomorrowland Music present 'SIZE xx TML' EP
Friday, 25 August 2023 – In an era where electronic dance music has evolved into a cultural phenomenon, two trailblazing entities have converged to celebrate a shared legacy and an inspiring future. SIZE Records and Tomorrowland Music Records proudly announce the release of 'SIZE xx TML', co-released on both imprints today. The six-track EP represents a harmonious blend of past, present and future, marking a defining moment in electronic music.
'SIZE xx TML' EP is out now via all platforms.
The 'SIZE xx TML' EP features the following tracks:
Steve Angello – Monday (Sunnery James & Ryan Marciano, Magnificence Remix)

Steve Angello, Saturday, Monday, Julia Spada – The Ocean (AN21 Remix)

HIISAK – Subiendo (Vazilando) (feat. Mathieu Ruz)

Kommando – DANCE BABY DANCE

Pretty Output – Do You Hear Me

Daniel Etienne – Omniscient
Reflecting on the collaboration with Tomorrowland Music, Steve Angello said, "This collaboration between SIZE and Tomorrowland is more than just a fusion of sounds; it's a celebration of two decades of musical evolution, friendship, and creativity. Remixing the classics gives us a chance to honor our roots, while introducing four incredible new acts showcases our commitment to innovation and the future of music. Here's to the past 20 years of harmony and inspiration, and to the next 20 years, where we'll continue to break boundaries and redefine what's possible."
HIISAK comments about 'Subiendo (Vazilando)': "This song brings me back to my first musical influences and roots as a drummer with percussive structures and Latin-based samples. I'm so excited to be back on SIZE for this special collaboration with Tomorrowland Music. Let's go SIZE family, Vamos Subiendo!
AN21: "It's an honour to share my remix of 'The Ocean' originally by my brother Steve Angello. Ever since this track first graced my ears, I've been captivated by its rhythm and soul. Now, as we celebrate SIZE xx, remixing this song feels like the perfect culmination, marking both an end and a fresh beginning. This remix for me is a journey - a consistent drive that builds up to something truly spectacular. It's a crescendo of emotion and excitement, an interpretation of what the original song means to me."
Sunnery James & Ryan Marciano: "Our tribute to Steve Angello's timeless 'Monday' - we're thrilled and honoured to finally unleash the remix we did together with Magnificence to the world!"
Magnificence: "Thrilled to see my remix with Sunnery James & Ryan Marciano for one of the biggest songs by Steve Angello being released now. The 'Monday' remix has been an absolute highlight in my DJ sets since 2018. The original song by Steve has a special place in my heart, which makes this a very special project for me."
Kommando: "'DANCE BABY DANCE', my first track, it's the beginning of my artistic realization and my path that was able to transform into music what I am now and what I feel to be; an energy injector and smile creator, a colorful rebel and a party starter. I'm honored to have been given this opportunity by the SIZE family and Steve Angello himself, all of that gives a real thrill and a great sense of responsability. Being a part of the SIZE EP in collaboration with Tomorrowland, the most important festival in the world, makes everything just even more incredible."
Daniel Etienne: "Late 2021, inspired by the Italian winter and sounds of the new age house, 'Omniscient' was born. Incorporating granular synthesizers into house music together with ethereal atmospheres, makes it a very fresh and unique sounding tune. Being a part of the SIZE x TML EP is the best case scenario for this song, since it's two labels that can bring the absolute best out of music. Really excited for this collaboration and the music coming out."
Pretty Output: "'Do You Hear Me' came to life last year and it's a special one. We were inspired by a lot of different styles at the time and that's what you're hearing. We're super excited to be on this EP! Celebrating Size's 20 year anniversary together with Tomorrowland Music is an honor and with 'Do You Hear Me' as our introduction, we couldn't be happier."
The collaboration between SIZE and Tomorrowland was more than a coincidence. These two iconic brands were established almost in the same year and have been growing, evolving, and shaping the industry year after year.
About Steve Angello
​Long before garnering GRAMMY® Award nominations, performing to millions of fans on multiple continents, crashing charts worldwide, and tallying streams in the billions, artist, DJ, producer, and Swedish House Mafia Co-Founder Steve Angello realized his purpose as a kid in Sweden. He collaborated with childhood friend Sebastian Ingrosso before launching his own label Size during 2003. He also teamed up with Axwell in Supermode, landing a hit with "Tell Me Why." In 2008, he co-founded Swedish House Mafia with Axwell and Ingrosso. They garnered consecutive GRAMMY® nods for "Best Dance Recording" with the platinum "Save the World" in 2012 and quintuple-platinum "Don't You Worry Child" in 2013. They sold out legendary venues—including Milton Keynes Bowl and Madison Square Garden—and delivered historic sets at Coachella, Ultra Music Festival, and beyond. Plus, Steve asserted himself as a solo force of nature. He occupied a spot on DJ Mag's coveted "Top 100 DJs" list for fourteen consecutive years and received two DJ Awards. He has delivered official remixes for everyone from Justin Timberlake, Coldplay, and Depeche Mode to Fergie and Moby. Following his full- length debut Wild Youth, he ascended to another creative peak on his 2018 sophomore offering, Human, collaborating with Bishop T.D. Jakes on "Rejoice," Pusha T on "Freedom," Barns Courtney on "Dopamine," and more. 2021 marked the momentous comeback of Swedish House Mafia with their long-awaited debut LP, Paradise Again, clinching #1 on the Billboard Top Dance/Electronic Albums Chart and UK Dance Albums Chart. They launched the blockbuster Paradise Again World Tour, canvasing 29 cities in 11 countries across two continents for five months. As always, Steve will be unleashing more music and shifting perspectives further in 2023.
https://www.instagram.com/steveangello/
​https://www.youtube.com/steveangello
​https://www.facebook.com/steveangello/
​https://soundcloud.com/STEVEANGELLO
​https://twitter.com/SteveAngello
About SIZE Records
​Renowned for championing the sound of electronic dance music over two transformative decades, SIZE Records is poised to mark its 20th anniversary this year, initiating the celebration with the launch of SIZE XX. Since its conception in 2003, the record label has persistently stood at the vanguard of the genre, pioneering its evolution and guiding it into the hearts of millions globally.
Established by the internationally acclaimed DJ and producer Steve Angello, SIZE Records has been a beacon of innovation, fostering fresh talent and upholding an unwavering commitment to delivering quality music. Angello's vision has not merely been to build a successful label but to cultivate an indomitable musical movement, one that resonates with the spirit of electronic music and beyond.
https://www.instagram.com/sizerecords/
​https://twitter.com/sizerecords
​https://www.facebook.com/sizerecords/
​https://soundcloud.com/sizerecords
​https://www.s-ze.com
About Tomorrowland Music
​Tomorrowland has expanded the family with its own music label: Tomorrowland Music. Tomorrowland Music is a dedicated music division within Tomorrowland, collaborating closely with both artists and labels, supporting them in all their recording and release activities.
Tomorrowland Music has partnered with Virgin Distribution and Virgin Records. As part of the Universal Music Group, Virgin has been one of the industry leaders in music distribution and independent records labels for many years. Tomorrowland Music is delighted to be working closely with Virgin and looking forward to taking the label to a higher level together.
Stay tuned for a stellar line-up of renowned artists from all different levels who can't wait to release their music on Tomorrowland Music, encompassing a multitude of genres.
More information: https://www.tomorrowland-music.com
​Instagram: https://tomorrow.land/Music-IG
​Facebook: https://tomorrow.land/Music-FB
​Twitter: https://tomorrow.land/Music-Twitter
Jordy Van Overmeire PR Coordinator, Tomorrowland