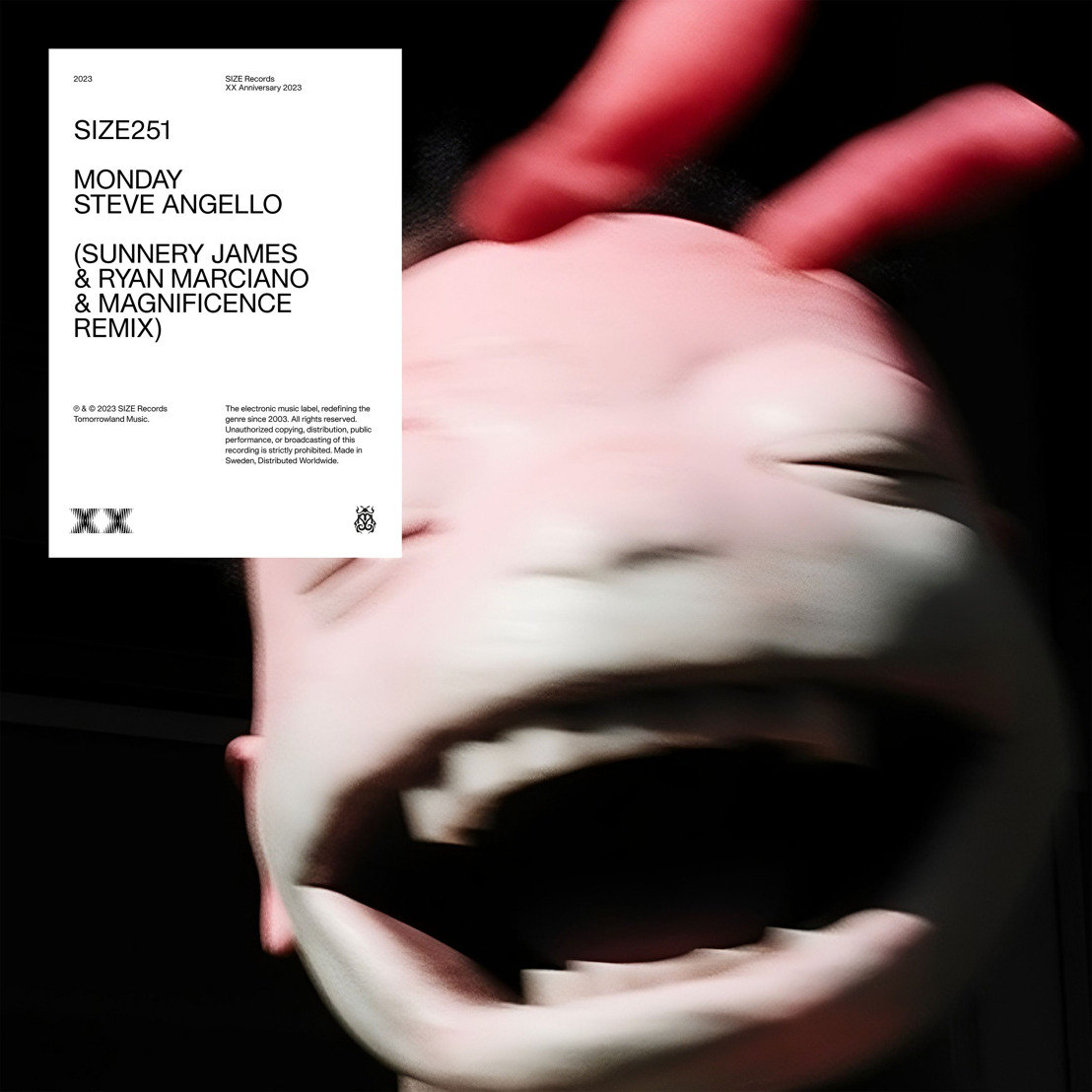 Sunnery James & Ryan Marciano and Magnificence rework Steve Angello's Monday
The first release of an exciting collaborative EP by Tomorrowland Music and SIZE Records
Friday, 28 July 2023 – In a collaborative triumph, dynamic Dutch duo Sunnery James & Ryan Marciano and Dutch powerhouse producer Magnificence have joined forces for their 2023 rework of Steve Angello's legendary house record 'Monday', co-released on Tomorrowland Music and SIZE Records today! Celebrating 20 years of SIZE Records this year, label boss and one third of Swedish House Mafia Steve Angello tapped into the Dutch producers to give a modern update to his iconic track from 2009. Sunnery James & Ryan Marciano's and Magnificence's rework keeps the original's memorable bassline intact while giving the classic house cut a fresh and funky tribal sound feel – a fun and highly energetic tune full of summer appeal.
'Monday' (Sunnery James & Ryan Marciano & Magnificence Remix) is out now via all platforms.
The 2023 rework of 'Monday' marks the first release of an exciting collaborative EP by Tomorrowland's imprint and SIZE Records, landing right on time for Steve Angello's highly-anticipated special 20 year celebration set 'Steve Angello presents SIZE XX' on Tomorrowland's Freedom stage on Sunday July 30.
Steve Angello about the collaboration with Tomorrowland Music: "We've always had a thing with Tomorrowland, because we are like-minded and we work for something that we love. Working together with the family of Tomorrowland, I feel like it's meant to be. For us to work with their artists and musical platform, just put out great records, have fun together, perform and enjoy, make people smile - that's what it's all about!"
About Steve Angello
​Long before garnering GRAMMY® Award nominations, performing to millions of fans on multiple continents, crashing charts worldwide, and tallying streams in the billions, artist, DJ, producer, and Swedish House Mafia Co-Founder Steve Angello realized his purpose as a kid in Sweden. He collaborated with childhood friend Sebastian Ingrosso before launching his own label Size during 2003. He also teamed up with Axwell in Supermode, landing a hit with "Tell Me Why." In 2008, he co-founded Swedish House Mafia with Axwell and Ingrosso. They garnered consecutive GRAMMY® nods for "Best Dance Recording" with the platinum "Save the World" in 2012 and quintuple-platinum "Don't You Worry Child" in 2013. They sold out legendary venues—including Milton Keynes Bowl and Madison Square Garden—and delivered historic sets at Coachella, Ultra Music Festival, and beyond. Plus, Steve asserted himself as a solo force of nature. He occupied a spot on DJ Mag's coveted "Top 100 DJs" list for fourteen consecutive years and received two DJ Awards. He has delivered official remixes for everyone from Justin Timberlake, Coldplay, and Depeche Mode to Fergie and Moby. Following his full- length debut Wild Youth, he ascended to another creative peak on his 2018 sophomore offering, Human, collaborating with Bishop T.D. Jakes on "Rejoice," Pusha T on "Freedom," Barns Courtney on "Dopamine," and more. 2021 marked the momentous comeback of Swedish House Mafia with their long-awaited debut LP, Paradise Again, clinching #1 on the Billboard Top Dance/Electronic Albums Chart and UK Dance Albums Chart. They launched the blockbuster Paradise Again World Tour, canvasing 29 cities in 11 countries across two continents for five months. As always, Steve will be unleashing more music and shifting perspectives further in 2023.
https://www.instagram.com/steveangello/
​https://www.youtube.com/steveangello
​https://www.facebook.com/steveangello/
​https://soundcloud.com/STEVEANGELLO
​https://twitter.com/SteveAngello
About Sunnery James & Ryan Marciano
​The electronic music landscape has changed a fair bit since Sunnery James & Ryan Marciano started their journey, but the stature and widespread dance floor appeal of the iconic duo has remained undeniably grand. From their earliest releases on Size Records and Spinnin' to the recent batch of incendiary tracks released on their own imprint (SONO Music), the pair's distinct signature style has not only helped them cultivate a large and dedicated global following, but also enabled them to uphold a commendable reputation across international borders.
Drawn into their craft by influential figures such as Masters At Work, Erick Morillo, Bob Sinclar, Martin Solveig and DJ Gregory, Sunnery James & Ryan Marciano were quick to notice their musical chemistry after a chance meeting in 2006. DJ Mag, the dance music outlet that saw the pair claim a position in the 2021 and 2022 edition of their annual Top 100 DJs poll, provided an accurate description: "James and Marciano represent the perfect storm; together delivering a vibrant onstage energy, a polished approach behind the decks, a sexy image that's a no-brainer to market, as well as a sound that's a perfectly stirred fusion of house and techno, Latin and tribal percussion."
It didn't take Sunnery James & Ryan Marciano long to become one of the most prolific electronic outfits from the Netherlands. Showcasing their unrestrained energy from the get-go with a diverse selection of releases and early linkups with the likes of Hardwell, Chocolate Puma, DubVision and Sander van Doorn, the Dutchmen began to infect the live circuit with their tribal rhythms, soon gracing the mainstage line-ups of the in-demand festivals such as Tomorrowland, Ultra Music Festival, EDC Las Vegas, Mysteryland, AMF, Kingsland and Creamfields. And as the global call for Sunnery James & Ryan Marciano began to grow louder, so did their commitment to the scene as one of its trailblazing acts.
Taking their responsibilities seriously, Sunnery James & Ryan Marciano founded their SONO Music label in 2017 to provide the next generation of dance music superstars with a platform to release from. An integral member of the Armada Music family, the label continues to uphold its founders' core values, valuing artistry and authenticity over pigeonholed products. A vast proportion of Sunnery James & Ryan Marciano's own work has found a home on the imprint, as well as tracks from Armin van Buuren, Sofi Tukker, Dragonette, Cat Dealers, Bruno Martini and rising talents Novak, YAX.X, Leon Benesty, Valexx and many more. The duo have big ambitions for the Label going forward.
​
​Coexisting with their demanding tour schedule and frequent studio sessions, Sunnery James & Ryan Marciano's weekly radio show has been an integral aspect of their artistic careers since its launch in the early-2010s. Since then, Sexy by Nature (SBN) has not only delighted at-home listeners, but also expanded to stages at major festivals such as Tomorrowland. The radio show is currently syndicated to over 20 countries and 36 radio stations, besides their weekly prime-time Friday night show on 538 in The Netherlands and a monthly show on One World Radio (Tomorrowland).
Throughout their endeavours, whether that's hosting a SONO label night during Amsterdam Dance Event, heading up ground-breaking livestreams or pushing the envelope with critically acclaimed singles such as 'Summer Thing' and 'Better Things' and setting a new benchmark with their highly acclaimed and gold-status debut album, 'Fundamentals' , Sunnery James & Ryan Marciano have proven themselves to be a step ahead of the game. And as they move into 2023 , expect the unexpected. That's been the SJRM trademark since day one.
https://www.instagram.com/sunneryjamesryanmarciano/
​https://soundcloud.com/sunneryjamesryanmarciano
​https://twitter.com/SJ_RM
​https://www.facebook.com/sunneryjamesandryanmarciano/
​https://www.sj-rm.com
About Magnificence
​Magnificence, in person of Robin Klaver is changing the sound of progressive and electro house as we know it. Being signed to the aces of house labels: Axtone, SIZE, STMPD, Epic247 and Musical Freedom, Magnificence delivers unprecedented releases like 'Rebel Nation', 'Hallucinate', 'Fire' and 'Unboring the Future'. On stage Magnificence made impact on some of the biggest festivals in the scene such as Tomorrowland, Electrobeach, Mysteryland, VH1 Supersonic and the Creamfields UK Mainstage, while playing headliner and club shows around the world, including New City Gas (Montreal), Ministry of Sound (London), Pacha (Ibiza) Ushuaia (Ibiza), Sel Octagon (Tokyo), Space (China) EPIC (Prague) and many more. The rise of Magnificence in the electronic music scene accelerated after Swedish House Mafia premiered the Magnificence tracks 'Cobra' and 'Out Of My Mind' during their highly anticipated reunion set at Ultra Music Festival in Miami 2018, while Axwell & Ingrosso premiered 'Fire' as the 3rd completing single of the EP during the same Ultra weekend. The Magnificence EP (Cobra, Fire, Out Of My Mind) on Axtone turned out as one of the most trendsetting releases throughout 2018 and would influence the electro house scene for the years to come. Resulting in remix duties for Tiesto, ZEDD, Afrojack and Sunnery James & Ryan Marciano, which continued the hype around the distinct Magnificence sound. Magnificence enjoys a long and wide support list, including the Swedish House Mafia, Tiësto, Malaa, Martin Garrix, DJ Snake, Alesso, Zedd, Tchami, Axwell /\ Ingrosso, Don Diablo, Nicky Romero, Afrojack and Steve Angello, while simultaneously being supported by the biggest influencing Spotify playlists, such as mint, Dance Rising, Beast Mode, Dance Party, New Music Friday Dance and Power Hour and many more.
https://www.magnificencemusic.com
​https://instagram.com/magnificencemusic
​https://twitter.com/magnificenceNL
​https://www.facebook.com/magnificence
​https://www.patreon.com/magnificence
About Tomorrowland Music
​Tomorrowland has expanded the family with its own music label: Tomorrowland Music. Tomorrowland Music is a dedicated music division within Tomorrowland, collaborating closely with both artists and labels, supporting them in all their recording and release activities.
Tomorrowland Music has partnered with Virgin Distribution and Virgin Records. As part of the Universal Music Group, Virgin has been one of the industry leaders in music distribution and independent records labels for many years. Tomorrowland Music is delighted to be working closely with Virgin and looking forward to taking the label to a higher level together.
Stay tuned for a stellar line-up of renowned artists from all different levels who can't wait to release their music on Tomorrowland Music, encompassing a multitude of genres.
More information: https://www.tomorrowland-music.com
​Instagram: https://tomorrow.land/Music-IG
​Facebook: https://tomorrow.land/Music-FB
​Twitter: https://tomorrow.land/Music-Twitter
Jordy Van Overmeire PR Coordinator, Tomorrowland