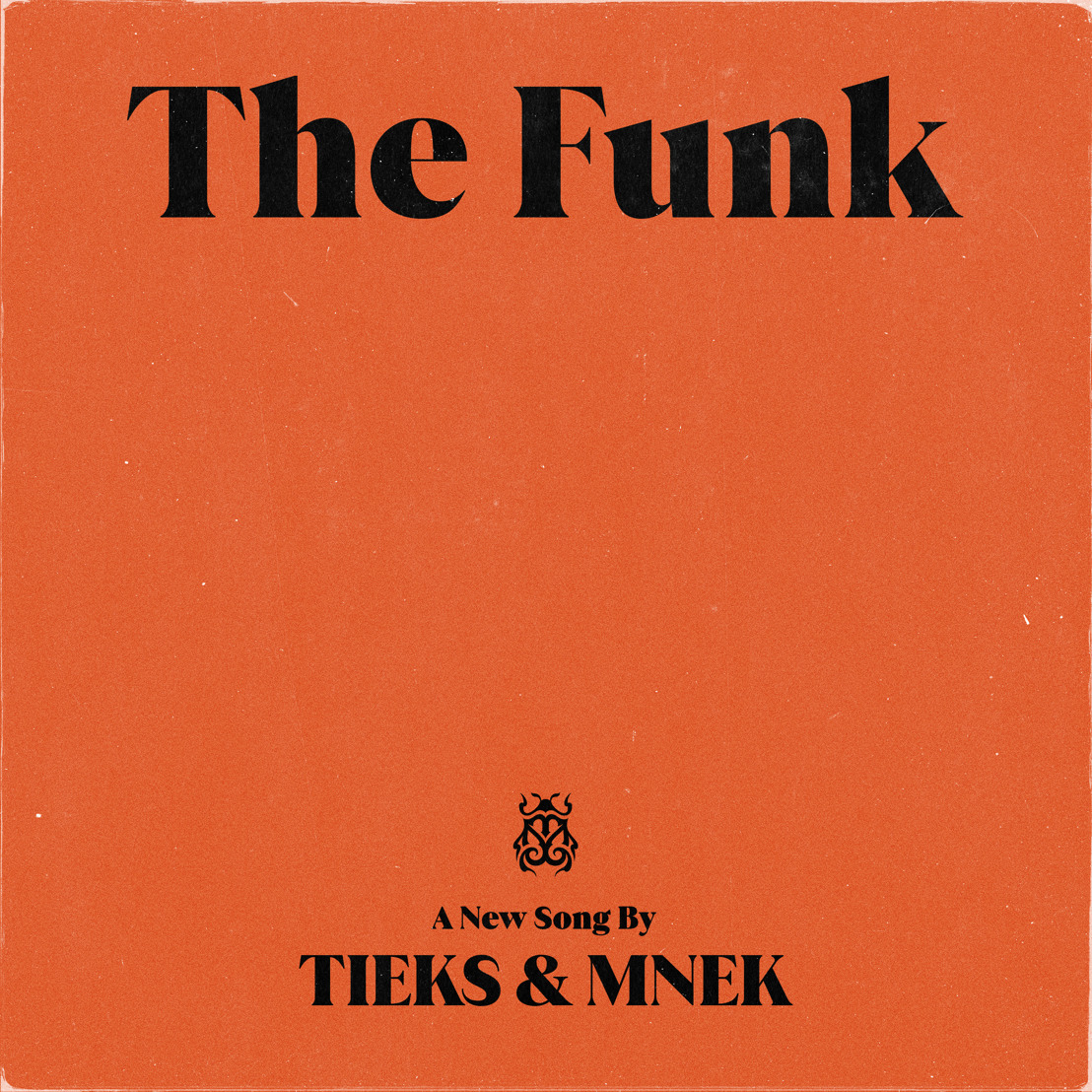 TIEKS and MNEK raise the bar with new disco tinged single 'The Funk'
Brightening up everyone's day with colorful and upbeat vibes
Friday, 22 April 2022 – London-based producer and songwriter TIEKS has joined musical forces with the unstoppable British singer and producer MNEK to raise the bar with their brand-new uplifting, disco tinged single 'The Funk', released through Tomorrowland Music today! Bursting out with unwinding, sun-drenched rhythms, lively vocals and feel-good piano chords, 'The Funk' is brightening up everyone's day with its colorful and upbeat vibes. TIEKS finds a perfect partner in MNEK, complementing each other's sound and bringing people around the world the go-to dance track for the summer of 2022.
'The Funk' is out now via all platforms.
TIEKS – the man behind summer smash hit 'Sunshine' – has worked with many of today's biggest stars over the last 10 years, including Jax Jones, MNEK, Florence & The Machine, Mabel, Jess Glynne & Tinie Tempah. MNEK has written or produced songs for loads of other artists, including Joel Corry ('Head & Heart'), Zara Larsson ('Never Forget You'), Jax Jones ('Breathe'), Dua Lipa ('IDGAF'), Clean Bandit, Becky Hill, Kylie Minogue, Beyoncé and Madonna.
TIEKS: "As well as being a generational talent, MNEK is like a brother to me. We've been working together for many years and I'm super excited that we've been able to get together again for The Funk. Inspired by the gaping void in our nightlife created by lockdown, I started the track in 2021. It was during a time when I was reminiscing about clubs and all that the younger generation missed out on - I wanted to turn my dismay into something positive. I decided to create a song that would serve as an uplifting promise that we would be united in the club again, so I titled the track Dance Again. I finessed it with the legends that are Effie, Rob Harvey and the Just Kiddin' boys (Rob and Just Kiddin' wrote Joel Corry's Head and Heart) before sending it to MNEK. He took it to another level, naturally. What you hear is MNEK's first vocal take, which was perfect, and manages to convey so much emotion and passion. His line, "when I don't feel strong enough, I let the music lift me up out of the funk I'm in" is the perfect summary for how we all felt and how vital music is in energising us. His singing was the perfect component to deliver the uplifting feeling that I wanted - it made me want to dance again! I really hope that you get that same feeling when listening to The Funk!"
MNEK: "Tieks is someone who I love & I've known for very much the entirety of my career. We got to work on this song during lockdown, he'd sent me this beat that I was obsessed with. I wrote "The Funk" in a moment where I was just in a low vibe from being inside for so long. I was so ready to go to the club & dance again, and that's what I wanted to come across in the vocal. I hope you guys like!"
About TIEKS
​As an accomplished producer, mixer, songwriter & DJ, Mark 'Tieks' Tieku has strong relationships & connections within the music industry, having worked with many of today's biggest stars over the last 10 years including Jax Jones, MNEK, Florence & The Machine, Mabel, Jess Glynne & Tinie Tempah.
After a professional top level rugby career for the Harlequin Football Club and having grown up with dreams of composing music soundtracks, he was inspired to produce records after hearing music from the likes of Daft Punk, Mirwais and Björk.
His debut release 'Sing That Song' features the vocal talents of London based singer Celeste and was released in the summer of 2013 to widespread critical acclaim, earning him a lucrative sync opportunity with Tesco, Britain's biggest & most popular supermarket chain for the launch of their A/W 2014 clothing collection for F&F.
'Sunshine' – released in 2015 – followed and features the vocals of singer/songwriter Dan Harkna. 'Sunshine' went on to become a top 20 hit on the Official Charts, amassing over 150 million combined streams to date & earning a Platinum certification in the UK, certifying 'Sunshine' as a summer staple.
His last release 'Say A Prayer' features the vocal talents of the legendary Chaka Khan & Dancehall heavyweight Popcaan and earned the title of 'Hottest Record In the World' by Annie Mac, 'Future Anthem' by Danny Howard and 'Jam Hot' by MistaJam.
Now Tieks returns following his most productive writing period to date. 2022 is scheduled to be Tieks' busiest year of gigs and releases, with records coming on Spinnin and Tomorrowland Music; the latter being an uplifting, disco tinged track that features the unstoppable MNEK.
https://www.facebook.com/tieksmusic
​https://twitter.com/tieksmusic
​https://www.instagram.com/tieksmusic/
​https://soundcloud.com/tieks
About MNEK
​Grammy award winning, BRIT and Ivor Novello nominated artist/producer/writer MNEK, has clocked up an astonishing thirteen years in the music business. With over 4 BILLION streams on MNEK written, featured and produced tracks, he has grown to become a true powerhouse within the British pop world. He has worked alongside some of the biggest names in the industry, collaborating with the likes of Zara Larsson, Stormzy, Jax Jones, Gorgon City, Years & Years and Craig David. He's written with international stars such as Beyoncé, Little Mix, Dua Lipa, Christina Aguilera, BTS, Mabel, Anne Marie, Madonna, Kelly Rowland, Selena Gomez and Clean Bandit. His back catalogue includes a number of worldwide hits including 'Ready For Your Love', 'Never Forget You', and 'Blinded By Your Grace'. His hit with Joel Corry, 'Head & Heart', became a global success, topping the charts in several countries and taking the reign as the longest standing UK #1 single in 2020.
Culturally, MNEK is considered a musical icon amongst the LGBTQIA+ community and has previously performed at New York World Pride 2019, UK Black Pride and featured on RuPaul's Drag Race UK as both a coach and guest judge. After setting up a writing camp dedicated to supporting LGBTQIA+ singer/songwriters in 2019, MNEK has continued efforts to strive for more inclusivity within the industry as a contributor to the Guardian UK diversity panel and hosting his own YouTube panel ' MNEK's Inter-Section' in conversation with 5 Black Queer artists/content creators.
https://www.instagram.com/mnek/
​https://www.facebook.com/MNEKOfficial
​https://twitter.com/mnek
​https://soundcloud.com/mnek-1
​https://www.mnekofficial.com
About Tomorrowland Music
​Tomorrowland has expanded the family with its own music label: Tomorrowland Music. Tomorrowland Music is a dedicated music division within Tomorrowland, collaborating closely with both artists and labels, supporting them in all their recording and release activities.
Tomorrowland Music has partnered with Virgin Distribution and Virgin Records. As part of the Universal Music Group, Virgin has been one of the industry leaders in music distribution and independent records labels for many years. Tomorrowland Music is delighted to be working closely with Virgin and looking forward to taking the label to a higher level together.
Stay tuned for a stellar line-up of renowned artists from all different levels who can't wait to release their music on Tomorrowland Music, encompassing a multitude of genres.
More information: https://www.tomorrowland-music.com
​Instagram: https://tomorrow.land/Music-IG
​Facebook: https://tomorrow.land/Music-FB
​Twitter: https://tomorrow.land/Music-Twitter
Jordy Van Overmeire PR Coordinator, Tomorrowland