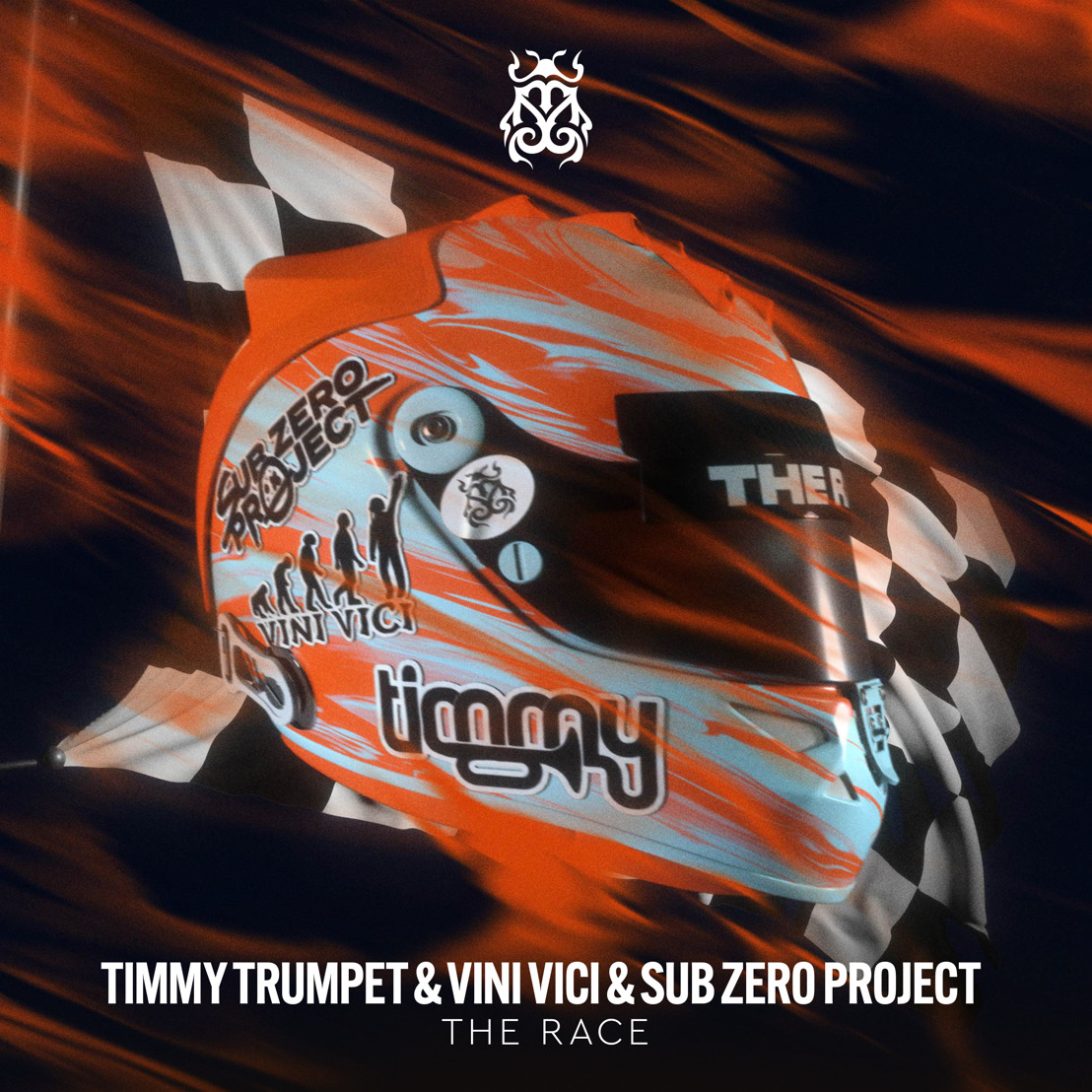 Timmy Trumpet, Vini Vici and Sub Zero Project combine forces on 'The Race'
A memorable debut collaboration with true rave energy
Friday, 4 August 2023 – Australian legend Timmy Trumpet, Israeli psytrance duo Vini Vici and Dutch hardstyle duo Sub Zero Project have combined their forces for the new collaborative single 'The Race', released on Tomorrowland Music today! Teaming up for the first time ever with their dynamic styles that bridge the sonic spectrum of progressive big-room, psytrance and hardstyle, the boys wrap it up in the perfect package with true rave energy, bringing to mind the iconic stages of Tomorrowland, where all three artists performed this year. 'The Race' is bound to be a fan favorite and a memorable debut collaboration for Timmy Trumpet, Vini Vici and Sub Zero Project, transporting you to your most epic past and future moments on dancefloors across the globe.
'The Race' is out now via all platforms.
Timmy Trumpet: "I've been playing this track in my sets for months and every time it's absolute fire! Two of my favorite producer duos of all time on one record together. Sub Zero Project and Vini Vici - ready, set… GO. 'The Race' is on this summer!"
Vini Vici: "We had an amazing experience working alongside Timmy Trumpet and Sub Zero Project on this new track. Their talent and creativity brought a whole new dimension to the music. It's been a long-awaited moment for us to release on the prestigious Tomorrowland Music label, and we couldn't be more excited to share this collaboration with all of you. Get ready to witness the magic that happens when worlds collide!"
Sub Zero Project: "We're crazy excited to drop brand-new music together with the legends Timmy Trumpet and Vini Vici! We already played this track on some of the biggest stages in the world this year and right now it's finally time to unleash 'The Race'… MAXIMUM POWER!''
About Timmy Trumpet
​DJ, producer and live instrumentalist, Timmy Trumpet is undoubtedly the most explosive performer in the electronic music scene. An award-winning, multi-platinum selling recording artist, Timmy has forged his way to the very top. His breakthrough release Freaks has reigned in over half a Billion streams, accompanying a string of singles to break the 100 million barrier on Spotify alone. From performances on Jimmy Kimmel Live to the most streamed set at Tomorrowland, Timmy is a festival promoter's headlining weapon of choice.
Timmy's music career boasts of an extensive resume spanning over twenty years from early beginnings as a classically trained Jazz musician. At the age of thirteen he was named 'Young Musician of the Year' before being granted a full scholarship to the Conservatorium of Music, where Sydney Symphony Orchestra's Anthony Heinrich tutored him. Within two years he secured a position as the leading solo trumpet player in the Australian All-Star Stage Band, taking part in an extensive European tour covering some of the world's biggest Jazz Festivals.
As a songwriter and producer, Timmy Trumpet refuses to be pigeon-holed releasing music of all flavours, in various genres. "There's only two kinds of music to me, good music and bad. Hopefully I'm making the good stuff!" – Timmy Trumpet.
The stats don't lie. Timmy's discography has exceeded 2.5 Billion streams.
Always up for collaborating with other artists his extensive catalogue features global heavyweights such as Armin Van Buuren, Hardwell, Afrojack, Steve Aoki, Dimitri Vegas & Like Mike, R3HAB, W&W, ALOK and KSHMR. His debut mainstage performance at Tomorrowland in 2017 is the highest streamed set of all time on the official YouTube channel, with his most recent set also leading the charge in 2022.
Timmy has an impressive international touring schedule, headlining festival performances at iconic events like Tomorrowland, Ultra and EDC. In 2022, Timmy threw out the first pitch for the NY Mets Vs LA Dodgers and performed his track 'Narco' while pitcher Edwin Diaz walked out to the mound. The iconic moment clocked over 200 Million views on social media in
48 hours and sent 'Narco' to #1 on Spotify's viral chart in the USA. To add to his impressive list of achievements, Timmy became the first instrumentalist to perform in Zero Gravity, thanks to a partnership between BigCityBeats and the European Space Agency.
When asked if he pinches himself looking back on a career that originated from the humble beginnings of Band Camp and after school Jazz practice,
​you only get one response – "We're just getting started!".
https://www.instagram.com/timmytrumpet/
​https://twitter.com/TimmyTrumpet
​https://www.facebook.com/timmytrumpet/
​https://www.timmytrumpet.com
​https://soundcloud.com/timmytrumpet
About Vini Vici
​"Few acts have such a well-defined signature sound" - quoting none other than trance icon Armin Van Buuren, when asked to describe the Vini Vici duo.
Although the Vini Vici jam is labeled as Psytrance, their cataclysmic, yet authentic & mesmerising sound took them way beyond the psychedelic world spectrum. Propelled by their infinite ambition and childhood dream, the innovative duo mange to shatter the glass ceiling of the psychedelic scene, leading the tribe into a new era. Voted #72 by "Dj Mag Top 100 Dj's" (2017) , The No. 1's / Walla Nightlife Awards 'Dj Of The Year' (2017), Beatstats "Best Selling Psytrance Artist" (2015, 2016, 2017), and #12 on "Trance Podium Top 100 Dj's" (2017), these are merely a part of the accomplishments already under their belt. ​ A long list of collaborations with some of the world's leading DJs pays testament to the powerful impact the Vini Vici sound has had on the global electronic music market. Armin Van Buuren, Dimitry Vegas & Like Mike, Steve Aoki, W&W, KSHMR, Astrix, Timmy Trumpet… to name but a few.
A glimpse into Vini Vici Tour dates reveals a glittering list of some of the world most desirable events; Tomorrowland, EDC (Las Vegas, Orlando, Mexico, India, Japan), Ultra (Miami, Brazil Europe), Dreamstate, ASOT, AMF, Dreambeach, Creamfiled, Electric Love, Airbeat One, World Club Dome, Transmission, Electronic Family, 808, DLDK, Sunburn, Boom, Psy-Fi, XXXperience, Tribe, Mandallah, Alien Trip, Sonora, Insonia, Unity, Psychedelic Experience, Indian Spirit, Burning Mountain, Vuuv……..

Despite their overwhelming schedule (with an average of over 200 shows per year), Vini Vici maintain their high energy pulse in the studio, repeatedly delivering pounding hits like: "Free Tibet Remix", which is the all-time most viewed psytrance song with nearly 60,000,000 views on Youtube, and the first song ever to make it into Beatport overall Top10 chart (#2).

Following was their already anthem "Great Spirit" - a collaboration with "Armin Van Buuren & Hilight Tribe", and dancefloor dominator "Chakra" collaborated with W&W, both gaining spectacular success on Youtube, Spotify, Beatport (#3 overall, #2 overall) and positioned as the most played tracks (#1, #2) at Tomorrowland Festival 2017. Fusion with some of the biggest names in the game didn't steer Vini Vici away from their underground roots, and they continue producing with a an edgy, psychedelic feel. Where The Heart Is, Veni Vidi Vici, Adhana, Ravers Army, Universe Inside Me, Colors, In & Out, and Flashback depict just a partial list of their forever dominant psychedelic sound.
Beyond all the successes, the most admirable thing about Vini Vici is that no matter how big or far they go, they always maintain their down to earth attitude, positivity and gratitude, proving one thing for sure: good vibes win.
www.facebook.com/ViniViciMusic
​www.instagram.com/vinivicimusic
​www.youtube.com/user/ViniViciMusic
​www.soundcloud.com/vinivicimusic
​www.twitter.com/vinivicimusic
About Sub Zero Project
​Hardstyle duo Sub Zero Project aka Nigel Coppen and Thomas Velderman have taken the hard dance scene by storm. As teenagers they started their careers in 2014. The combination of high quality productions and a unique signature sound, launched this Dutch duo to the top in no time. Sub Zero Project is best known for their hits within Hardstyle, such as; 'Darkest Hour', 'Our Church', 'Halo' and 'Trip To Mars'. All of these bangers have reached tens of millions of streams. Thanks to their success, Sub Zero Project have been able to spread their sound on a global scale by performing on the biggest dance stages in the scene – Tomorrowland, Electric Daisy Carnaval, Defqon.1 Weekend Festival, Ultra Music Festival, Medusa Festival, and Qlimax to name a few.
Throughout their career, Sub Zero Project have worked with several big artists such as; Timmy Trumpet, W&W, Hardwell, Vini Vici, Da Tweekaz, Headhunterz and many more. This is only at the beginning of so much more to come. After releasing their second album, a piece of art called 'Renaissance Of Rave' in 2022, they've set the bar for 2023. Fueled with brand new bangers and the craziest live show experience 'Psychodelic'. Sub Zero Project is your must see act during one of their 100+ shows this year!
https://www.instagram.com/subzeroproject/
​https://twitter.com/Sub_ZeroProject
​https://www.facebook.com/ProjectSubZero/
​https://soundcloud.com/subzeroproject
​http://www.subzeroproject.com
About Tomorrowland Music
​Tomorrowland has expanded the family with its own music label: Tomorrowland Music. Tomorrowland Music is a dedicated music division within Tomorrowland, collaborating closely with both artists and labels, supporting them in all their recording and release activities.
Tomorrowland Music has partnered with Virgin Distribution and Virgin Records. As part of the Universal Music Group, Virgin has been one of the industry leaders in music distribution and independent records labels for many years. Tomorrowland Music is delighted to be working closely with Virgin and looking forward to taking the label to a higher level together.
Stay tuned for a stellar line-up of renowned artists from all different levels who can't wait to release their music on Tomorrowland Music, encompassing a multitude of genres.
More information: https://www.tomorrowland-music.com
​Instagram: https://tomorrow.land/Music-IG
​Facebook: https://tomorrow.land/Music-FB
​Twitter: https://tomorrow.land/Music-Twitter
Jordy Van Overmeire PR Coordinator, Tomorrowland