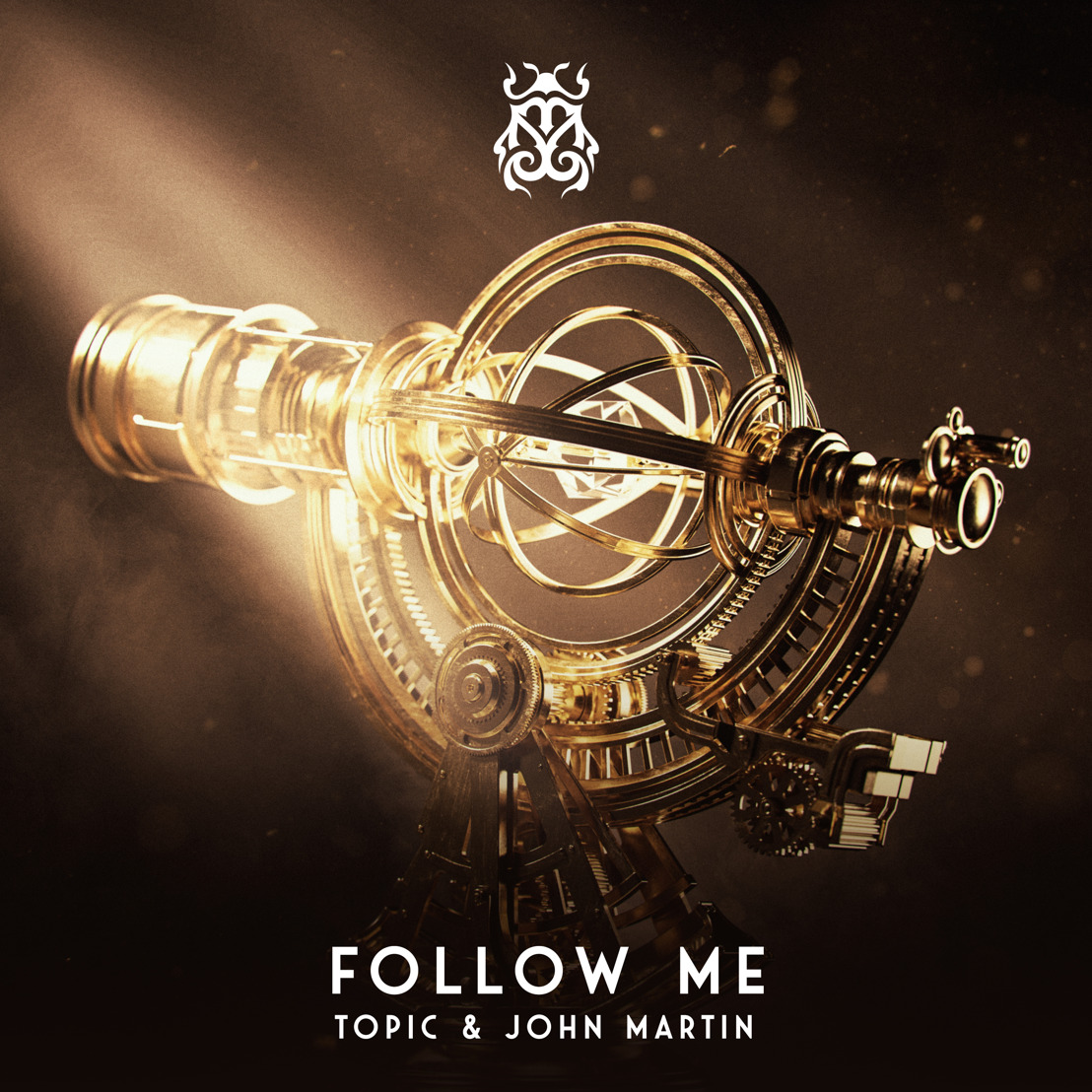 Topic & John Martin invite listeners to the club with tour de force single 'Follow Me'
Out now via Tomorrowland Music
Friday, 2 September 2022 – German producer Topic proves once again that he can do no wrong, this time linking up with the powerful vocals of singer/songwriter John Martin. Titled 'Follow Me', the new single highlights an unheard facet of Topic's production wheelhouse, as he and John Martin walk the line between a larger-than-life anthem and a mind-bending club tune for the ages. Follow Topic and John Martin to the dark and sweaty dancefloors of the underground, released through Tomorrowland Music today.
'Follow Me' is out now via all platforms.
Topic has been honing his craft for the better part of a decade, but 2022 is seeing the standout DJ push his career to new and unexpected heights. Just this year, Topic debuted his addictive rave sound not only on Tomorrowland's Mainstage, but also on their vibrant new label with 'Saving Me' (feat. Sasha Alex Sloan), a reimagined version of his infamous single 'Breaking Me". Between the new single alongside Sweden's own John Martin, as well as recent releases like "Kernkraft 400 (A Better Day)" with A7S and "Solo Para Ti," a joint effort with Alvaro Soler, Topic continues to paint a vibrant and polished picture of a producer who knows no bounds. With the 2022's festival season now in the rear view mirror, Topic now has his sights set on the club.
"After releasing my first track with Tomorrowland Music this summer, I´m happy to follow up with 'Follow Me', which is my first club track to date. Undeniably, John Martin is an incredible artist with huge credibility in the scene. One of my all time favorite tracks and a big inspiration is 'Don't You Worry Child', so I'm incredibly honored that I had the chance to work with him. It's great to now be able to unfold into a new direction musically and I am really looking forward to what is yet to come!" says Topic.
John Martin comments: "I've been a fan of Topic for a long time and I somewhere knew our paths would finally cross. We met up in Dubai earlier this year, together with A7S and Michel Zitron and that's where the song 'Follow Me' was created. I'm very proud of how it came out and I feel strongly for the track. It feels great to finally be able to share it with you."
The new release sees Topic join musical forces with John Martin, one of the few vocalists in dance music who needs no introduction. The distinct voice behind countless festival favorites, John Martin has spent studio time with everyone from Alesso and David Guetta to Sebastian Ingrosso, Martin Garrix, and now Topic. 'Follow Me' sees these two masters of their crafts do what they do best, each bringing their own distinctive styles to the party, while finding a perfect collaborative common ground between the two.
'Follow Me' is part of a collection of festival releases by Tomorrowland Music under this year's festival theme 'The Reflection of Love', celebrating the return of Tomorrowland after three years by gathering some of the biggest artists in electronic music on Tomorrowland's record imprint.
About Topic
​Making global impact with his worldwide hits and own emotional yet exhilarating dance sound, it's fair to say that Topic is a superstar DJ and hotly in-demand producer. His numbers speak for themselves and are eye-popping by anyone's standards. The German-Croatian has amassed over 1 billion streams in 2021 alone, he has gold, double diamond, triple, quadruple, and even decuple platinum certifications in 28 countries around the world to his name and holds a steady spot in the Top 10 of Spotify's Global Top 200. He worked with GRAMMY®-nominated rapper Lil Baby, Diamond-selling and two-time GRAMMY®-nominated Bebe Rexha, British band Clean Bandit, singer-songwriter Alvaro Soler, and DJ-favorite Becky Hill, as well as Fifth Harmony singer Ally Brooke, and many more, all with unforgettable results. The collaborative tracks Topic produces have achieved huge commercial success: he landed in the Top 5 in the UK Official Singles Chart and the Billboard Hot 100, scored number ones on the Mediabase U.S. dance radio, iTunes and the Global Top 200 Shazam and Spotify charts, and won high profile awards and nominations including the MTV Europe Music Awards in 2016, Teen Choice Awards in 2018, Best Dance Act at the Los 40 2020 Music Awards, the Billboard Music Awards 2021, The 2022 Brit Awards for International Song Of The Year, and many more. You can be sure that Topic's signature sounds will always enrich and uplift in uniquely wistful ways.
https://www.instagram.com/topic/
​https://www.facebook.com/topicproductions
​https://www.tiktok.com/@topic
​https://soundcloud.com/topicmusic
​https://www.youtube.com/user/TopicMusicTV
About John Martin
​Most famous for his vocal contributions to hit singles by the Swedish House Mafia DJ collective, John Martin Lindström grew up in southern Stockholm. Son of a rally driver, Lindström became interested in music at the age of 13 when he formed a Nirvana cover band with school friends. By 15 he was fronting a group which performed its own material, but soon became disillusioned with rock music -- and the band template in general -- after being signed and subsequently dropped by a label. He became increasingly interested in electronic music after striking up a friendship with DJ and ex-boy band member Michel Zitron. Zitron was helping Lindström record material in Stockholm's Cosmos Studios when Sebastian Ingrosso of Swedish House Mafia overheard their work and invited the pair to assist with his project. The result was "Save the World," a summer 2011 anthem co-written by Lindström, Zitron, Swedish House Mafia, and established pop artist Vincent Pontare. Lindström provided a rock-inflected lead vocal to what was essentially a house track, and "Save the World '' went on to enjoy sales of circa half a million in the U.S. after reaching the top ten in the U.K. Following this success, Tim Bergling of Avicii fame contacted Lindström and Zitron, and the pair helped to write the lyrics for his Pengin Café Orchestra-sampling, Swedish Top Five single "Fade Into Darkness." Whereas Lindström's vocal for "Save the World '' had gone uncredited, the next single that he co-wrote for Swedish House Mafia, "Don't You Worry Child," included his name on the artwork. It charted in 32 countries, reaching the top spot in the U.K., Sweden, Australia, and Venezuela by the end of 2012. A collaboration with Dutch hardstyle act Max Enforcer ensued before Lindström received equal billing on a vocal mix of the SHM track "Reload" early the following year.
https://www.johnmartinofficial.com
​https://www.instagram.com/johnmartinofficial/
​https://www.youtube.com/user/JohnMartinVEVO
About Tomorrowland Music
​Tomorrowland has expanded the family with its own music label: Tomorrowland Music. Tomorrowland Music is a dedicated music division within Tomorrowland, collaborating closely with both artists and labels, supporting them in all their recording and release activities.
Tomorrowland Music has partnered with Virgin Distribution and Virgin Records. As part of the Universal Music Group, Virgin has been one of the industry leaders in music distribution and independent records labels for many years. Tomorrowland Music is delighted to be working closely with Virgin and looking forward to taking the label to a higher level together.
Stay tuned for a stellar line-up of renowned artists from all different levels who can't wait to release their music on Tomorrowland Music, encompassing a multitude of genres.
More information: https://www.tomorrowland-music.com
​Instagram: https://tomorrow.land/Music-IG
​Facebook: https://tomorrow.land/Music-FB
​Twitter: https://tomorrow.land/Music-Twitter
Jordy Van Overmeire PR Coordinator, Tomorrowland