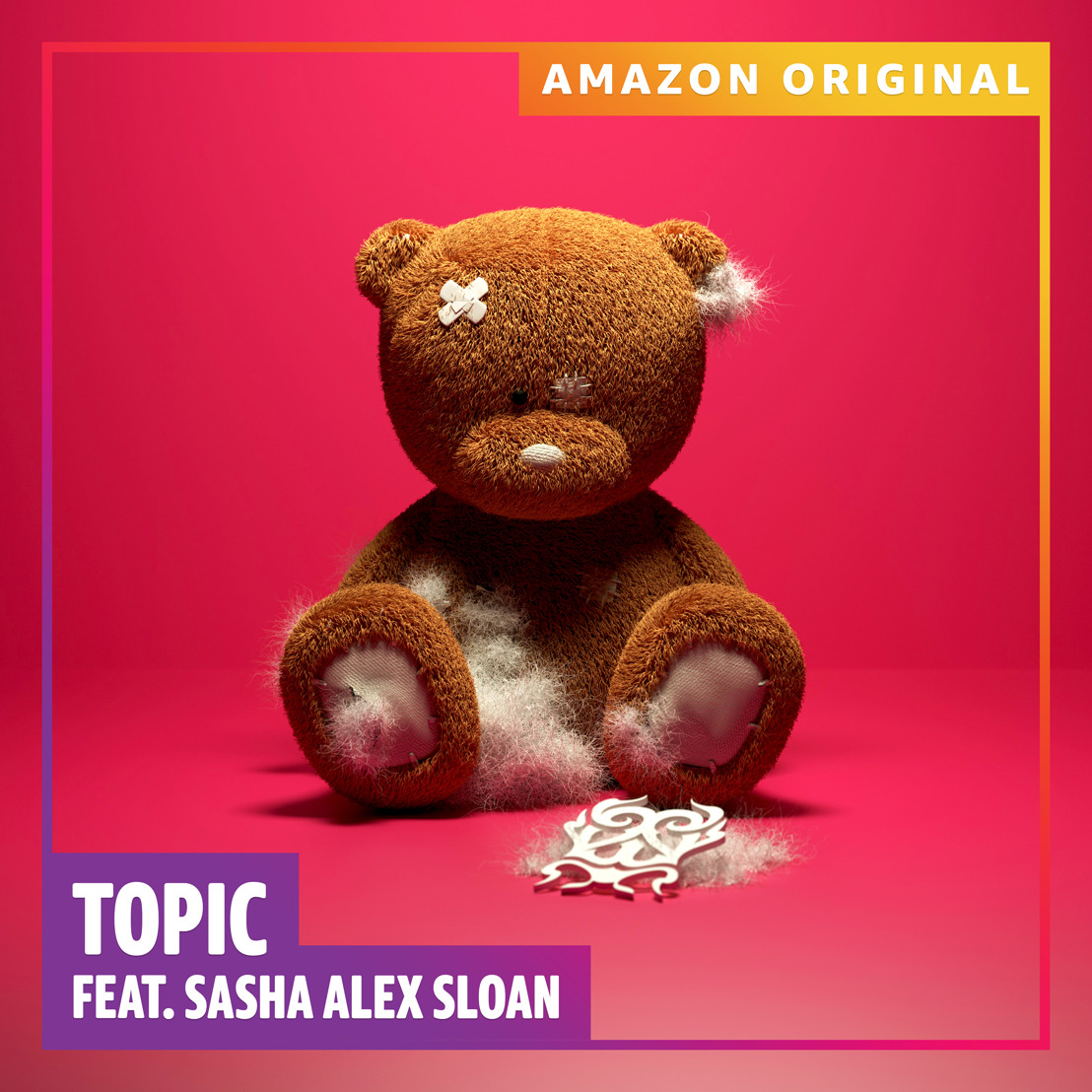 Topic reveals uplifting rework of his global hit 'Breaking Me' for Tomorrowland
'Saving Me' is an entirely new song with vocals by Sasha Alex Sloan
Friday, 15 July 2022 – German DJ & producer Topic is revealing his brand-new dance weapon 'Saving Me', exclusively released on Amazon Music today! Known for his emotional yet exhilarating dance sound, the internationally renowned and hotly in-demand artist has now created an uplifting rework of his global smash hit 'Breaking Me', specially made for his performances at Tomorrowland this summer. 'Saving Me' is an entirely new song with a new message and lyrics, fusing Topic's unique trademark sound with vocals by American singer-songwriter Sasha Alex Sloan.
'Saving Me' is out now exclusively via Amazon Music.
Topic has cemented himself as one of dance music's premiere beatmakers with viral worldwide hits like 'Your Love (9PM)', 'Breaking Me' and 'My Heart Goes (La Di Da)', racking up billions of streams across platforms. 'Saving Me' is part of a collection of exclusive festival releases by Tomorrowland Music under this year's festival theme 'The Reflection of Love', celebrating the return of Tomorrowland after three years by gathering some of the biggest artists in electronic music on Tomorrowland's record imprint.
Topic:"I am very happy that I had the opportunity to rework 'Breaking Me' as it is a very special song for me. It has opened up so many doors for me. Safe to say the path that I am on right now never would have looked this promising without it and part of this journey is realizing my dream to play at Tomorrowland. I am very grateful that I can celebrate it with this uplifting rework, which has its roots in the beginning of my career but also resembles my development over the past couple of years! A big part of 'Saving Me' are also the vocals of Sasha Alex Sloan, we connected directly, and she understood within minutes what the track needed to transmit hope and positivity, which you can hear and feel throughout the song."
Sasha Alex Sloan: "Getting to reimagine 'Breaking Me" has been so much fun! I feel so lucky to have been asked to put a spin on this song and it has been really cool collaborating on it from all different parts of the world."
The German superstar will be performing at Tomorrowland at The Library during the first festival weekend on Friday July 15 and at Tomorrowland's iconic Mainstage during the third festival weekend on Friday July 29.
About Topic
​Making global impact with his worldwide hits and own emotional yet exhilarating dance sound, it's fair to say that Topic is a superstar DJ and hotly in-demand producer. His numbers speak for themselves and are eye-popping by anyone's standards. The German-Croatian has amassed over 1 billion streams in 2021 alone, he has gold, double diamond, triple, quadruple, and even decuple platinum certifications in 28 countries around the world to his name and holds a steady spot in the Top 10 of Spotify's Global Top 200. He worked with GRAMMY®-nominated rapper Lil Baby, Diamond-selling and two-time GRAMMY®-nominated Bebe Rexha, British band Clean Bandit, and DJ-favorite Becky Hill, as well as Fifth Harmony singer Ally Brooke, and many more, all with unforgettable results. The collaborative tracks Topic produces have achieved huge commercial success: he landed in the Top 5 in the UK Official Singles Chart and the Billboard Hot 100, scored number ones on the Mediabase U.S. dance radio, iTunes and the Global Top 200 Shazam and Spotify charts, and won high profile awards and nominations including the MTV Europe Music Awards in 2016, Teen Choice Awards in 2018, Best Dance Act at the Los 40 2020 Music Awards, the Billboard Music Awards 2021, The 2022 Brit Awards for International Song Of The Year, and many more. You can be sure that Topic's signature sounds will always enrich and uplift in uniquely wistful ways.
https://www.instagram.com/topic/
​https://www.facebook.com/topicproductions
​https://twitter.com/topicmusictv
​https://soundcloud.com/topicmusic
​https://www.youtube.com/TopicMusicTV
About Sasha Alex Sloan
​Signed to RCA records, Sasha Alex Sloan had garnered over 2 billion streams worldwide before even releasing her debut album. Sasha has established herself as a true wordsmith, crafting emotionally rich, left-of-center releases filled with potent melodies and poignant lyrics. Praised by The New York Times, Billboard, SPIN, Rolling Stone, PAPER, UPROXX, and more, Sasha gained attention through the release of hit singles including "WTF," "Normal," "Older," and "Dancing With Your Ghost," leading to sold-out headlining tours in North America and Europe. She recently released her highly anticipated sophomore album in May, I Blame The World, which has garnered attention from audiences worldwide. After her appearance on Jimmy Kimmel Live! earlier this year, she's announced a North American and UK/Europe headline tour with over 30,000 tickets!
Streams to Date: +3.5 Billion
https://www.sadgirlsloan.com
​https://www.instagram.com/sadgirlsloan/
​https://www.facebook.com/sadgirlsloan
​https://twitter.com/sadgirlsloan
About Tomorrowland Music
​Tomorrowland has expanded the family with its own music label: Tomorrowland Music. Tomorrowland Music is a dedicated music division within Tomorrowland, collaborating closely with both artists and labels, supporting them in all their recording and release activities.
Tomorrowland Music has partnered with Virgin Distribution and Virgin Records. As part of the Universal Music Group, Virgin has been one of the industry leaders in music distribution and independent records labels for many years. Tomorrowland Music is delighted to be working closely with Virgin and looking forward to taking the label to a higher level together.
Stay tuned for a stellar line-up of renowned artists from all different levels who can't wait to release their music on Tomorrowland Music, encompassing a multitude of genres.
More information: https://www.tomorrowland-music.com
​Instagram: https://tomorrow.land/Music-IG
​Facebook: https://tomorrow.land/Music-FB
​Twitter: https://tomorrow.land/Music-Twitter
Jordy Van Overmeire PR Coordinator, Tomorrowland