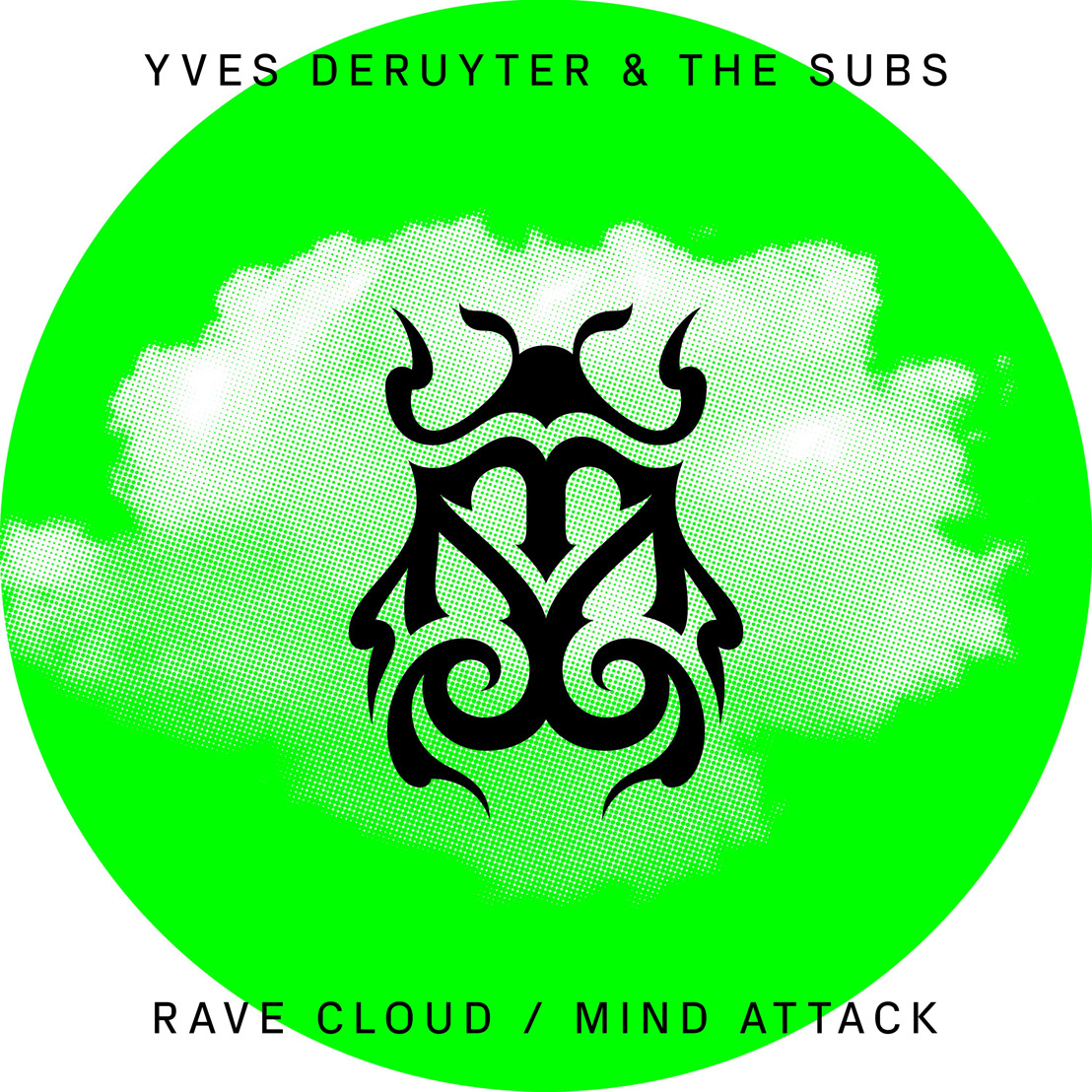 Yves Deruyter and The Subs join forces for a hard-hitting Belgian techno rave banger
The theme song for I Want To Dance Again, Belgium's first big indoor rave in a long time
Monday, 27 September 2021 - Ready to rave? Yves Deruyter and The Subs, two long-established Belgian artists within the European rave and techno scene, have joined forces for a hard-hitting Belgian techno rave banger. 'Rave Cloud' is the theme song for I Want To Dance Again and the perfect soundtrack to make everyone dance again at Belgium's first big indoor rave in a long time, organized by Studio Brussel and The Subs on Friday October 1st in the Sportpaleis in Antwerp.
'Yves Deruyter & The Subs - Rave Cloud / Mind Attack (EP)' is out now via all platforms.
'Rave Cloud / Mind Attack (EP)' is definitely one to rave to with pumping beats from the very first second. A real rave banger, which will blend in perfectly with the I Want To Dance Again madness, giving partygoers all the energy they need to dance into the night. The Belgian legends release their brand-new 2-track EP on Tomorrowland Music, Tomorrowland's freshly launched record label, and 'Rave Cloud' immediately made it to 'Catch of the day' on Studio Brussel – the track you need to hear today.
Yves Deruyter: "I went out on a bike ride to get some Gin & Tonic, but I got The Subs instead. What an amazing ride it was. I had a great time making those 2 bangers. It felt to me like making a new rave track with the building blocks of my +30 years career and a flavor of refreshing musical toppings (the kind only these guys can deliver) and out came this new pure Belgian rave sound! Let's get raving again!"
The Subs: "Yves Deruyter has an amazing car. We always secretly wanted to drive in it, so we devised a plan. We invited the legend for a studio session. Unfortunately, he arrived on his bike… but we were left with two rave belters instead. The result is even better than you would expect. The cherry on top of the Belgian rave cake."
Friday October 1st will be a symbolic date for Belgian nightlife. Finally, all nightclubs can open their doors again, after they have been closed for almost a year and a half, and Studio Brussel and The Subs will pay a grand tribute to dancing in the night in the Sportpaleis in Antwerp from 20:00 to 05:00. In addition to master of ceremony The Subs, Joris Voorn, Joyhauser, Yves Deruyter, Amber Broosen and Jeroen Delodder will be behind the decks.
About Yves Deruyter
​Yves Deruyter started his DJ career in 1985 and played in famous Belgian clubs such as Globe, Barocci, Cherrymoon, Extreme, Carat, BBC, La Rocca and many more. In 1991 he started producing and his first single "Animals", released on Bonzai Records, became a big club hit in Belgium. The success of his first track led to DJ gigs at all the big rave parties such as May Day, Energy, Love Parade, Street Parade, Nature One, Trance Energy, Mysteryland, Inner City, Sensation Black, Dance Valley, Groundzero, Frequence, Decibel Outdoor, Defcon, Gatecrasher, I Love Techno, Antwerp is burning, City Parade, Tomorrowland, …
As a very hard-working DJ, Yves Deruyter regularly travels Europe where he is in high demand for his DJ skills. As a born entertainer his vision of his future in music is and will always be, making music for the people. With new studio work on the way Yves' releases are highly anticipated by his fans and followers.
http://www.ydr.be
​https://www.instagram.com/yves_deruyter/
​https://www.facebook.com/yvesderuyterofficialpage/
​https://twitter.com/yvesderuyter
​https://soundcloud.com/yvesderuyter
About The Subs
​Championed by the likes of Boys Noize, Laurent Garnier, and Tiësto, the Subs are an energetic Belgian duo whose thrilling blend of electro, rave, and punk has been tearing up the dancefloors of their Ghent hometown since 2006. Inspired by the '90s electronica of Daft Punk, Underworld, and Chemical Brothers, producer Jeroen "Papillon" De Pessemier and DJ Wiebe "Tonic" Loccufier first began remixing tracks for Alex Gopher, Telex, and Cassius before releasing their debut album, Subculture, in 2008.
https://thesubs.be
​https://www.instagram.com/thesubs/
​https://www.facebook.com/THESUBS
​https://twitter.com/thesubs
​https://soundcloud.com/the-subs
​https://www.youtube.com/user/BUFFALOBEATS9000
About Tomorrowland Music
​Tomorrowland has expanded the family with its own music label: Tomorrowland Music. Tomorrowland Music is a dedicated music division within Tomorrowland, collaborating closely with both artists and labels, supporting them in all their recording and release activities.
Tomorrowland Music has partnered with Virgin Distribution and Virgin Records. As part of the Universal Music Group, Virgin has been one of the industry leaders in music distribution and independent records labels for many years. Tomorrowland Music is delighted to be working closely with Virgin and looking forward to taking the label to a higher level together.
Stay tuned for a stellar line-up of renowned artists from all different levels who can't wait to release their music on Tomorrowland Music, encompassing a multitude of genres.
More information: https://www.tomorrowland-music.com
​Instagram: https://tomorrow.land/Music-IG
​Facebook: https://tomorrow.land/Music-FB
​Twitter: https://tomorrow.land/Music-Twitter
Debby Wilmsen Press Coordinator & Spokeswoman, Tomorrowland
Jordy Van Overmeire PR Coordinator, Tomorrowland